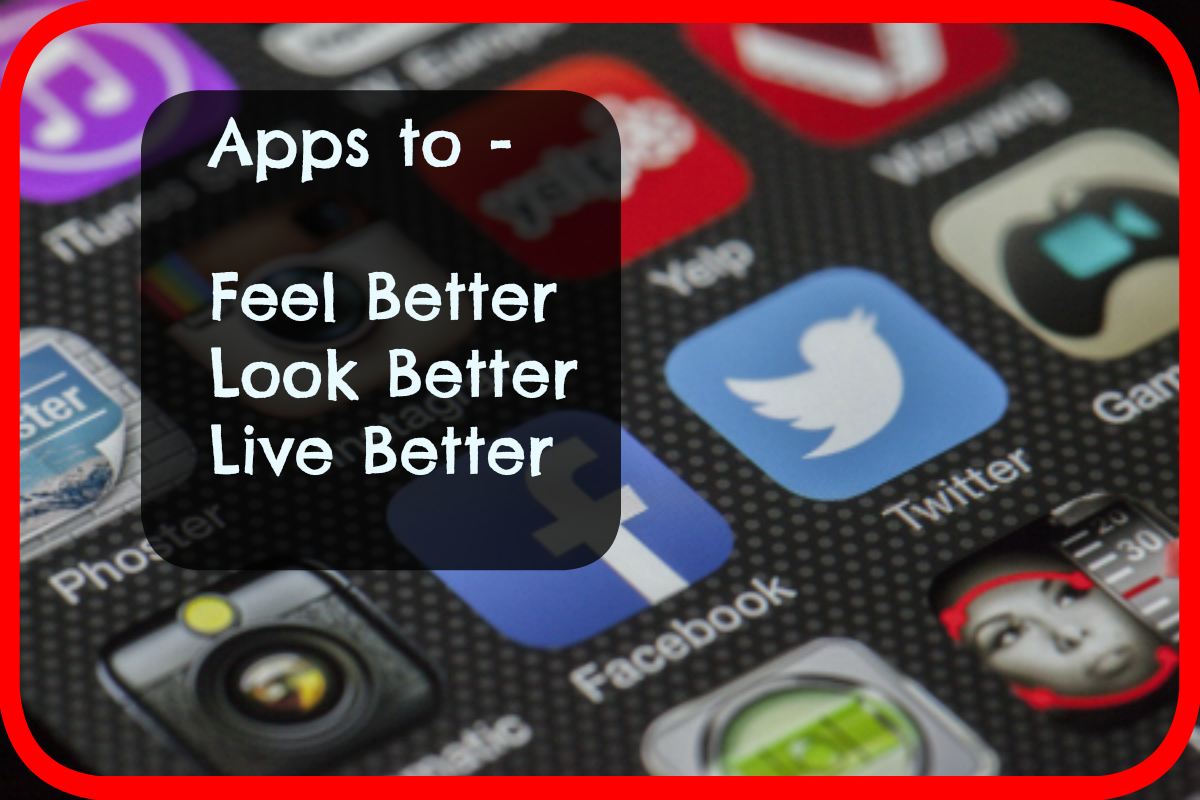 These days there are apps for pretty much anything.
Eating and living a healthy lifestyle is no exception. The great thing about using these apps is that you no longer have to feel alone in making healthy changes. Help is as close as your mobile phone or tablet. However, there are so many apps available that sorting through them can be a little overwhelming. You have to find an app that gels with your personality which can be a bit like dating. You should try different apps until you find the right fit. Not sure even where to start? Here is a list of 5 apps I like and recommend to my clients!
Workout Trainer (iOS & Android)
This is a great app for someone who needs to fit exercise into a busy schedule or would like to have a great workout they can do at home. You choose what part of the body you would like to target, what kind of exercise you area looking for and how often you want to workout. There are  intense options like cross fit and more relaxed options like pilates. You are then given  multiple exercise sequences that are labeled as casual, moderate to intense. You can pick the right level for you and increase it as your fitness improves. Many of the exercise sequences are short, so you can either string together a few different routines for a full workout, or fit in small bursts of exercise into your day. If you are looking for something more structured, there is also the option to purchase one of their more organizeed exercise programs and challenges for a pretty reasonable price. The thing I like about Workout Trainer is that, even if you have just a few minutes in your day to exercise, this app gives you plenty of options that are right for your fitness level. So no more excuses! (Free)
Lose Weight Without Dieting (iOS & Android)**
One of the best things to do to help you improve the quality of your diet is keep a food journal. This app is a food journal that will  give you reminders to hold you accountable in recording your meals. This app doesn't let you off the hook when you're rushed.  It just tells you to take a picture of your meal to record it later. While you will get the most accurate results with this app by measuring what you eat, that isn't always practical with a hectic schedule. So there is also the option to record your portions by choosing the options of small, medium or large to make it easy to record meals on the go. Another thing I liked about this app is that the focus goes beyond just being a calorie counter. You can set-up reminders for yourself to drink more water. You can evaluate your balance of carbohydrates, protein and fats and be alerted if you are low on one of the 3. You can also record your exercise and it has a variety of exercise options from using an elliptical trainer, playing football and cross country skiing to washing clothes and building a snowman. This reminds you, even if you are trapped at home in a snowstorm, there are still ways to remain active. Finally, you get little awards  every time you record a meal or make positive food choices and many of us need this positive reinforcement to keep going. (Free)
Low GI Tracker (iOS and Android)
I often tell my clients that it isn't carbohydrates they should avoid. It is the carbohydrates that turn quickly to sugar in the body that are problematic. Glycemic Index and Glycemic Load are two tools that measure how quickly or slowly a food will turn to sugar in the body and cause you to gain weight. A low number is good while a high number is bad. Understanding this can be the missing link in your healthy diet. A high-glycemic diet, you put yourself at risk for health problems and extra pounds, even if you are counting calories and exercising. With this app, you can enter the foods you eat and evaluate the glycemic-index and glycemic-load of a single food, an entire meal, or of an entire day. You don't need to know much about GI to use apps like this. It will actually tell you if your number is low or high. That way you can keep adjusting your diet until the number goes down which will lead to a much healthier body and weight in the long-run. ($3.99)
Breathe2relax (iOS and Android)
I talked recently about how damaging stress is for health and for the waistline. So getting control of stress is one of the most undervalued ways to reach health goals. This app is great for when you need a quick stress break during the day. This app will teach newbies how to switch from chest breathing to diaphragmatic breathing. And for those who already have a practice in yoga or meditation, the app will let you set how long you would like to time your inhale and exhale. You get to choose your background and your favorite zen music. And there is nothing better than hearing frequent reminders to relax and breath during a busy day. The exercises are short, meaning that you could probably secretly do them at your desk with earphones after that frustrating office meeting. Just a few minutes has me feeling much more relaxed and able to handle my day. (Free)
Healthy Habits (iOS)
A healthy lifestyle means more than just eating fruits and vegetables and exercising. This app helps you build an array of  healthy habits, one change at a time. You choose whether your health goal is flossing, walking, eating breakfast or being thankful or one of the many, many other options. Then set up reminders for yourself including one where you remind yourself why you chose this goal in the first place. You track your progress and earn badges for success. And I already mentioned the value in a reward system in working towards a goal. You can choose three habits to improve for free, or upgrade to the premium pay option for unlimited habits. The thing that makes me saddest about this app is that its only available for iOS right now. They've worked on a premium version of ths app for Android, but it doesn't seem to be available at this time. Perhaps it will resurface in the future. (Free)
So there you have. These apps are a great place to start in building a healthier lifestyle, feeling wonderful and achieving your weight loss goals. Have some favorite apps to help you on your journey to glowing health and an abundant life. Of course, let me know in the comments below.
**This is an app that I have been compensated to evaluate and review, but the opinions are completely my own.
---
 Want to fit into those skinny jeans again? Maybe you just want to just feel healthy? Sign up for my free e-book, and get more stuff like this right to your inbox!