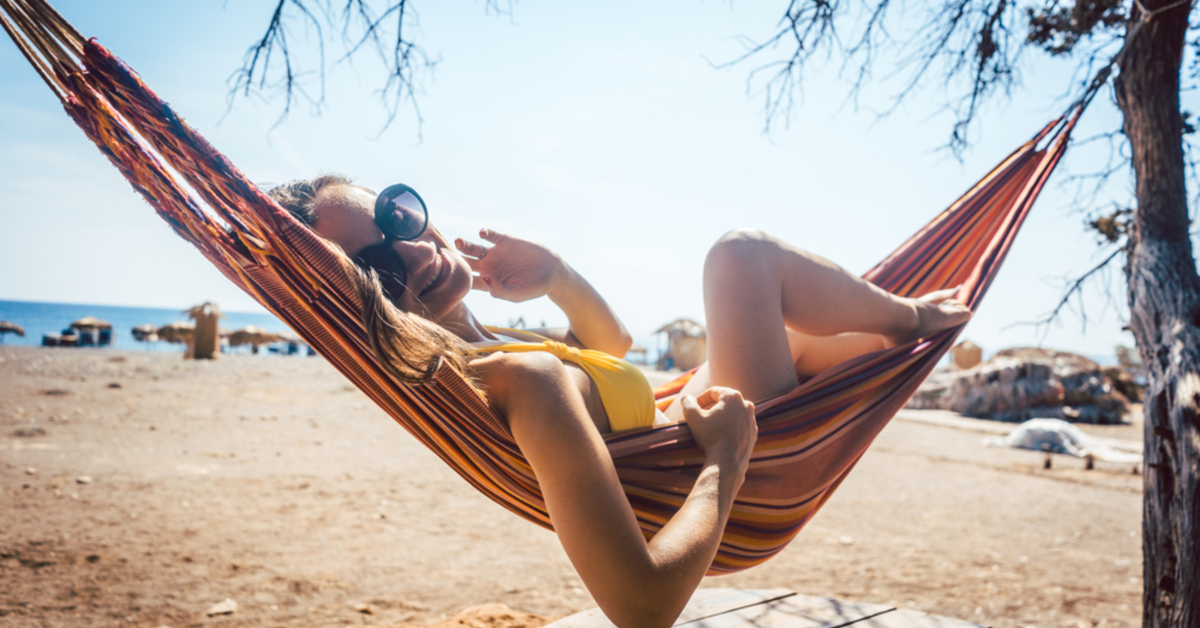 I took a 21-day meditation challenge in January. And as it sounds, I meditated for 21 days, up to 45 minutes or an hour at a time. This challenge made me realize the true value of mental health breaks. But let's get real about the downside. The time commitment was oh so overwhelming.
The transforming power of mental health breaks
Mental health breaks can be life transforming. It's so easy to get caught up in negative or stressed out thinking. That's why people will often seek the advice of a therapist. And a few minutes of reflection and a  perspective shift can alter how we handle all the ups and downs for the day.
So why is it that we tend to put mental health last? Probably because we're busy. And taking time for ourselves seems impossible. And maybe taking mental health breaks feels a little goofy and over-indulgent.
But it's not. I've learned that it's as important for you health as eating broccoli. And while some people hate eating vegetables, I've never met someone who hates feeling way less stressed.
So let's take a break for clarity and to shift our response to stress. And since we don't have a lot of time, let's do it in just 10 minutes. Impossible you say? Well, here are 10 mental health breaks you can do in just 10 minutes!
Listen to a 10 minute meditation
There are some great meditation apps for your phone. Think – Insight Timer, The Mindfulness App, and Calm. Instead of a late morning coffee break, take a 10 minute meditation or mindfulness break. It will leave you centered and energized.
Become super grateful and write about it
You can journal in the middle of the day. And gratitude is a great way to ease stress and change perspective. You can use an app like Grateful or My Gratitude Journal. But many people feel power in putting pen to paper. Even in a day of disappointment and stress, there's reason for gratitude. Practice during times of stress to help you shift to a brighter day.
Laugh out loud
Sometimes laughter can be the perfect mental health break. So go over to Funny or Die and watch one of their super hysterical clips. Laughter can do everything from reduce stress hormones, to improve immune function, to just increase your general sense of wellbeing. Laugh for 10 minutes and you'll recharge for the rest of your day.
Get angry at a stress ball
Have something that you can't let go? Go ahead and grab a stress ball. Imagine putting this punishing problem inside the ball. Now squeeze the heck out if it. Make sure to think or say everything that's bursting to get out. After 10 minutes, put the stress ball to the side. And visually imagine leaving your problems there as well.  
Focus on sound, sensation or breath
Close your eyes for just 10 minutes. Now focus on your breath. Or perhaps pay attention to all the sounds in the room. Or become attentive to different body sensations. The point is to focus on something besides your thoughts. And when you get distracted by especially stressful thoughts, gently guide yourself back to the task at hand. These mental health breaks can help you change perspective about your own thoughts.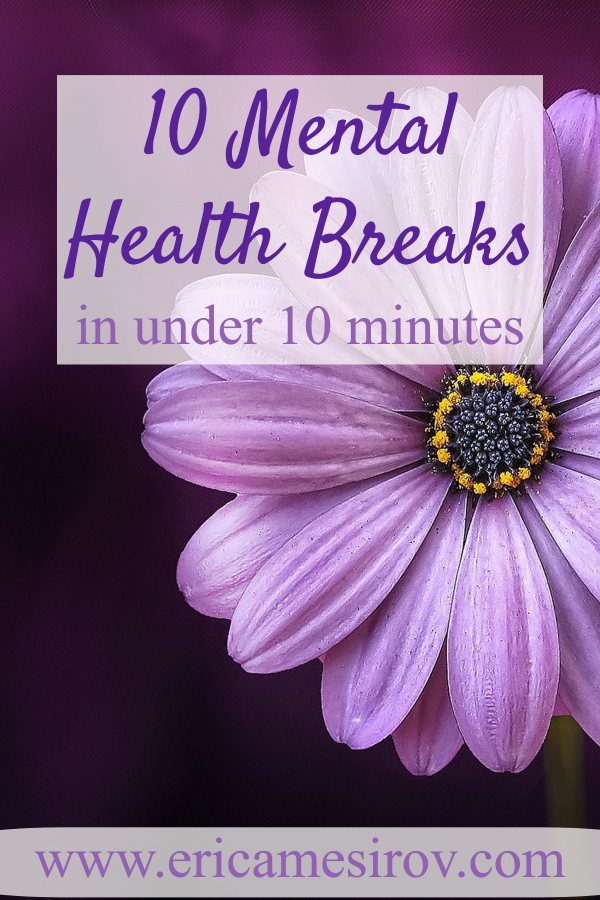 Cheat your way into nature
Getting out into nature is supposed to be calming. But can you really slip away to the mountains in the middle of the day? No! So bring nature to you. Gather together your favorite nature pictures and videos..Or use nature sounds like rain or the ocean. Pictures and videos can transport your mind. And so you get to run away into nature for just 10 minutes.
Open a book and be inspired
You may not be able to whip out your favorite book in the middle of a hectic day. But you can listen to an audio version while in the car or train. Think of books like Eckhart Tolle's The Power Of Now or The Four Agreements by Don Miguel Ruiz. It's powerful to hear the words being spoken to you, and not just see them.
Get close and personal with a pet
Animals teach us fabulous lessons about our own existence. They're completely in the present moment – never in the past and the future. And there's something peaceful in spending time with them on their level. Play a game, lie down, walk them, or pet them. Spend 10 minutes with your favorite pet and maybe you'll become peaceful in the present moment too.
Start a type of tapping that doesn't require tap shoes
What do I mean by tapping? E.F.T. (Emotional Freedom Technique) is a practice of tapping your fingers  on acupuncture points to relieve stress and create positive energy. And the good news is you do this at home without needles. Tapping can help you recover from both big traumas as well as daily stress. And there are plenty of books and videos to get you started.
Just take a time out
Mental health breaks don't have to be elaborate or complicated. Sometimes you just need to stop for a second. We're always going, going, going. Just take 10 minutes, drop everything, and just be – whatever that means to you. Don't do ANYTHING. Let the tension go. You deserve this. And after all, it's just 10 minutes!