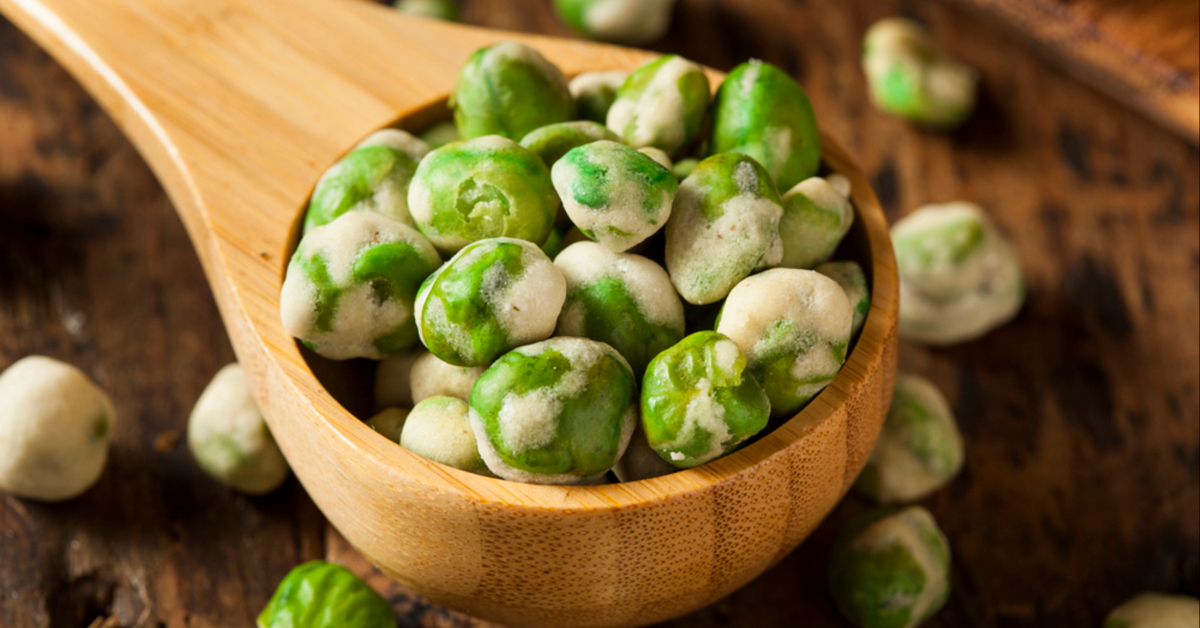 Salt! You just gotta love it. When I talk with my clients, they often complain about their salt addiction. It might be feasible to eat better at mealtime. But there's an emptiness when they can't enjoy their favorite salty snacks.
But you can enjoy salty snacks while eating healthier. Wait, I'm being serious. There are many options in the grocery aisles that are much healthier. At least healthier than the chips I at least grew up with. Yes, unhealthy chips played a big part in my gaining weight in my early years. (I'm talking about you Cool Ranch Doritos.) But you can fulfill your salt cravings in better ways.
So I put together a list of some of my favorite better salty snacks. Eating healthy should never be about complete deprivation.
The Good Bean Baked Chickpea Snacks
Have you tried baked chickpeas? They're all the salty crunch in a way that feels better for you than potato chips. And the sea salt variety will fulfill your salt cravings pronto. Plus,  sea salt is much better than the processed salt in most grocery chips.
Baked chickpeas are higher in fiber than potato chips. And they really are full of crunchy goodness. I dare you to try them and tell me you can't fulfill your salt addiction in a better way.
The Good Bean Chickpea Snack-Sea Salt-6 oz
ginMe Organic Baked Seaweed
Well, I imagine you're most familiar with baked seaweed because they sell it everywhere. But it's always nice to have a reminder. And if you've somehow missed this craze, you need to get on board right now.
Crispy seaweed is just goodness on a sheet of seaweed. But try to get a variety made with sea salt or a more natural salt. The more processed, the more ick it is for your body. But baked seaweed crisps is one of the most low-carb ways to satisfy your salty snacks craving.
gimMe Snacks Organic Premium Roasted Seaweed, Sea Salt, 0.35 Ounce (10 g) – (Pack of 12)
Sea Point Farms Dry Roasted Edamame
Here's what can be great about roasted edamame. These little nuggets are actually a great source of protein. They are lower-carb than potato chips. And they also contain fiber. Not so shabby, eh?
Now, if you haven't figured it out, edamame is a soybean. Meaning it contains soy. So be aware of you have an allergy or just prefer to stay away. But for everyone else, these salty snacks can quench the urge as well as any chip.
Sea Point Farms Edamame Dry Rstd Sea Salt 100 cal 8 – 0.79 OZ snack packs.Net Wt.6.35 OZ. (180g)
Salted Almonds and Cashews
Here's another one that's good if you're trying to limit your carbs. Almonds and cashews are full of healthier fats. They also offer vegetarian protein. As well as nutrients like vitamin E, magnesium, iron, and selenium.
Choosing higher quality nuts will bump up their nutrient value. Preferably choose those without added oils. And ones with better quality salt will always be healthier.
Braga Organic Farms Almonds, Roasted and Salted, 2 Pound
Sunbest Wasabi Peas
Here's a good one of you like your snack to have a little extra kick. Wasabi peas are made from dehydrated peas smothered in wasabi spices. And the best quality ones don't have any added sugar.
They're better options for a few reasons. First, they're much lower in fat than potato chips. They contain protein, vitamins, and minerals. They also contain a good amount of fiber. They aren't as low-carb as some of the other options. But hey, they can be a pretty good option.
SUNBEST Wasabi Peas in Resealable Bag, Kosher Certified (1 Lb)
Rhythm Superfoods Zesty Nacho Kale Chips
So, I've already talked about my Doritos fixation from my younger years. Well this one allows me to revisit my childhood, while eating something much, much healthier. As far as salty snacks go, this one is definitely a keeper.
The great things about zesty nacho kale is that it's low-carb, dairy-free, and made completely from whole, real foods. It's dehydrated, and not fried. And it can fulfill your salt and chip craving in a cravable, healthy way.
Rhythm Superfoods Kale Chips, Zesty Nacho, 2 Ounce, 4 Count
Central Curt's Classic Onion Rings
First of all, yes this is a real thing! And as someone who desperately craves onion rings, this is a great alternative. Plus, this is one of the healthiest salty snacks you can get.
First, it's raw, meaning not fried. Awesome start! Second it's flavored by real foods like lemon, sea salt, and cashews. Plus it's low in fat, carbs, and other things you might want to stay away from when snacking as part of a healthier lifestyle.
Raw Food Central Curt's Classic Onion Rings 100% Organic NON GMO Gluten Free Vegan (1.5 oz. ) 43 g.
Go Raw Zesty Pizza Flax Snacks
While these don't exactly taste like pizza, they do capture the spirit of pizza. Meaning they're flavored with some of the great spices you'll usually find in pizza and pizza sauce. And they're low-carb, full of good fats, and a great substitute salty snack.
The main ingredient is flax seeds. Not too shabby. And while this makes them higher in fats, it's healthier fats. Way better than the fried fats you'll find in potato chips.
Go Raw Freeland Flax Snax, Pizza Flax Snax, 3.0 Ounce Bags

So these are 8 better for you store bought salty snacks. Of course, moderation still is key. But these are salty snacks you can feel a whole lot better about eating!