Everyone always said I should start a meditation practice. But as a complete beginner, that always seemed unattainable.  I wondered how I was supposed to start. And what's the secret?
But, meditation is about getting your brain quiet. And now I know that the first thing I needed to quiet were all my excuses for not meditating. Because, they weren't necessary or valid.
I mean, I'm not saying that starting a beginner's meditation practice is easy. Heck, I wish it were. I imagine it's always a work in progress.
But what I'm saying is that there isn't any special other-worldly or hippie knowledge you need to start meditating. All you need is a desire. And about 5 free minutes of peace and quiet.
So today, I want to talk to you; the beginner meditator. And tell you that you can start your super zen meditation practice right now. No special tools or knowledge required! Here's how to begin.
Pick a time in the day where you can spare 5 minutes
Let's start realistic. I don't know about you, but I need something easily attainable when setting a new goal. I'm not carving a half hour out of my day when I'm used to doing nothing. 5 minutes feels easy enough.
Be honest with yourself. When's the best time? Is it when you wake up? What about when you get home from work? How about right after dinner? Only you will know what time in your day will best stick.
Set up a space that feels comfortable
You don't need anything fancy to start a beginner's meditation practice. You just want to have a space that feels comfortable. And this can be super simple at first.
Maybe start by throwing a few pillows on the floor. Sit with your back against the wall. Set up an essential oil diffuser. Or light some candles. Set up a space that feels sacred to you.
Get some inspiration
This step is optional. You certainly don't need it. But you may find it helps.
Pick out some gentle, soft music to play in the background. There are many sites that have meditation music to download. Find something that feels good to you.
Or if you need guidance, check out the free meditation videos on YouTube.  Or get an app like Insight Timer which offers thousands of free meditations. There are many ways to help get you started with your beginner's meditation practice.  
Officially start your beginner's mediation practice
OK – now we're ready to really get going! What I've learned from my practice is that it's best to keep things simple when starting out. I used to incorrectly think that I needed to reach some earth shattering clarity or a place of ultimate zen for my practice to be worthy. 
Close your eyes. Or if that feels uncomfortable, gaze softly at the floor. Focus on the breath. Feel yourself inhale, fill your diaphragm, and then exhale. Now you're meditating. That's how simple it is.
Accept that your mind will wander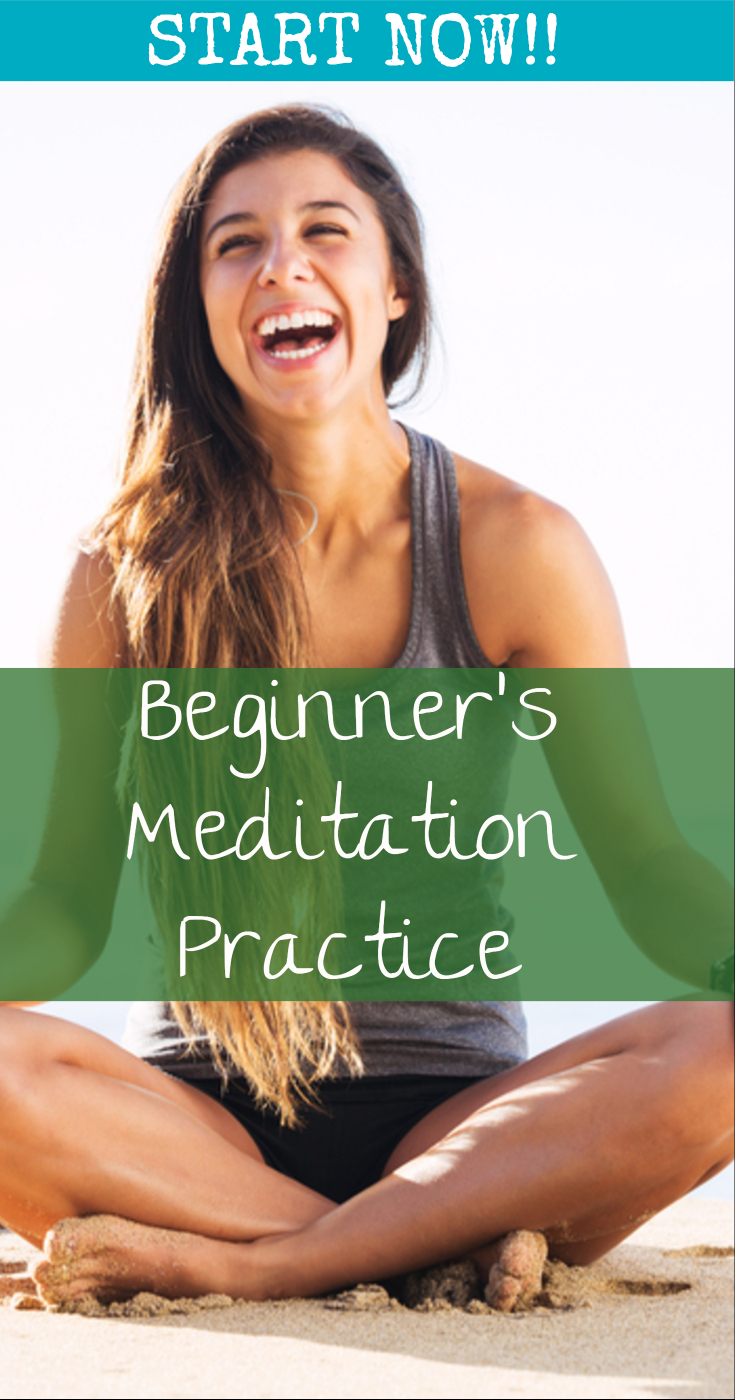 It's so easy to get massively cranky at your chattering mind. If yours is anything like mine, it has a ton to say. Especially when you're meditating.
Accept that your mind will wander. It will probably do this a lot in the early days. Whenever you find your mind wandering, bring your focus back to your breath. You might have to do this every 30 seconds. That's totally fine.
Set a soft timer
Your goal is to start with just a five minute practice. This will hopefully expand with time. But you don't want to watch the clock.
So set a timer for yourself before you start. Just make sure the alert is gentle. If the alarm is too harsh, it will jolt you out of practice. Which can negate the calm you just tried to create.    
Don't give up on your beginner's meditation practice
You might experience boredom at first. Or feel like, what's the point? But don't let that stop you. This is a practice. Which means that the more you do, the more you'll likely get out of it.
Those who've been meditating for years tend to have a sense of clarity and calm. They tend to feel better when they're meditating and worse when they stop. So if you keep going, you're likely to reach that place too!