I am not a chef.  I'm just an ordinary person, passionate about eating healthy, that wants to help people enjoy eating a nutritious diet. Don't get me wrong. I love a good caramel, hot fudge sundae, and I do relish my sugar filled indulgences. But I choose special occasions to indulge, and I balance my sweet snacks with nourishing wholesome foods to keep my blood sugar in check.
That brings me to Valentine's Day.
Many of us go on a candy heart binge come February 14th so I wanted to come up with a sweet way to say I love you that comes from natural, nourishing sources. That is how I came up with my Breakfast in Bed Valentines Yogurt Parfait. It is made exclusively of natural sweetness (just like your love) but has the option of adding a sweetener (and it's still pretty healthy!)
You will need some tools for this. First of all, you need some Valentines themed cookie cutters, about 1 ½ inch in size. I got mine from Wilton on amazon.com and as of my writing this, they are Prime eligible! http://www.amazon.com/gp/product/B00132JXIY
You will also want a new thin paint brush.
I'm always about using all-natural, but when dipping a brush into food, I felt safer with synthetic. There's nothing like having a real animal hair fall into your dish. Make sure to wash it thoroughly before using.
I started with a Gala apple, though it really doesn't matter which kind of apple you choose.
I've just been obsessed with Galas lately. The first step is to chop the apple into thin slices. You want to make the slices thin, but not too thin as you want to be able to lift them without them breaking apart. 
Next, I soaked the apple slices in a lemon based solution.
I did this to prevent them from browning. Otherwise you'll end up with a rotting yogurt parfait that will fail to woo anyone. Lay the apple slices onto a plate or a bowl. Mix 1 tablespoon of fresh lemon juice with 1 tablespoon water and pour it over the slices. Let sit for 5 minutes and pat the slices dry with a paper towel. The apple will stay fresh overnight in the fridge if you choose to do some prep work beforehand.
While the slices are sitting in the lemon juice, you can quickly make the frosting.
Take ¼ cup blueberries, 1 tablespoon creamy, unsweetened peanut butter (many peanut butters are loaded with added sugar) and 1/8 teaspoon stevia. Blend together in a food processor and set to the side in a small bowl.
Now that the apples slices are ready, it is time to mold them into fun shapes.
Place the cookie cutter on the apple and push through. Apples seem to get stuck in the cookie cutter way more easily than cookie dough. To help, take the back end of your paint brush and carefully push the apple out of the cookie cutter so it doesn't break.
Next you get to paint!
Take some of the blueberry, peanut butter mixture onto the brush and paint your cut-outs.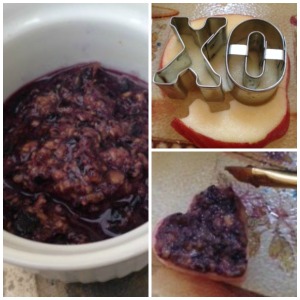 You want to completely cover the top surface of your shapes with the mixture, just as if you were frosting the top of a cake. Next dust the top of your cut-outs with coconut flakes. When finished, they should look something like this –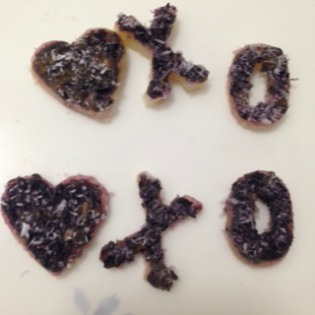 The final step is to prepare the parfait.
Take one cup of organic plain, unsweetened yogurt (or coconut milk yogurt if dairy isn't your thing). I chose regular fat as opposed to fat-free to benefit from the yogurt's full nutritional value as found in nature. Pour the yogurt into a bowl and mix it with the remaining blueberry, peanut butter mixture. Your yogurt should now be a fun shade of purple. This is a time where you can drizzle some raw honey onto the parfait for some extra sweetness. I prepared mine without it, but I wanted to create an alternative for those who like things a little sweeter (and after all, raw honey is a natural product!)
The final step is to place the cut-outs onto the yogurt.
Now decorate with a few last blueberries. You can also add nuts or granola or any other topping of your choice. And viola!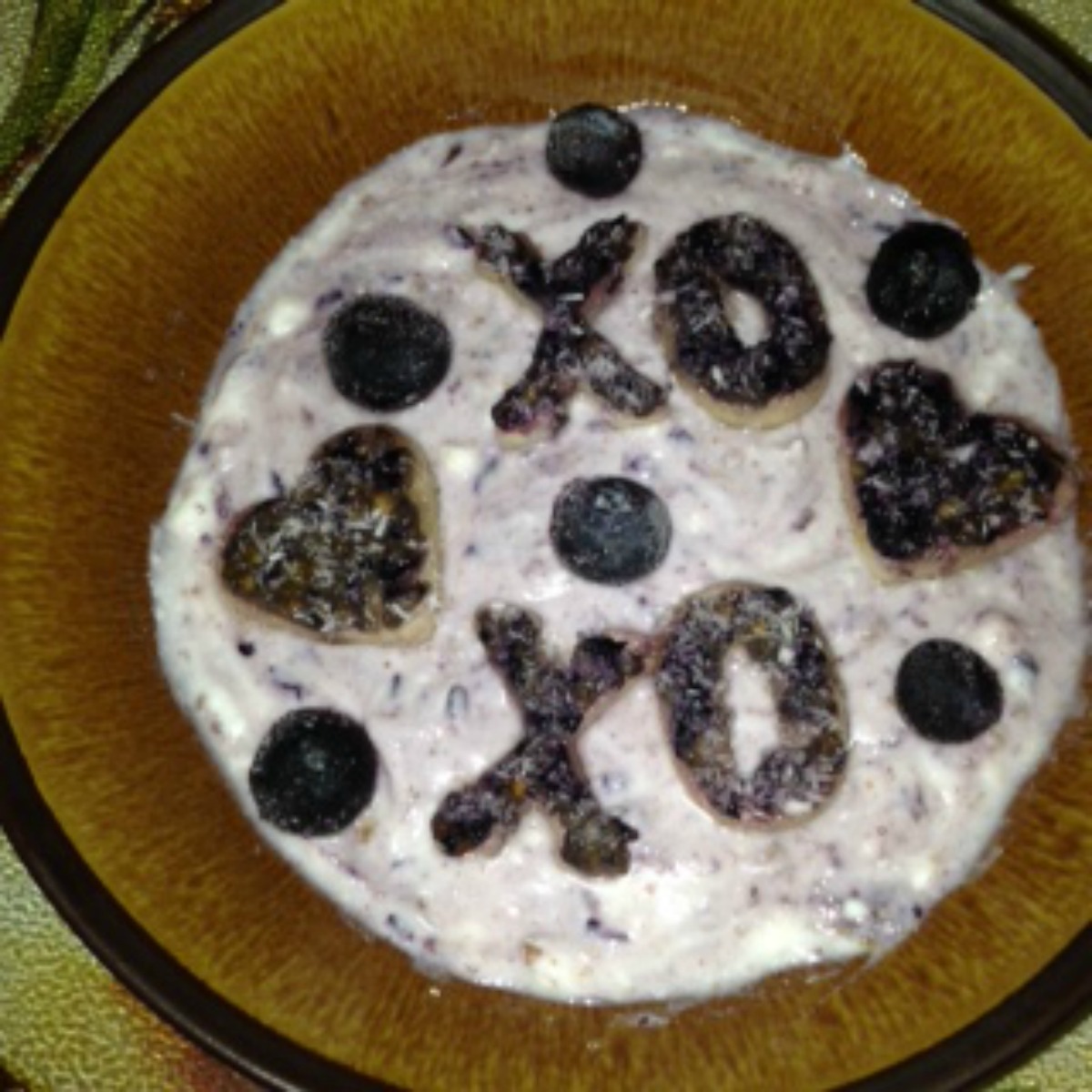 Breakfast in Bed Valentines Yogurt Parfait
1 Serving
Ingredients-
¼ cup blueberries
1 tablespoon creamy peanut butter
1/8 teaspoon stevia
1 teaspoon shredded coconut
An apple
1 cup organic plain unsweetened yogurt
1 tablespoon lemon juice
extra blueberries for decoration
1 teaspoon raw honey (optional)
This year Valentines Day comes on a Saturday.
And this is great for breakfast in bed for a loved one. Or maybe just make it for yourself. Because after all, the first love in our lives should always be ourselves. Happy Valentines Day!