Coconut oil is amazing.
It is a nourishing, healing, versatile food. It is amazing to put on your body, in your body and in your home. In a day where we're inundated with toxins, chemicals and processed foods, coconut oil stands out.
Coconut oil has been instrumental in my own life. I use it daily. I love to cook with it on low to medium heat, put it in my smoothies, use it as a spread and more. I've used it to heal my gut when probiotics alone weren't cutting it. And I even slathered it on my poor little poodle when all else failed at soothing her itchy skin.
But first, let's get a few things straight.
Coconut oil looks different based on temperature. It is solid until the temperature hits about 76 degrees F (24 C). At that point, it melts.
Coconut oil can be heated to higher temperatures than vegetable oils. Vegetable oils have a low smoke point and can even become rancid and toxic over low heat. You can cook with coconut oil on low to medium heat. Never use high heat with any oil.
Coconut oil doesn't contain cholesterol. But it does contain 3 amazing, nourishing, health promoting  saturated fatty acids
Lauric Acid

Capric Acid

Caprylic Acid
All coconut oil isn't the same. The way the oil is processed affects its nutritional value. And cheaply processed coconut oils are often lacking vital nutrition.
The most nutritious, healing coconut oils are unrefined, virgin and cold-processed without fillers. I personally love and recommend Skinny Coconut Oil because it is some of the most pure, nutrient-rich coconut oil out there. In my opinion, it is a step up from other coconut oils I've tried as far as purity and quality. Check it out at Skinnyandcompany.com

Please note, this is an affiliate link. However, I wouldn't recommend a product I didn't believe in it. This is the very coconut oil I used in my own home and for my personal health healing protocol.
And now 70 amazing uses for coconut oil
Eat it:
Use for stir frys in place of vegetable oil for healthier cooking

Add it to coffee as a natural creamer

Spread it on toast

Melt it into potatoes

Add to smoothies

Use it to grease your pans

Mix it with yogurt and fresh pineapple for pina colada yogurt

Melt it into soup

Mix it with cocoa powder for healthier chocolate

Bake with it in place of vegetable oils

Make healthier salad dressings

Eat it by the spoonful
Wear it
Apply an amazing anti-aging moisturizer

Remove makeup

Deep conditioner the hair

Use as lip balm

Soften skin as a soothing hand cream

Smooth a small amount through the eyebrows to keep them in place all day

Mix it with some baking soda and essential oils for a natural toothpaste

Tame frizzy flyaway hairs

Use as natural under eye cream

Rub into skin to help avoid stretch marks

Use as natural shave lotion or after-shave soother

Smooth into skin for some natural sunburn protection

Use as a natural baby lotion or diaper cream

Rub into cuticles to help nails grow

Use as natural lubricant (not latex safe)

Smooth on acne prone skin for anti-microbial qualities
Heal with it
Eat it regularly to help increase metabolism 

Massage it into sore muscles for some natural relief.

Remove gum from hair

Eat it to help stop the growth of candida

Rub onto athlete's foot for natural anti-fungal protection

Treat minor skin irritation

Mix with calming essential oils to reduce stress

Mix with peppermint oil to repel insects

Help soothe poison ivy

Gargle with it to help sooth sore throats

Rub into cracked, dry feet

Consume as part of a natural protocol for depression

Swish it in the mouth for 10 to 20 minutes for oil pulling (spit out in the trash – not the sink)

Mix it with baking soda and essential oils as a natural deodorant

Rub into sunburn to accelerate healing

Apply to skin to help remove age spots

Consume to help prevent against bone loss

Eat regularly to improve digestion

Supplement to help relieve constipation

Apply topically to soothe hemorrhoids

Natural treatment for ezcema

Fight internal inflammation

Naturally increase brain power

Soothe dry nostrils

Help balance the thyroid
Clean with it
Make a homemade furniture polish

Wipe crayon marks off of the wall

Polish metal faucets

Mix equal parts coconut oil and baking soda to remove stains from upholstery

Use it to wipe the shower or tub as a natural anti-bacterial shower cleaner

Put a thin layer on your showerhead to remove soap scum

Use as a leather moisturizer

Unstick jammed zippers

Naturally grease squeaky door hinges

Polish shoes

Remove stuck bugs on cars

Clean makeup brushes

Apply a small amount to furniture as natural dust protector
Coconut oil with cats and dogs (Got these from Boston Street Vet.)
(Use orally only in moderation)
Rub into skin to help soothe dry, flaky skin

Feed in small amounts to relieve constipation

Apply to paws as a safe barrier against chemicals

Add to kitty food bowl as natural hairball remedy

Rub coconut oil into gums to help relieve minor gingivitis
You can make your own products at home. Get started by making your own toothpaste and mouthwash with coconut oil and other simple ingredients from your own kitchen Get your FREE Coco For Coconuts Homemade Mouthwash & Toothpaste Now!!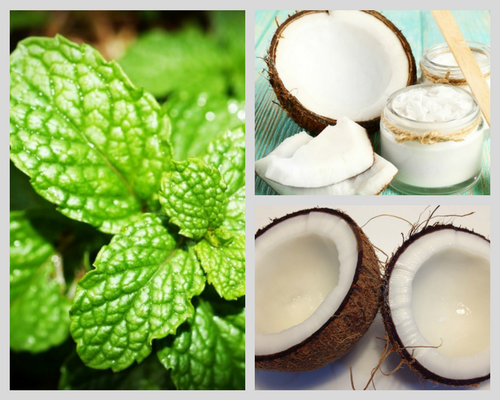 So, are you convinced, yet? Coconut Oil is an amazing part of a healthy diet. And it fabulous to use on the skin, in your home and in your life. I believe a natural approach to life is the best approach to life. And coconut oil is a fabulous addition to a balanced, healthy, productive life.