Is anyone else feeling the heat out there? Summer is in full swing, and as much as I enjoy getting to wear shorts, sundresses and sandals, it is getting mighty toasty inside. In my fantasies, my apartment is regulated by central air at a perfect 70 degrees. In reality, my 2nd floor apartment is just a few degrees cooler than hell by about 4pm everyday, and stays that temperature well into the night. I ran my little wall AC last night, and according to the temperature gauge, it took four hours for my apartment to re-enter the high 70s. As I imagine I am not the only one feeling the heat, it seems this was a great time to pull out some of my favorite ways to stay cool!
The thing I love about summer is all the juicy fruits and vegetables that are in season. Some of the sweetest, juiciest fruits are in season this time of year like blueberries, cherries, plums, apricots and watermelon. It is also a great time of year for water filled veggies like green beans, cucumbers and corn. Nice to know that Mother Nature is working with us to keep us cool!
This is a perfect time to institute having a light meal for supper. Who wants to turn on the stove a cook a four course meal? You could make a fulfilling salad with greens, corn, black beans, berries, cucumber, string beans and maybe some goat cheese for fun. Make it a complete meal by cooking your meat in the morning on Sunday when it is cooler in your home so you can add it to your salad on Monday or Tuesday night. Want something healthier for your family than bottled vinaigrette? There is a link for lots of homemade vinaigrette recipes at the bottom of this page. They are easy to make and most of them don't require a stove.
As a special note, this is a great time of year to whip out the jalapeños and the cayenne pepper. Eating spicy foods will help cool you from the inside. When you eat spicy, it triggers your body to glisten. (That's woman talk for sweat!) This is your body's natural mechanism to cool yourself down. Eat something spicy while going into the full heat of the day and your body will help regulate your temperature before you get the chance to heat up!
What about when you want something quick to help cool you down? I personally love to just take a frozen berry and let it defrost in my mouth. It is a burst of sweetness that is portable and sweetened by nature. It also takes no preparation time. It is just pop and go.
If you want something fancier, I have a super easy recipe for homemade Italian ice. Take one heaping cup of berries and ½ cup water. Blend them together, pour into a ramekin or small bowl and freeze. Viola! You have a super easy and healthy dessert. If the natural sweetness isn't enough for you, add a touch of stevia or agave. Personally, I find the natural sweetness perfect but you decide for yourself!
Here is another recipe to cool you down. I call it:
Chilled gazpacho that'll make you sweat.
It will cool you in two ways: 1) from the chilled vegetables and 2) from the spiciness of the jalapeños.
Prep time: 20 minutes
Cook time: 10 minutes
Ready in: 1 ½ hours
This should yield about 2 large bowls or 4 smaller bowls of gazpacho.
3 medium tomatoes
½ or 1 whole jalapeño (omit or reduce if don't like spice. If you include a whole jalapeño it will be "stick a fire hydrant in your mouth" spicy!)
1 cup cucumber
½ cup red pepper
1 medium onion
1 tablespoon cilantro
1 cup water
1 tablespoon balsamic vinegar
1 teaspoon Trader Joe's 21 Season Salute (or mixed herbs you have available)
¼ cup olive oil
1 cup water
salt/pepper to taste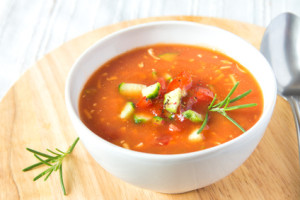 First, I sliced the tomatoes and the onions and grilled them (on my Foreman Grill – yes, I live in an apartment!) I grilled them until charred to give them a smokier flavor, removed from heat and chilled them for 1 hour. If you are short on time or prefer raw, go ahead and skip this step.
While the tomatoes and onions were cooling, I diced the cucumber, red pepper, jalapeño (again, warning: will be very spicy with a whole jalapeño) and cilantro and set them aside in a bowl. I added the 21 Season Salute (if you don't have that, add extra herbs or spices like basil, thyme, etc) and the salt and pepper.
Once the tomatoes and onion were chilled I removed the charred areas, peeled the onion and chopped them into small pieces, removing as many of the tomato seeds as possible.
I added this whole mixture to the rest of the prepared ingredients I had just set aside.
I then took this mixture and poured it into my blender. I added the water, balsamic vinegar and olive oil and blended for 60 seconds. The consistency should be slightly lumpy. Since gazpacho is served cold, it was ready to eat! Easy peasy, totally tasty and super cooling!
Given that, at least where I live, this heat is only going to get worse through about October, finding ways to keep cool can be a life saver. Even if you are luckier than me with your central air, setting the thermostat a few degree higher will ease your tears when your electricity bill arrives. These are some of my favorite icy options. Surely you have a few favorites up your sleeve as well. Feel free to share my recipes and share your ideas so we may all keep just a little bit cooler.
*Homemade Vinaigrette Recipes: http://www.food.com/recipe/basic-vinaigrette-dressing-with-8-variations-213989