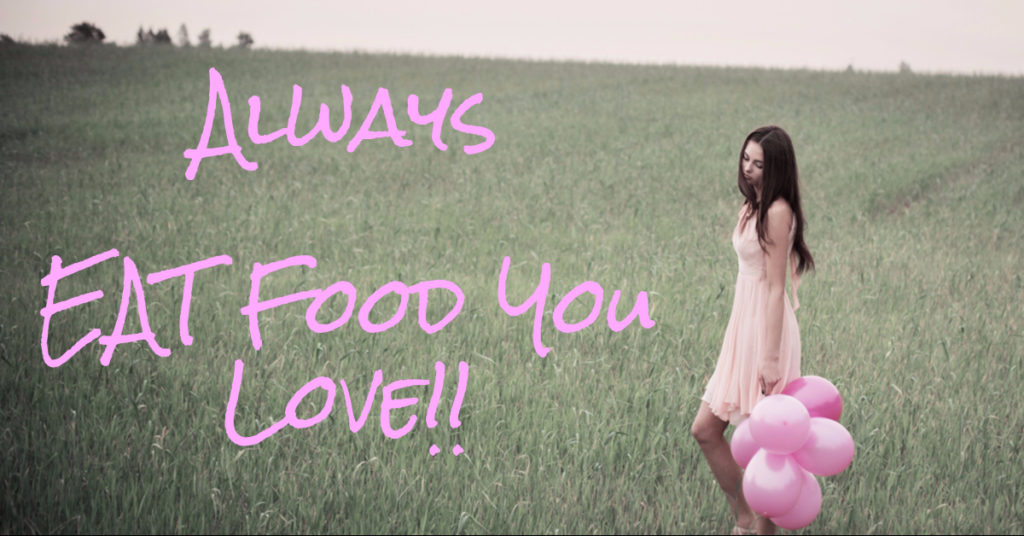 I often talk about my personal struggle in losing weight in my teens and early 20s. I went up and down on the scale and did destructive things to my body. And I went through horrible periods of deprivation that left me feeling empty. And the worst part i that this deprivation didn't lead to anything lasting. I was so frustrated.
I changed my pattern when I changed my attitude. And the biggest lesson for me was that I could make more of a lasting change in my diet and my body eating foods I love than I could living in a place of deprivation.
But here's the catch
I love pizza. And brownie sundaes. And macaroni and cheese. All carb-filled, fattening foods. And no, I didn't discover a miracle way to eat all these foods on a daily basis. Because believe me…I would have done it if I could.
But here's what I did discover. I love lots of different foods. And maybe I don't love them all in the same way. Like, I really love roasted Brussel sprouts. I mean, I totally adore them. I could eat them like candy.
No, Brussel sprouts aren't pizza. They don't take the place of pizza. But that doesn't mean I don't totally love them. So right there I have proof that I can love food and eat healthy.  
The drop pounds while eating foods you love formula
Ok, here goes, This is the real deal on how to make a lasting transformation if you love food and don't want to feel deprived.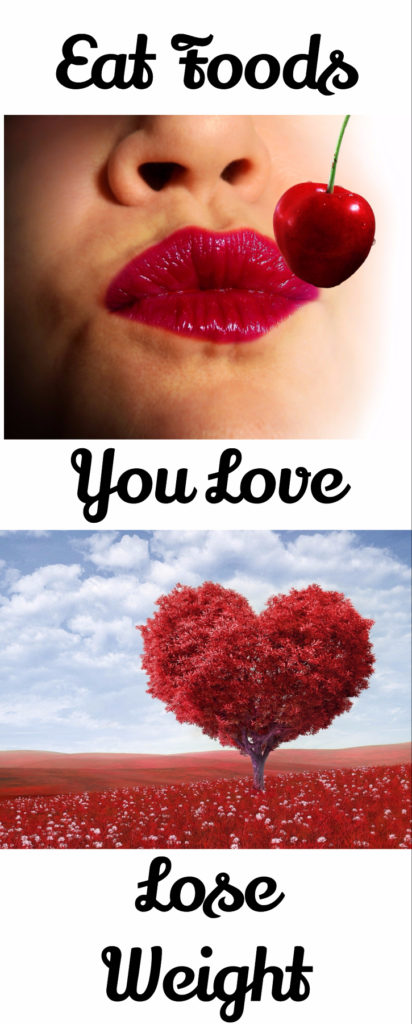 Number 1
Stop counting calories. Seriously, don't do it. You have to be mindful of what you eat. But It has been proven is study after study after study that there are more effective methods for long-term weight loss.
And greatly limiting food intake will always make a foodie unhappy. Meaning you won't stick with it long-term if you love food.
Number 2
Discover the different ways you enjoy lean protein, vegetables, fruits, healthy fats and high-fiber grains. Here are some ways I found cleaner eating could rock my world:
Asparagus french fries – They totally fulfill my need for salt and crunch

Roasted Brussel sprouts, cauliflower & carrots – seriously rocks my world

Roasted, unsalted almonds – so good

Guacamole – full of healthy fats!

Slightly defrosted frozen cherries – once they're cold, they're totally creamy like ice cream!
But I didn't know this until I started experimenting. You need to start trying different ideas and recipes and see the types of healthy foods you love! They exist, I promise you. My answer my not be right for you. But if you spend the time investigating, you will find healthy foods you love.
Number 3
Never create a mindset that you need to abandon the comfort foods you love. I still eat pizza. I still eat macaroni and cheese. And, a brownie sundae now and then isn't so bad.
But I don't need to eat them all the time anymore. Because there are so many other healthy foods that I love, that I feel fulfilled having them occasionally. And that's the trick. When you discover how you can find fulfillment with healthier foods, the more fattening treats can more easily become more occasional treats.
This is possible so don't give up on yourself.
You don't just wake up one day craving kale. That's not how this works. You must keep trying things until you find the recipes and foods you love.
Looking for a fresh start with healthy eating? Check out this 21-day jump-start plan. It even comes with a cookbook filled with lots of cravable healthy eats! This is a great plan if your looking for help in transitioning to a healthier lifestyle.  And it comes with free email coaching from me as a bonus!
But whatever you do, you must start by putting one foot in front of another. You're starting a new chapter of your life. You're inventing a new way to interact with the world.  So realize this is a journey and not a place you'll just arrive when you decide to "be good."