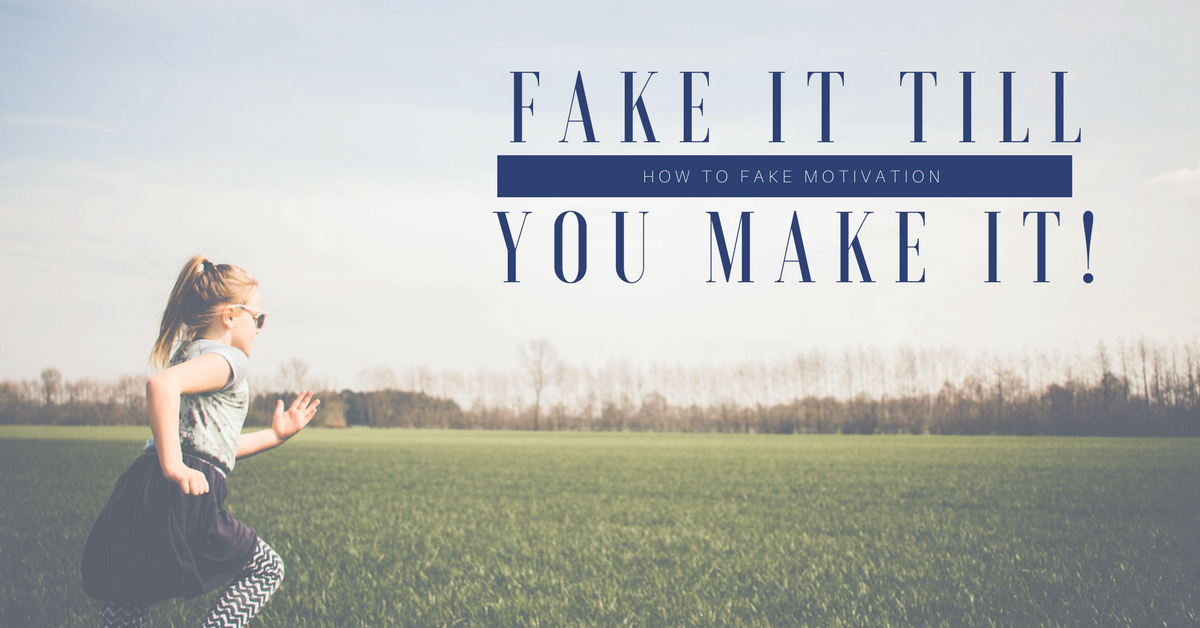 I woke up this morning filled with dread. Today was a running day. I'd promised myself that I'd go for a run today no matter what. And while my brain said, "great idea", my body was like "OH HELL NO"! And so the question came up. How can I fake motivation before I feel it for reals?
I'm not a natural athlete. But this year I've been so consistent with  my workouts. In fact, I dare say I've been pretty damn badass.
But then something happened this week. I just felt tired. My body felt sluggish. My arms and legs felt heavier. And the idea of putting on my running shoes seemed painful and inconvenient. And this brought me to a place of having to fake motivation. Because it just wasn't there
So how do you fake motivation?
You  have to take the first step. And so today I'm going to talk about ways to take that first step, even when you're "not fully there yet". Motivation "shmotivation". Who needs it when you can fake it?
1. Think of yourself like a line of dominoes.
All you need is something to get the action moving and then momentum takes over. So what can get you moving?
For me, it was changing into my workout clothes. Hell, once I was wearing the clothes, I would feel even sillier not running. So that was a good first step. And that got me halfway there
Then I took myself out into the street, my iPhone cued up to a song that helps get me moving. OK, now I can stand on this street corner looking lost. Or I can put one foot in front of the other and get moving. I chose the latter.
And now I was running. And I will say, the first few blocks were hard, but as I moved forward my motivation grew.
2. Focus on the easiest part of the goal
I already talked about changing into my gym clothes. That was the easiest part of my goal. I didn't object to doing that part. So I focused on that.
As you fake motivation, what part of the task can you get yourself to do? What's a simple step you can take that will at least get you started? Don't worry about the rest. Just focus on this attainable part of your goal.
Because, even if you do nothing more than that, you've taken a step forward. Baby steps are better than no steps. And you'll do the easiest part which will often lead to doing more.
3. Think small before you think big
Here's the truth. When I started my run, I only told myself that I had to go around the block. Because that would count as running, right? It would increase my endorphins. It would get my heart pumping. And it would get my metabolism moving.
In the end, I ran about 3 miles which is much more than just around the block. But what if I had initially asked myself to run 3 miles? That would have taken more motivation. And what if I had told myself I needed to run a half marathon? Jeez, I'm pretty positive I would STILL be in bed!
Make it easy on yourself to fake motivation. Think small before you think big
4. Give yourself a good reward for getting going
When I was in kindergarten I hated nap time. (What was I thinking?) But I worked really hard at being a good girl because that would get me a treat. Something like a crayon!
So what's your prize for going through with your goal? Make it a good one! My reward for running will be that I get to take a nap this afternoon. (Ahhh, the irony.)
It's nice to think you would be motivated by the long-term aspirations that come with any goal. But sometimes you've got to dangle a prize over your head right now or you'll never get going.
5. Identify the larger obstacle
Sure, I could just write myself off as lazy. I mean, who really wants to get out of bed when they could sleep in a little longer. But what if I peeled away the excuse of being lazy. Might there be something deeper lingering underneath?
I spoke a few weeks ago about the physical problems I endured growing up. I always have to remind myself that my body can do more than I think.  Because this is an area which creates a lot of insecurity. And in the end, I think this was a big piece of my resistance. I felt tired and I didn't trust my physical abilities.
It's easy to write yourself off as lazy or unmotivated. But that might not tell the whole story. There might be something deeper that you're struggling to face. And you'd rather disparage your motivation than get into that deep, messy place where your real fears hide.
But I encourage you to leap in there. Sure it's scary. But as you muddle through the uncomfortable areas, you start to grow.
Fake it until you make it. Well, at least when it comes to motivation.
Seriously, writing yourself off as lazy or unmotivated is taking the easy way out. You can work around what you perceive as a lack of drive. You just have to start thinking about things in a different way. And if this is a pattern, perhaps try online counseling to help identify why you're continually getting in your own way. 
I encourage you to stop the next time you tell yourself that you're too lazy to get started. Because you can do better than that. So try to re-frame the obstacle. And approach it in a different way. And you just may be amazed by the results you achieve.