I've gotten into running this year. Seriously, if you'd told me a year ago that I'd be running on a regular basis, I'd of been like, "stop it!" Rude, I know. But I would've never believed you. I've always avoided running until now. I'd embraced exercise, but not cardio. And one of the things that really helps me get moving on my most lazy days is my 80s and 90s playlist.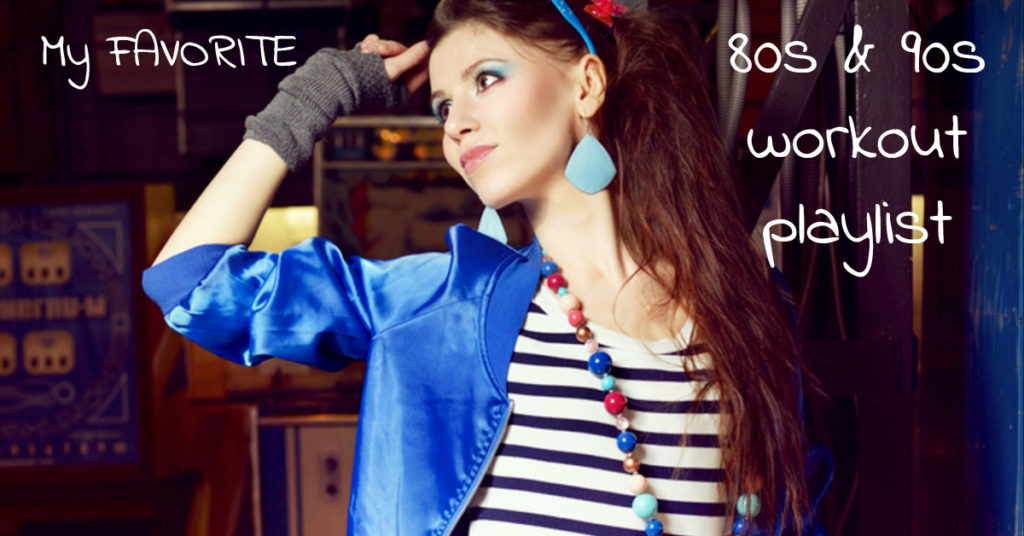 Quite frankly, I like being active, but getting started with any activity is always hard. Lately I've gotten into old TV shows from the early days of television. So I've been watching The Dick Van Dyke Show, That Girl and Mary Tyler Moore. I'm amazed at how timeless these shows are. Sure society has changed. But the underlying themes are still so relevant. And before I digress too much, the point is that I can easily talk myself into staying home and watching a Netflix marathon.
Keeping in step to the 80s & 90s
But I push myself to get off my butt and move. Because this is important to me. But some days I need an extra lift to get energized. And this is where music from the 80s and 90s comes in. That era has so many songs that are upbeat. And that music just makes you want to move Seriously! Can you really just sit still while listening to Journey's Don't stop believing or Quiet Riot's Come on feel the noize? I don't think so. You have to get up!
And there's another perk of grabbing your hairspray and your parachute pants before your workout. Something about that music just makes me feel silly. And you can't take yourself too seriously while listening to it. So you're not the fastest runner. So you look like a hot mess. Who gives a crap! It's the 80s and 90s people!
Yes, you might be embarrassed if someone sees your playlist
You might want to keep this playlist under lock and key. Because this playlist is a little, to quote the 90s, cheesy. But that's the fun in it. You don't have to tell anyone you're listening to this music. It can be your little secret.
But the amazing thing that nobody told me in high school is that being uncool is totally cool anyway! I really needed to hear that when I was 12 and desperately trying to fit in. But being a big dork is totally sexy. And if that's the case, you're gonna be your hottest, sexiest self listening to this playlist!
My 80s and 90s upbeat playlist to get moving and sweating
Grab your headband and your thighmaster. We're gonna get moving like it's 1999!
Hit me baby 1 more time – Britney Spears
Come on feel the noize – Quiet Riot
Getting Jiggy With It – Will Smith
Bust-a-move – Young MC
Kiss – Prince
Barbie girl – Aqua
Dream on – Aerosmith
Into the groove – Madonna
Livin' on a prayer – Bon Jovi
Ice ice baby – Vanilla Ice
Walk this way – Run DMC
Physical – Olivia Newton John
Mmmmbop – Hanson
Welcome to the jungle – Guns & Roses
Faith – George Michael
Super Freak – Rick James
Gonna make you sweat (Everybody dance now) – C+C Music Factory
Pretty fly (For a white guy) – The Offspring
Hit me with your best shot – Pat Benetar
Don't stop believing – Journey
Get the party started!
This list is guaranteed to give you the lift you need if you feel like you're dragging. And before you know it, your dreaded run will become an 80s & 90s dance party.
And if this playlist gets you inspired, take it one step further. Put on some blue eyeshadow. Get out some glitter. And wear a shirt that goes down to your knees. Now, you're really rocking the 80s and 90s style!
Do you have a favorite playlist that you listen to on those days when you lack inspiration? Is there a song that you can't help but move once it starts playing? Do you have a playlist that you would be mortified if anyone saw? Well, of course let me know in the comments!