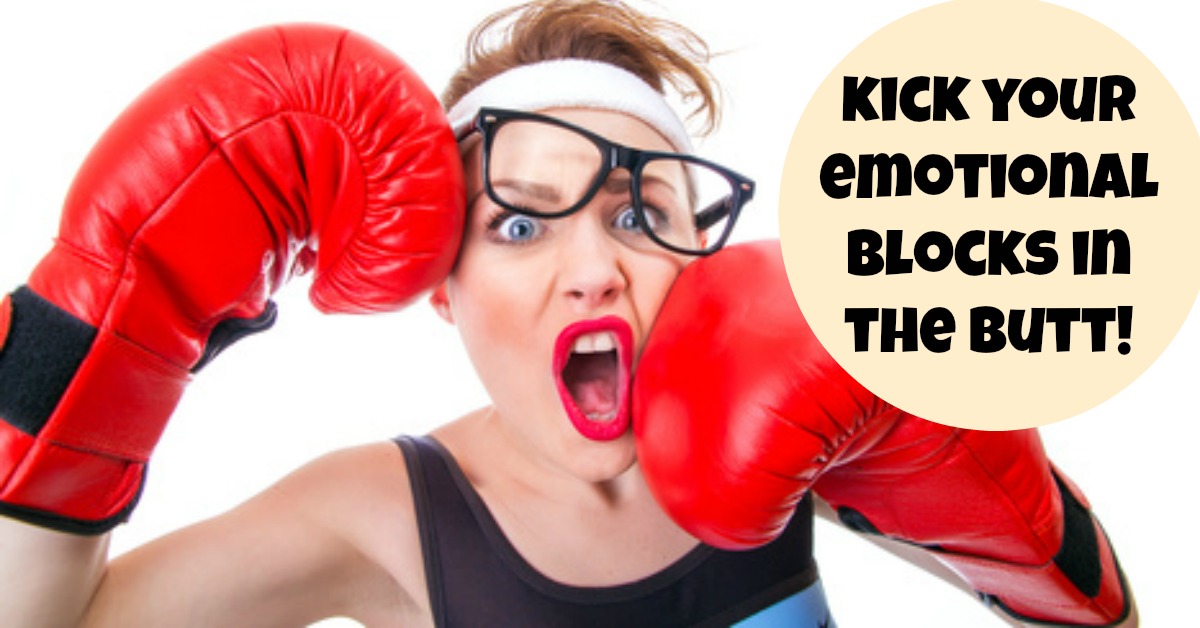 Changing your diet and lifestyle is hard. But changing the emotional text you repeat to yourself is a lot more difficult. Your emotional blocks to weight loss can be more damaging than any "forbidden" food you eat. Cure these emotional blocks and you'll be well on the road to health, happiness, and feeling amazing in your skin.
There are many ways in which you can stop yourself from being successful. You've probably been practicing some of these from childhood. The first step is to acknowledge that this is something you're actively doing to yourself. The next is to create patterns of behavior that are much more conducive to reaching your body goals.
7 steps to get over the emotional blocks standing between you and your successful body transformation.
---
Evaluate if your favorite foods are more important than happiness
I often hear people proclaim, "I want to lose weight but I just can't bring myself to do what it takes." Get out a piece of paper and draw two columns. In the first column write down everything that you get from keeping things as they are. In the second column, write down how your relationship with food is limiting. This should give you some honest information about how your current lifestyle choices are affecting your quality of life.  And that might help you examine whether the instant gratification of your favorite foods is really so gratifying.
Stop looking at things as all or nothing.
Diets can be so restrictive. I mean, that's the whole point, isn't it? But this restrictive thinking can actually turn into emotional blocks. Let's say you're on a food plan when you eat something not plan approved. If your attitude is all or nothing, you're now in the category of failure. And you can use this as permission to take yourself further off track. Or let's say that you've had a horrible day and you tell yourself you desperately need comfort food. There are comfort foods that are more damaging to your diet that others. But when you look at things as all or nothing, you're likely to choose the most damaging option out there.
Discover how to enjoy social situations without cheating
You're on an eating plan that's REALLY working for you. But there's a family reunion this weekend and all of your loved ones will be there. And you tell yourself that you won't be able to have fun without indulging. Plus you'll make your family feel uncomfortable by limiting what you're eating. And while allowing a small indulgence on a special occasion can be perfectly fine, giving yourself permission to become undone is not. Don't let emotional blocks turn special occasions into a form of self-sabotage. It's important to create a new standard of normal for these social settings. Plan on finding different enjoyable aspects of time spent with those you love instead of focusing on the food as the center of the celebration.
Realize that you don't really feel better when you eat
Food as comfort is inadvertently taught to most of us from a very young age. But here's the reality. Emotional eating actually brings up more bad feelings than it actually soothes. And in my opinion, it isn't really the food that is soothing after emotional upheaval. It is the ritual of "self-care" through food that provides comfort. When you're repeatedly denying yourself other forms of self-care, you're going to turn to food. The possibility for emotional eating is a fact of life. And as I previously mentioned, there are ways to emotionally eat that will do less damage. But no diet is complete without exploring alternative methods of self-comfort.
Have the courage to get rid of your larger sized clothes
Does this sound familiar? You've lost a bunch of weight and you're feeling proud. And you've started to replace your wardrobe with new, better fitting options. Your old clothes sit in the back of your closet, hoping to never be used again. But you just can't bring yourself to donate them to charity. You tell yourself you're being practical by holding onto them in case you're not successful long-term. But the problem is that this sends your brain a mixed message. In one moment you're feeling victorious. The next minute you're seeing this reminder in your closet that you might fail. At the very least, pack up the clothes and place them in storage out of everyday site. That way you won't put your brain in a position to inadvertently sabotage yourself every time you look in the closet.
Don't give yourself an easy out when you don't want to exercise
One of the biggest emotional blocks for many people is exercise. You might feel tired, or lazy, or maybe there is just something that you would prefer to do. But it's important to not let yourself off the hook. That part of you who doesn't want to exercise is like a small child. If it gets away with convincing you once, it will know it can do it again. And this can become more of a habit than exercise itself. Here's what I do. When my brain tells me it is too tired for exercise, I make a compromise. I tell myself that I still have to go to the gym, but I only have to exercise as hard and for as long as I am capable. And usually I find I have a lot more in me that I originally thought. It is important to honor how you're feeling, but it is equally important to teach yourself to work within your current capabilities. Because, just like anything else, you should never be looking at exercise as all or nothing.
Stop telling yourself that other people's feelings are more important than your own
Staying the same can be tied into so many deep-seated emotions. And many of my clients tell me that they are scared to hurt other people's feelings. They don't want to insult someone who offers food to them. They don't want someone to feel uncomfortable if they need to take a break from a diet destructive activity. They don't want to turn down an invitation to make time for self-care. And maybe they don't want to make their heavier loved ones to feel uncomfortable by their transformation. Putting one's own needs behind what others think won't get you where you need to go. And you might just be projecting your own thoughts and worries onto others. Start practicing putting yourself first. If someone else has a problem with that, the problem is stemming from their own issues and insecurities.
Do you have emotional blocks relating to feeling and looking your best? What is a positive step you could take to help yourself get over it today?