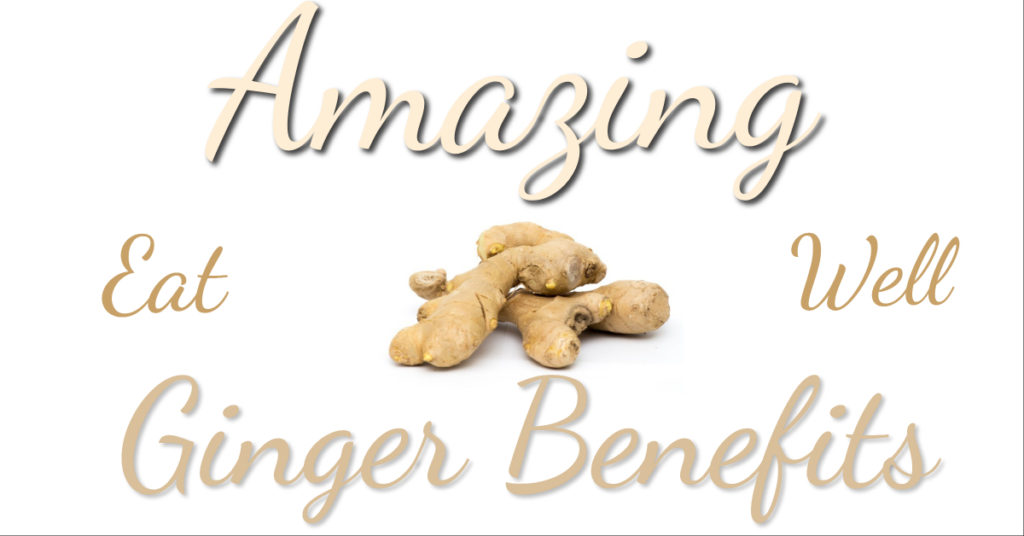 I love ginger. It's so darn good for you and it adds a kick to food that's just amazing. So, today I want to go over some of the amazing benefits of ginger. And also talk about how you include more if it in your diet.
Look beyond nausea
My mom was going through chemo some years ago.  And the buzz word was ginger. It was the perfect antidote for the inevitable nausea that comes with chemo. 
My mother was lucky going through chemo (well, as lucky as you can be going through chemo) in that her stomach never got that upset But since then, I have a whole new respect for this amazing root. Because it can benefit you in all sorts of amazing ways.
Menstrual cramps
Get this. Back in 2009, there was a study evaluating the effectiveness of ginger on menstrual cramps. The study took 150 students and divided them into three groups. One group was given ibuprofen for menstrual cramps. Another group was given mefenamic acid (as in NSAID drugs.) And a third was given ginger.
And guess what? All three groups had a significant reduction in menstrual cramps! And there was literally no reported difference in cramp severity between the three groups.
So, as that time of the month draws near, make sure you have ginger on-hand. Maybe even take some before you have your first symptom. That way you can attack menstrual cramps before they start. Because not only is this option all-natural. Purchasing it is really cheap! 
Exercise pain relief
One of the amazing qualities of ginger is that it is an anti-inflammatory. That's why patients with osteoarthritis use it so often. But what you might not know is that it can be used to reduce the pain and strain that comes with heavy exercise. 
A study in 2010 showed that daily consumption of both raw and heat-treated ginger had an amazing effect on exercise recovery rates. Meaning that people who consumed ginger on a regular basis had a significant reported reduction in muscle pain after exercise.  How amazing is that?
Ginger and weight loss
Many people don't understand that inflammation is a strong contributor to obesity. And inflammation reduction is an essential component to long-term effective weight loss. This spice along with a healthy diet and lifestyle can you not only lose weight, but keep it off.  
A study in 2013 compared the effects of ginger versus orlistat (synthetic drug to treat obesity) on weight reduction in rats. Some rats were given ginger powder while others were given the synthetic drug. And what the study found is that there was significant weight reduction in both groups.
Studies with animals don't always yield identical results with humans. But since ginger has so many other healing properties, you can't lose by adding it to part of your weight loss regimen.
The healing uses are endless.
In most cases, you can safely use ginger, along with your regular treatment protocol. That doesn't mean you should stop taking your medication. Talk with your doctor before making any changes. . Also talk with your physician before bringing this spice into your diet in high doses. And remember, ginger is just one piece of a healthy lifestyle.
Other possible conditions it can positively influence include:
Common cold 

High cholesterol

Heart attack/Stroke prevention

Bacterial infections

Colon cancer prevention

Blood sugar balance/Diabetes
Bring more ginger into your diet
There are lots of ways to bring more  into your diet. You can, of course, take a supplement. But I'm all for upping your intake through as a whole food first. Here are some of my favorite ways to add ginger to the diet:
Steep it as a tea.

Add it to a curry or a stir-fry

Include it in your morning smoothie

Juice with it

Mix it into naturally sweetened baked goods
As a side note, don't overdo it with the crystallized candy version. It's soooo good! But keep in mind that it's also loaded with sugar.
So there you have it. Ginger is amazing. Reduce your menstrual cramps, your exercise recovery time, fight nausea, and do so much more. Now that you know the benefits, how can you bring a little extra of this spice to your life?