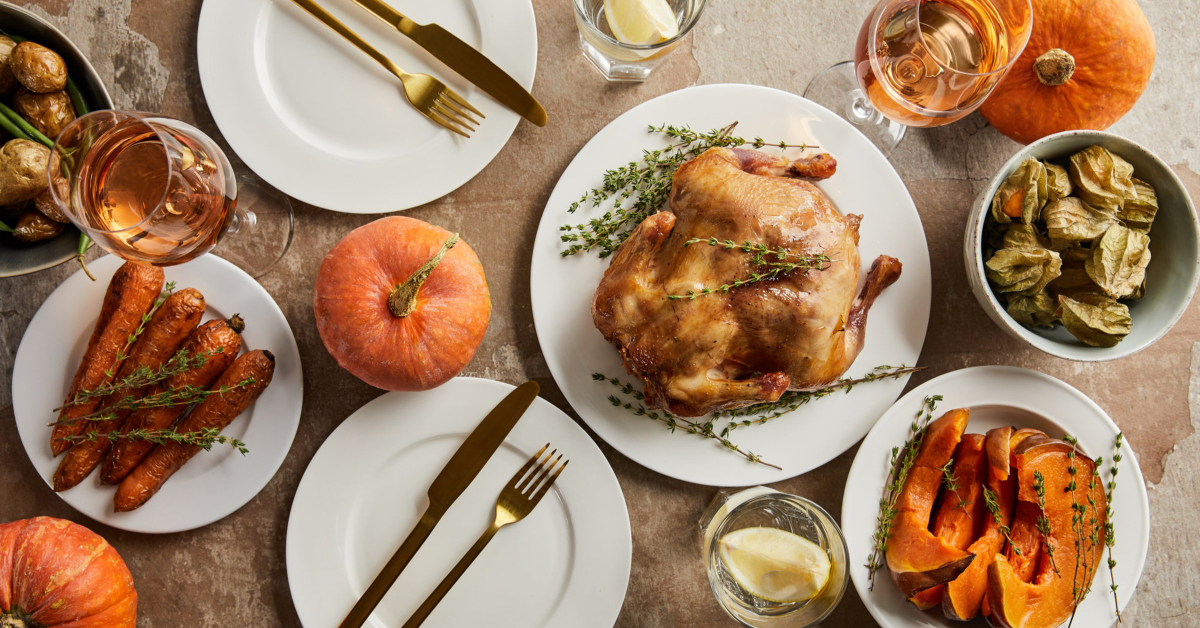 The holidays should be joyous and relaxing. But let's get real. If you're trying to eat healthier, navigating the holiday dinner table can be like walking through a landmine. And tempting food favorites can be a source of tremendous holiday stress. 
Here's the questions I get from my clients this time of year. "Will I gain weight during the holidays". Or- "is it impossible to stay healthy with so much temptation." And my favorite – "How can I turn down food without insulting my family?" These worries are so real.
When you're visiting someone for the holidays, why not bring a healthy dish? That way you'll know there's one thing on the table you can eat without guilt. And if you choose wisely, your fellow revelers won't even know it's healthy. It will just be your little secret.
This week I'm doing a round-up of your new holiday food favorites – recipes that are so good, nobody will guess they're healthy. These are some of the best clean holiday recipes from the web. Check them out and make them part of your new holiday traditions. 
Healthy Sweet Potato Casserole
Am I the only one who OBSESSED with candied sweet potatoes or yams? Mmmmm-so good. But once I cleaned up all the sugar in my diet, the word candied became alarming. I mean, that's got to have lots of sugar, right? It's in the name!
So I searched for sweet potatoes or yams that were craveable but less sugary. And I'm so excited to share this tempting sweet potato recipe from Joy Food Sunshine. It's amazing because it uses natural applesauce for sweetness. So much better for you, but still totally delicious.
Want a great sweet potato casserole that won't bust your diet? Check out Joy Food Sunshine's amazing healthy sweet potato casserole!
Balsamic Brussels Sprouts
You figure that the vegetables will be some of the healthier options on your holiday dinner plate. But do you think of them as food favorites? Probably not.
That is until you say the words Brussels sprouts. When they're made right, they're something everyone can get joyful about. So crispy, savory, and good. It's a no-brainer to include them as part of your healthier holiday dinner. Just pick a good recipe.
One of my favorites is balsamic Brussels sprouts. They're so easy to make and have a hint of sweetness.
So check out this delicious recipe from That Low Carb Life for balsamic roasted Brussels sprouts. And your healthy veggies will seem like a treat!
Quinoa Stuffing
What's the main ingredient in stuffing? Bread – super processed, full of bad carbs, and majorly unfriendly to a healthy lifestyle. But what's Thanksgiving turkey without stuffing, right? You just don't need all that bad stuff to get your comforting stuffing fix.
Quinoa is amazing because it satisfies carb cravings. However, it's so much better for your blood sugar than bread.
This recipe from Gimme Some Oven for quinoa stuffing is superb. It's lower in bad carbs. And it's filled with all sorts of terrific Superfoods! This is just the perfect healthier pairing with turkey.
Trade up to Gimme Some Oven's healthy but delectable Quinoa stuffing. After you try this, you'll be amazed you spent so many years eating boring bread. 
Sugar-free Cranberry Sauce
I'll let you in on a secret that feels scandalous. I'm not a huge fan of most holiday cranberry sauces. They taste too processed and sweet. Am I alone on this one?
But even if you're a raving fan, I'm pretty sure you'll adore the healthier variety too.
Kims Cravings makes a cranberry sauce that has no added sugar. It's just sweetened with the more natural sweetener, Stevia. Don't like Stevia? Try Monk Fruit Extract – another more natural sweetener that can be healthier and diet friendly.
So run over to Kim's Cravings and check out the recipe for Healthy Cranberry Sauce. It will be miles tastier than that stuff you get in a can. And you'll get to taste the actual cranberries instead of all of that sugar!
Pumpkin Pie Pudding
Dessert! Let's get one thing straight. Just because I'm eating healthier doesn't mean I'll miss dessert. Someway, somehow – dessert WILL happen.
And it's the season of pumpkin. So whatever comfort craving is on my dessert plate better live up to this. But pumpkin pie can be a slam dunk of calories in an already fattening meal.
What if I could get the flavor of pumpkin without all the carbs and sugar. Introducing healthier pumpkin pie pudding. There's no crust. And the ingredients are simple.
So check out this recipe from Very Well Fit for pumpkin pie pudding. It doesn't have any added sugar. So it's much more simply delicious!
Clean Cocktails
Getting together with the whole family without a mixed drink or two? Count me out.
But mixed drinks are the ultimate diet sin. Not only does the alcohol turn right to sugar in the body. But the mixers tend to be juices or sodas that are a powerful punch of calories and sugar. 
When we think of holiday gatherings, we think of alcohol. So why not be prepared with better ways to be merry. Think healthier Apple Cider Sangria, Rosemary Gin Fizz, or Pumpkin Spice Hot Buttered Rum. 
So check out Shape Magazine's 20 low-calorie holiday cocktails! You still want to drink in moderation. But here's a way to do so that won't leave you mourning you last month of sacrifice and healthy eating. 
This holiday season will be festive and fun. And there will be no sacrifice in doing it in a way that's nutritious and good for me. This is what I wish for you. Happy holidays!