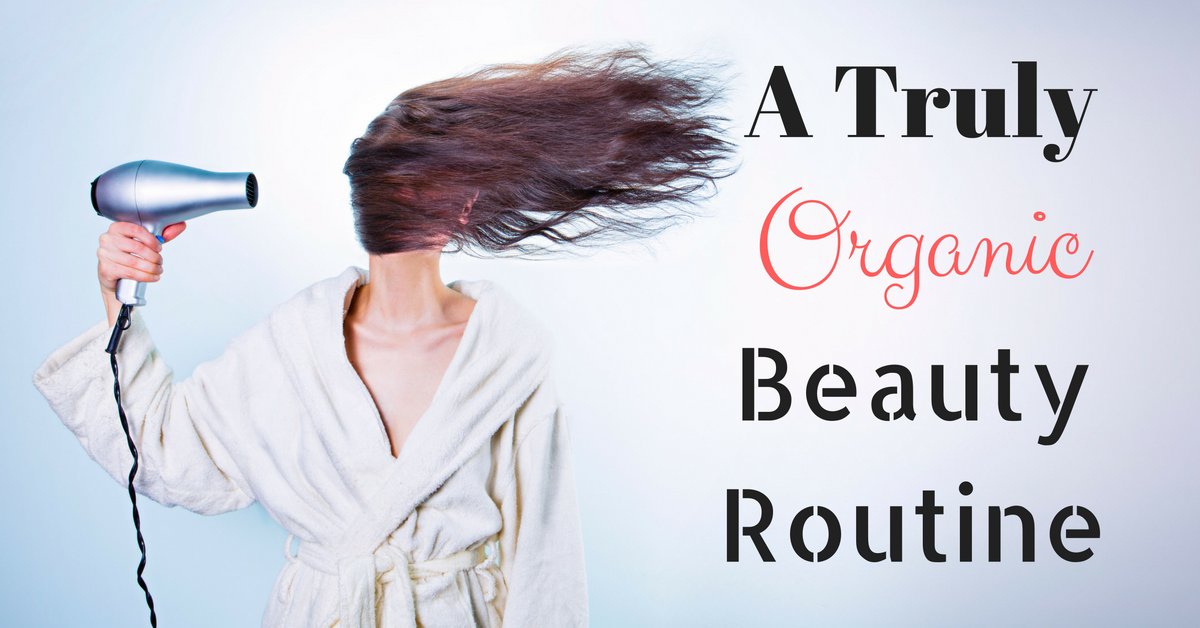 Here's a little known fact about me. I actually trained as a makeup artist. I loved how a little powder could be transforming. But I ultimately decided that health transformations rather than just beauty transformations were my thing. So I got my masters in holistic nutrition and the rest is history!
But these two passions started to create an internal conflict. I love makeup and adore how it can make me feel. But I'm now very aware that everything in my favorite makeup might not be good for me. So what's a somewhat vain, very health conscious, makeup loving girl to do?
Find a compromise, of course!
Dangerous Chemicals You'd Never Eat
According to geneticist, David Suzuki, there are many extremely dangerous chemicals found in cosmetics. This include carcinogens, pesticides, reproductive toxins and hormone disrupters.  You do everything you can to keep these out of your mouth. But you're letting them soak through your skin right into your blood stream. A healthy diet is only part of the equation for lowering your toxicity. Safeguarding what you put on your body is an essential part of the equation.
High Levels of Toxicity
There are many toxic chemicals found in popular makeup offerings. In the U.S., there are few regulations for chemicals used in makeup. Here are some commonly used toxins found in cosmetics.
Phthalates
Lead
Formaldehyde
Parabans
Mercury
Talc
Polyethylene glycol (PEG)
These chemicals either disrupt the endocrine system, promote tumor growth, lower immunity or disrupt respiratory function. And in most cases, they are disruptive in a multitude of ways.
This is all sounding kind of scary, right? But the good news is that there are healthy alternatives. Now that you're aware, you're empowered to make better choices.
Makeup that Helps Heal
The downside to healthier makeup is that it can come with a higher price tag. Cheap cosmetics are cheap for a reason. And this is unfortunate because healthier makeup options should be attainable for everyone. You can find recipes for homemade makeup online. But since that isn't my area of expertise, I'm going to share what I know best. And that is some of the great makeup lines that provide much better quality ingredients.
Here are a Few of My Personal Favorites
Couleur Caramel – This is a French brand that I've only found through one retailer here in the US. Hopefully it becomes more readily available. I especially love the mascara. This is the only natural mascara I've used that plumps my lashes while not running down my face.
Dr. Hauschka – This line use natural, non-GMO, clean ingredients that are at least 70% organic. And the company actually cultivates many of these natural ingredients in their own garden. I use many of their skin products, and I've had very good experiences with their makeup line as well!
100% Pure – The thing I love about this makeup line is that it is entirely organic. And the cosmetics get their coloring from fruit pigments. How cool is that? From my own experience, beware of wearing their products when going anywhere too rustic. Their makeup is so natural that it can seem like food to bugs! (But did I really need to be wearing mascara while hiking?)
Juice Beauty – The thing I like about this organic cosmetic line is that it's easy to find. I've located this line in department stores, makeup stores and even at the market! (Whole Foods) This is another line that uses all organic ingredients with a long list of chemicals that they won't use. And I especially love their lip glosses Anything you put on your lips will definitely get ingested so make sure it's clean!
Searching for Clean Makeup
There are lots of brands  that offer cleaner makeup. But when searching for more natural ingredients, be wary of taking a label at its word. Do some investigating before plunking down your cold hard cash. There are few regulations pertaining to labeling products (food or otherwise) as natural. Before you buy, check out the company and see for yourself if you find the ingredients to be truly natural.
Take Pride in What You Put on Your Skin
Makeup can make you look and feel great. But you want your beauty to be more than skin deep. We all have different budgets. Make the most of your dollars by finding the best quality products your budget can afford.
When I initially switched to more natural skin options, I decided to use less products. And the cost savings in buying fewer products allowed me to purchase better quality. But eating well and using more healing ingredients on my body gives me a natural glow.  This means my skin requires fewer products to look vibrant!
What About You?
Are you aware of what's in your makeup? If not, can you commit to find a healthier option for just one of your chemical filled favorites? Every little bit helps. Do something good for your body. Find ways to make your makeup regimen more natural and healing today.