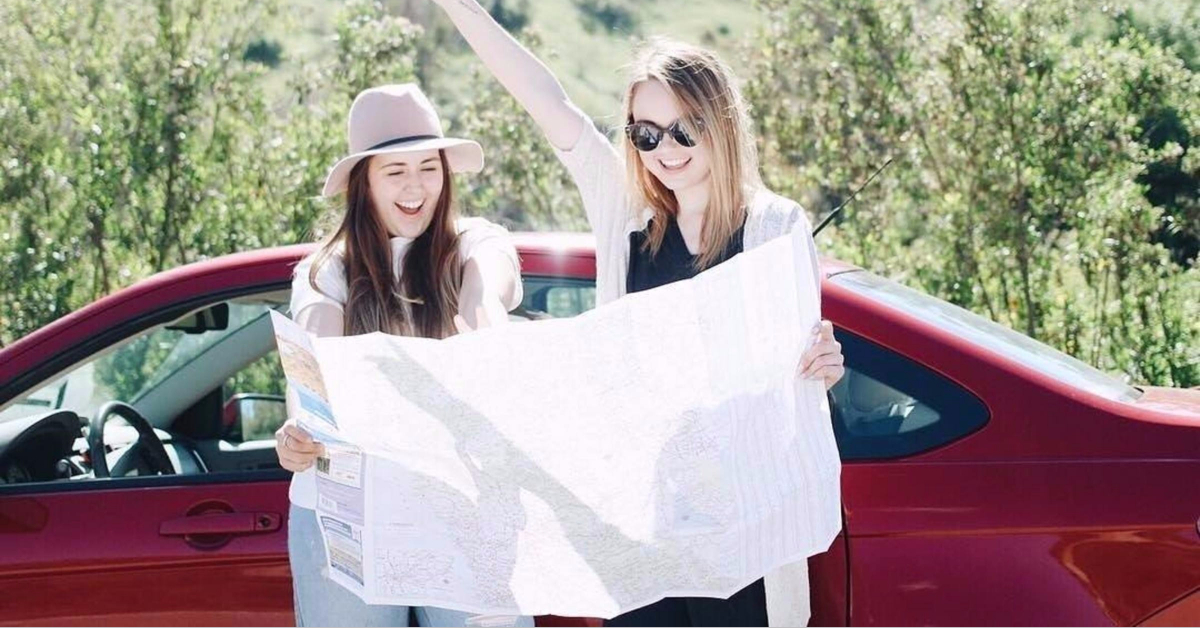 (Sponsored Post)
We Americans tend to overlook the miraculous healing effects of vacations and downtime. Taking time for ourselves can seem indulgent. And praise is given to those who work, work, work! So that is why I make myself take a road trip at least every few months. I need to get away from all the pressures of life and just focus on nature and serenity.
The thing that I love about a road trip is that you can do it at a moment's notice. You don't need to start planning months ahead of time. You can just decide you need a break and leave. All you need is a day, a long weekend, or an opening on your calendar. And then you get in your car and you're gone!
A road trip equals opportunity
I love living in Southern California. There are so many spots that I can easily run away to for a day or two. Here are some of my personal favorites:
Taking my dog down to Ocean Beach (dog beach) in San Diego

Visiting Solvang and spending time in the Danish Village

Going to Santa Barbara to walk by the beach and go wine tasting

Running to Vegas and spending way too much money

Strolling through Oak Glen and Apple Picking (perfect this time of year!)
Wherever you live, there has to be places for you to go. So get in your car and get moving!
The health benefits of a road trip
Downtime is seriously important for your health. If you're a workaholic like me, that might be horribly hard to hear. There always seems like there's something else that needs to be done.
But look. You can buy everything organic. Use products in your home that are non-toxic. Spend your life at the gym. But that only goes so far.
Stress is a killer. And if you don't take time to de-stress, your body won't be happy. Stress causes inflammation. This is the same type of inflammation that occurs when you consume pesticides or eat a bunch of sugar. There's no getting around it. Downtime is essential for your health. And a road trip is the perfect opportunity to take a small chunk of time, and focus on you.
Important tips for a healthy, happy road trip
Bring sunscreen for your face, even if you're travelling in winter. You'll probably be spending lots of time outdoors and the sun has an impact any time of year.
Pack your car with healthy snacks. You probably won't have access to the same quality of food that you have at home. And a little indulging on vacation can be a good thing. But you want to balance that with healthy choices.  A small portable cooler is perfect for a road trip.
Here are some snack ideas:
Nuts

Protein bars

Barnana snacks

Baggies of cut veggies

Unsweetened yogurt cups

Kale chips

Fresh fruit
Think ahead!
Bring lots of layers. Temperatures can change suddenly and you don't want to be stuck feeling too cold or too hot.
Bring a portable cup and lots of treats for Fido. 
Keep the kids safe
Make sure the kiddos are wearing seat belts.
Check to see you have the car seat installed properly for the little ones. You can never be too careful. Cars.com provides lots of great information and can help you see how your car measures in a car seat safety check.  So if you have little ones, you'll want to check this out.
Make sure your car is in tip top shape to get moving. Has it been a while since you've gotten your car serviced? Cars.com also has lots of great info to get your car road ready.
Have a safe, healthy trip
So get on the road and get moving. This road trip is for your health for goodness sake. Your body needs it! So pick a location on the map and get going. Take a day, a weekend, a long-weekend or even a whole week. Just do it! And remember to check out Cars.com to get lots of great information for getting on the road in style! May your road trip be a safe, enjoyable, and rejuvenating retreat from your everyday life!