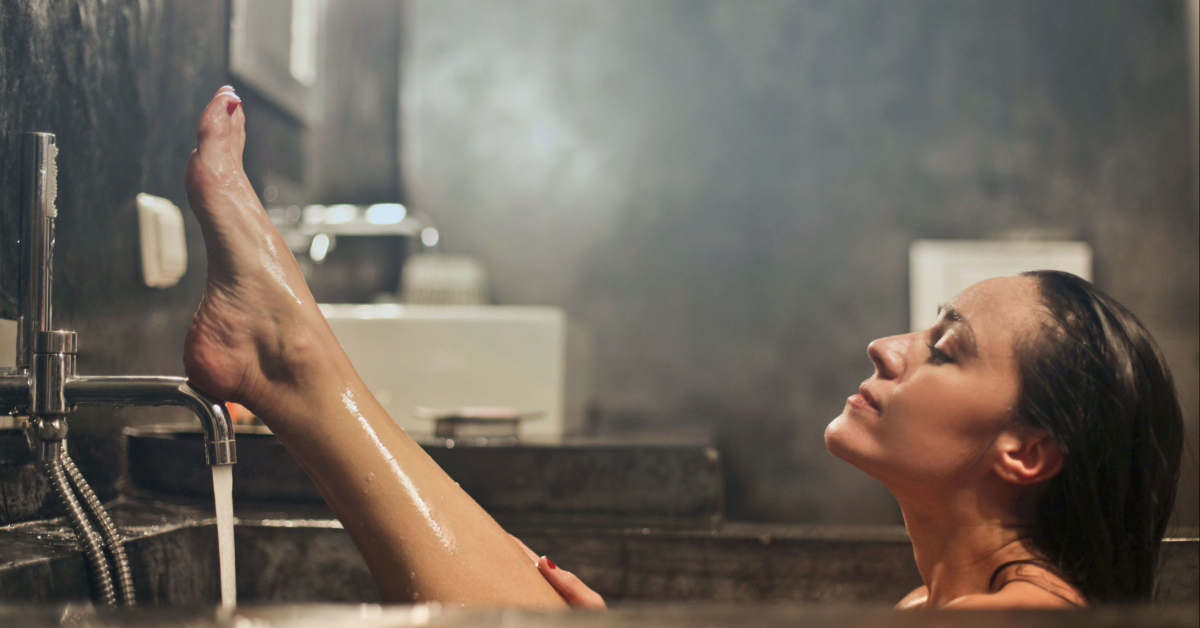 So last week I did my first ever 5K. Yay for me! (Sometimes you just need to say that.) But there's been some nasty side effects to some of the extra exercise I've been doing lately. I have a totally bad case of sore muscles. Ouch!
I'm sure you've been here. Those days when it sucks to laugh because your abs are screaming in pain. Or when you go to sit, and your legs don't want to bend. And you could take an ibuprofen or two to help numb the pain, but-
But what if you wanted to do something a little more, shall we say, natural? What do you do then? Well, get ready to calm those unhappy sore muscles. Because today we're going over 8 natural and effective ways to make your sore muscles do a happy dance!
Take an Epsom salt bath
The main ingredient in Epsom salt is magnesium sulfate. And if you don't know, magnesium is amazing for relaxation! (As a side note, if you ever experience one of those weird temporary twitches in your body, magnesium is good to calm that too!)
Fill your bath with hot water and throw in some Epsom salt. And if you want to get really crazy, add some lavender essential oil as well. Now you've got something ultra relaxing for both your body and mind.
Eat some extra avocado
A diet rich in potassium is a great way to reduce muscle soreness. So if you find yourself experiencing sore muscles, make sure to bulk up on this vital dietary mineral. Not only can this help you to start feeling better. It can make it less likely for you to have an 'exercise hangover' next time!
But don't be fooled into thinking you need to eat bananas like a Despicable Me minion.  Lots of other healthy foods actually have more potassium than a banana. Think avocado, spinach, sweet potatoes, and wild salmon.
Apply magnesium oil to your skin
No time for an Epsom salt bath? Not to worry. There are other effective ways to get your magnesium. And one of those is by applying magnesium oil directly to your skin.
As soon as you start to experience soreness, spray the magnesium oil onto your skin and rub it in. Just a note of warning. Magnesium oil can sting for the first 10 seconds or so. Meaning, go light the first time you use magnesium oil to access tolerance.
Become a camel
Yes, you know you're, supposed to drink water. You probably think it's a good idea in theory. But water can be so – how do you say it? Boring.
But if you'd like to avoid sore muscles, drinking water is essential. Dehydrated muscles experience inflammation. Which leads to them not feeling too good. So there's no way around proper hydration if you want your muscles to treat you well tomorrow.
Become an amateur masseuse
You've probably figured out on your own that a post-workout massage will make your cranky muscles smile. But what if you don't have the time or the funds to get things done by a professional? A foam roller can give you the masseuse effect on your own
Place the foam roller near the sore muscle and start to roll.  Never used a foam roller before? Check out this beginner's guide. The point is to get into the muscle yourself and really workout the tension. Do this a few times a day, and you should start feeling better.
Spice up your sore muscles
Did you know that there are ingredients probably already sitting in your spice cabinet that have similar effects to ibuprofen? Many spices are nature's anti-inflammatory. So bump up your intake for those poor sore muscles.
Turmeric is amazingly anti-inflammatory. And as a bonus, has a bunch of other health benefits. Ginger is another good one that also can be comforting to your digestion. Cayenne pepper contains something called Capsaicin which is wonderfully anti-inflammatory. So spice it up!
Get bendy
Ok, I get it. The last thing you want to do right now is exercise. But if you get those muscles moving, you can actively help them start to feel better. So this is a great time to practice some pilates or yoga.
But don't feel like you need to go overboard. Even if you're pretty experienced, you might want to opt for a more 'beginner level' workout. This will help you get your muscles moving and stretch without creating more stiffness and pain.
Chug some apple
Apple cider vinegar (ACV) is good for you for so many reasons. And your sore muscles will lap it up. ACV can offer some good, old-fashioned natural relief.
There are a couple of ways to take advantage of its benefits. You can add a teaspoon to a tablespoon to a glass of water and drink it like a shot. Or, like Epsom salt, you can add it to some hot water and bathe in it.
So next time your muscles scream 'ouch', don't give into defeat. There are natural ways to not only provide your muscles relief. You can strengthen your body so you don't experience quite so much pain next time you push your workout up a notch!