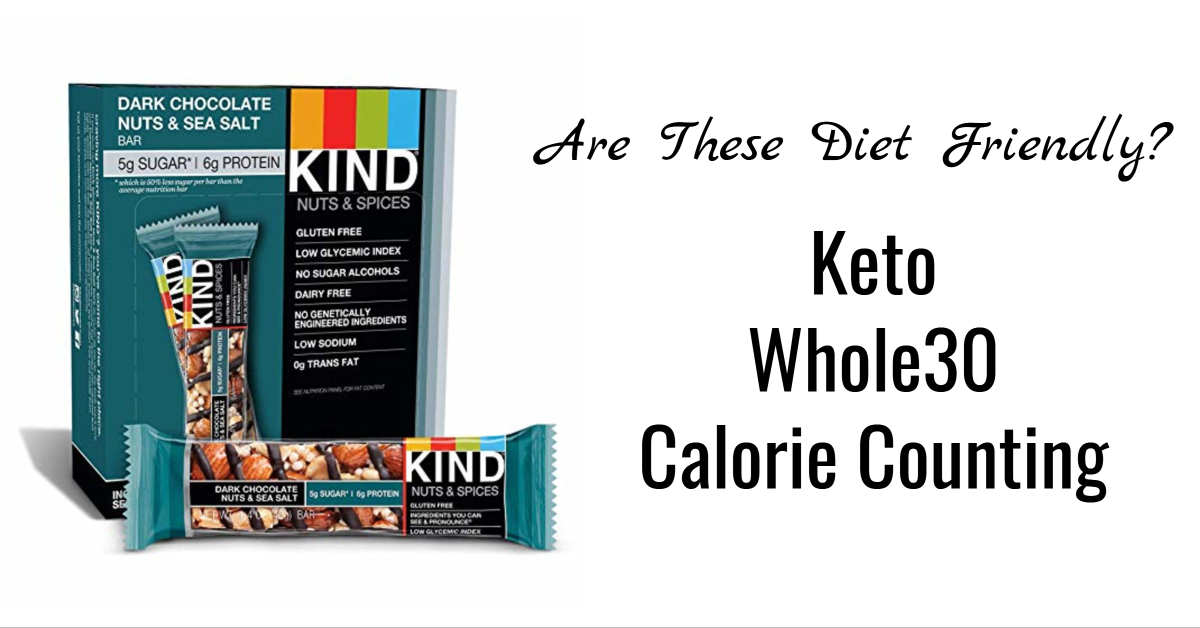 Kind Bars are marketed as the dieter's dream. They're made from healthy nuts, nutritious fruit, and are often low in added sugar. Plus, the flavors are to die for. Think Dark Chocolate Mocha Almond or Caramel Apple and Sea Salt. But are these bars really diet friendly?
First let me say, the answer isn't so easy. Diet friendly means different things to different people. Are you counting carbs, calories, grams of sugar? And so first, I'm gonna go over some of the more popular diet/ healthy eating plans and see how these bars stack up with each. And then I'll go over my picks for some of the most diet friendly Kind Bars.
Keto –
Keto is a high fat diet – like, really high fat. The good news is that some Kind Bar options are quite high in healthy fats from almonds, cashews, macadamia nuts, and coconut. But let's look a little deeper. 
Certain varieties are low in added sugars. But the keto diet is not only a low-carb diet. It's a lower protein diet as well. And this is when problems with Kind Bars and keto start to rear their head. 
While some Kind Bars are low in added sugars, a few contain too much protein. And none of them are low in carbs. Even the ones without added sugar contain fruit. And this is a carbohydrate. Kind Bars average about 15 to 25 grams of carbohydrates per bar. Which will be your entire carb allotment for the day. 
Yes, you could technically eat a Kind Bar and then no other carbohydrates during your day. But this is not only difficult to achieve. It's super unhealthy. So avoid Kind Bars on the keto plan.
Whole30 –
Whole30 isn't meant to be a weight loss plan. But many people do this program in hopes of making a clean start and dropping a few pounds. And sweet or savory snacks like Kind Bars can be a welcome treat on this strict clean eating plan. So are Kind Bars Whole30 compliant?
This is kind of a trick question. Because, when you think of Kind Bars, you probably think of those luscious bars drizzled with chocolate. No surprise: those chocolate covered bars aren't OK on the Whole30 plan. But don't despair. Because we're not done looking at our options. 
PRESSED is a division of the Kind brand. And their bars not only don't have any added sugar. They are Whole30 compliant! This is because they're made of Superfoods! You'll find healthy ingredients like chia, kale, and spinach hidden in these bars. 
There are lots of tempting varieties. You can try Cherry Apple, Strawberry Apple, or Chocolate Banana. And again, all of these have no added sugar! So you can have these on the Whole30 plan.

Low-Calorie
So a low-calorie diet doesn't have any specific food restrictions. In some sense, all foods are acceptable on a low-calorie plan. And since these bars are under 200 calories, you should be able to fit these in nicely. 
But here's the thing. You want to choose your bar carefully. Are you super hungry? Having a savory craving? Or maybe a craving for something sweet? Because you need to get to the bottom of your craving to pick the bar where you'll get the most bang for your calorie punch.
Hunger Pains
Let's say it's 3 pm, and you're experiencing a mid-afternoon slump. You obviously want something filling to get you to dinner. But all these bars aren't filling. So which bar should you choose in that situation?
I  would choose something like the Roasted Jalapeno. Here's why – it's starts with healthy nuts and seeds. And each bar includes pea protein. This protein can help give you energy. Plus roasted jalapeno just sounds so interesting. Have you had anything quite like that before?
KIND Sweet and Spicy Bars, Roasted Jalapeno
Chocolate Cravings –
Kind Bars are way better than a chocolate bar. But beware – some of these bars are quite high in sugar. You might think this doesn't matter since you're just counting calories, not grams of sugar. But too much sugar will make cravings worse!
When your snack is high in sugar, you digest it too quickly. And that will just leave you hungry for another snack. Not what you want!  Try something like the Dark Chocolate Mocha Almond Kind Bar. This will give you your chocolate fix with only 5 grams of sugar. 
KIND Bars, Dark Chocolate Mocha Almond
Savory Cravings  –
Many protein bars only really have sweet options available. This brand also offer the option of savory. And again, you won't have a problem finding a savory bar that is under 200 calories. You just want to find one that will keep you feeling full until supper.
This again means being mindful of sugar content. The Dark Chocolate Almond Chili is a good option. It has some sweet and some savory. And the sugar content comes in at just 5 grams!
KIND Bars, Dark Chocolate Chili Almond
Looking for a diet friendly snack isn't always easy. The good news is that Kind Bars fit into many healthy eating plans. Remember, whole foods are always better than bars. But if a bar is exactly what you crave, check out these diet friendly options!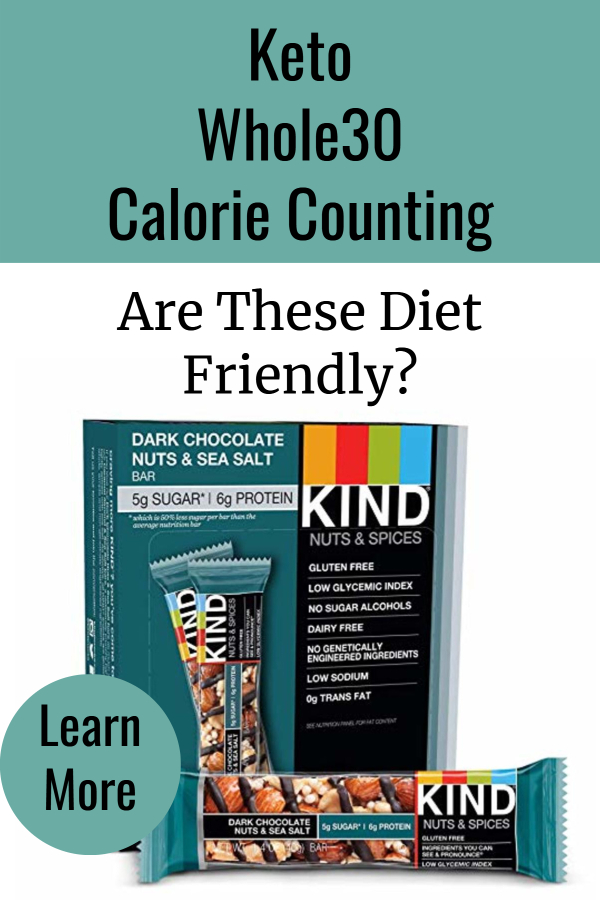 (This post contains affiliate links)