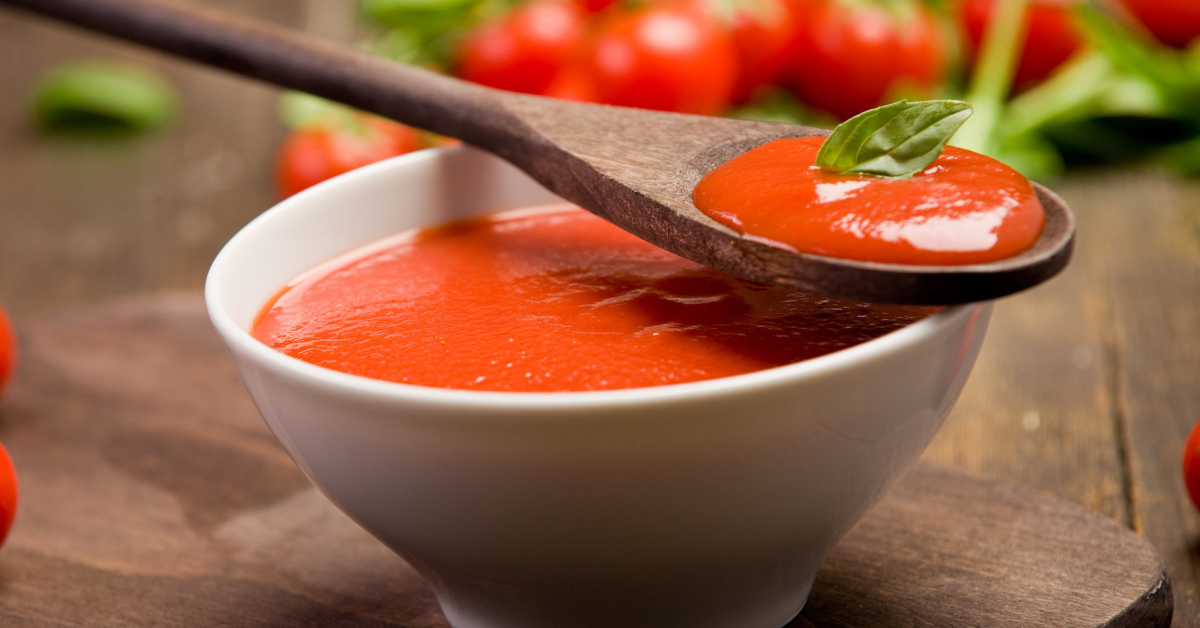 Pasta is only healthy if you make good choices. Luckily, there are so many ways to improve it's nutritional value. And a lot comes down to the spaghetti sauce. Make the wrong spaghetti sauce choice and you'll have a high carb meal overflowing with sugar.
These sugars are super sneaky and you might not even know they're there. But most conventional brands add sugar to their recipe. So what's a healthy eater to do?
Today I want to help you navigate the confusion. So I'm going to go over some of my favorite no sugar, low-carb pasta sauces. Keep in mind that tomatoes do contain some natural sugars. So while these sauces aren't exactly sugar free, they don't contain added sugar. And that's totally sweet.
Muir Glen Pasta Sauce
Muir Glen is a brand known for selling high quality canned tomatoes. But they also sell a variety of spaghetti sauce options. And the great thing about these sauces is that they don't contain added sugar.
Choose from an array of options from Garlic, to Herb, to classic Marinara. And as an added plus, many contain olive oil instead of low-quality vegetable oils. Plus they all taste delicious. Which is really the whole point. Definitely check them out.
Muir Glen Cabernet Marinara Pasta Sauce
Yo Mama's Spaghetti Sauce
This brand's pasta sauce is no sugar added and low carb. Plus it's also Keto Certified and Paleo friendly. It's a great tasting sauce that fits in with an array of healthy diets.
They have the classics like Marinara. But you can also get some gourmet flavors like Chianti and Bergundy Wine. So even though you're eating healthy, you're not eating boring.
If you're used to eating traditional processed and sugary pasta sauce, you might need to adjust your palette to the more subtle taste. But it's totally worth it. Once you get used to more natural eating, you'll realize how much natural flavor you've missed in your food.
Keto Marinara Pasta Sauce by Yo Mama's Foods

Primal Kitchen Spaghetti Sauce
Primal Kitchen prides itself on only using real foods in their recipes. They're full of clean ingredients and healthy fats, making them especially good for those on a Keto eating plan. And they're Whole 30 friendly plus low in carbs. And they don't contain added sugars.
Decide between decadent flavors like Alfredo and Vodka sauce. These are high in fat but low in carbs and sugar. They also have some basic marina sauces for those who aren't on a Keto/ high fat diet.
Primal Kitchen gets high marks in the taste department. They're so delicious, you'll forget that they don't contain sugar.
Primal Kitchen Marinara Tomato Sauce
Rao's Homemade Marinara Sauce
The great thing about Rao's sauce is the simplicity. They just contain basic, good-for-you ingredients. They're also gluten-free, made from whole foods, and contain olive oil as opposed to the processed oils found in many name brands.
They get very high points in the taste department. And the purity of the ingredients can't be beat. However, if you're looking for variety, you'll have to look elsewhere. Rao's does one thing and does it well.
They call their sauce homemade. And while it's not exactly made at home, it tastes pretty close to your mom's recipe. So if you want a great Italian spaghetti sauce, give this a try.

Hoboken Farms Marinara Sauce
There's so much to love about this sauce. Not only does it taste great. It's packed with lots of heart healthy olive oil. Just make sure to heat it up on low or medium heat so you don't destroy the health qualities of the oil.
Hoboken Farms is low-carb, sugar-free and Keto friendly. And they do offer some variety like vodka sauce if marinara just isn't your thing. There's even a lower sodium variety. They're a smaller business with a great taste and definitely a company you want to check out.
Hoboken Farms Marinara Gourmet Pasta Sauce 
So there are some of my healthy low-carb, sugar-free spaghetti sauce favorites. Don't forget to look at the label when buying pasta sauce. There can be so much hidden sugar in there. And there's no point in turning down cake if you're just gonna ruin it with your pasta sauce!