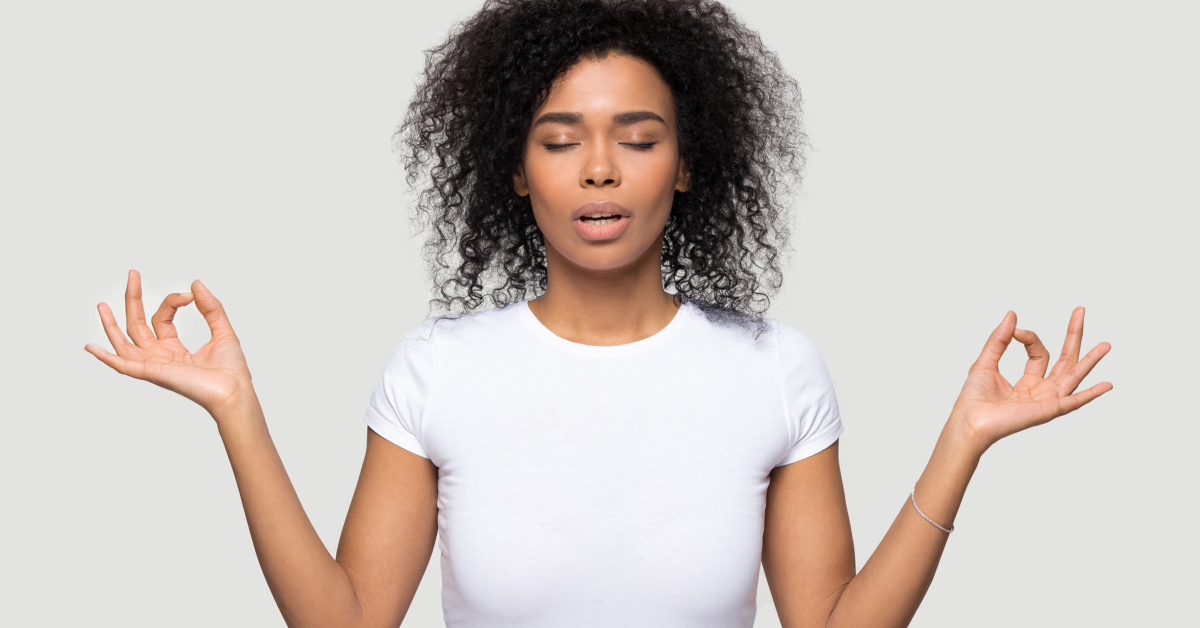 Here's my typical evening: I weave my way through congested streets and angry drivers. I come home to a house of hungry animals. And I use the little energy left after feeding and walking them to put together a healthy dinner. When I finally sit down, I have no energy. And this is right around the time I could use a peaceful nighttime routine to let go of stress from my day.
Life is super stressful people. And let's get real. There are certain days that are more unnerving than others. And if you don't take action, you'll carry that stress right into bed. A peaceful nighttime routine can help you unpack the stress and let it drift away.
When I don't let go of stress, a few things can happen:
I replay the stress of the day repeatedly. My mind turns to worry. I play out worst case scenarios. And I get angry at things that should now be in my past. 

I'll fall asleep, but I won't stay asleep. At about 3 am my eyes will pop wide open. And my stressful worry will pick up right where I left off.

I'll get up in the morning still carrying the anxiety from the day before. My new day will be ruined before it has begun. 
That's what happens to me. Think about what happens to you. How have you let the stress from your day seep into your evening and even the following morning? And wouldn't it be great to take back control to help process and let go of bad feelings?
Stress and worry have become such a common part of modern existence. It's so easy to think of an anxious state as a normal one. It sure is common. But I doubt it's really normal.
Why is a peaceful nighttime routine important?
If too much stress is common, why should you worry about it? Well, it just feels awful. I'm not my best under pressure. And I'm certainly not my most joyful. And joy is what life's all about.
But more importantly, stress produces hormones like cortisol and adrenaline. These hormones have an important job to do in life or death situations. But they're not meant to be coursing through your body 24 hours a day.
Prolonged elevated stress hormones throw all your other hormones out of balance. They can contribute to things like PMS, insomnia, and a slow metabolism. The effects of stress are physical. So a peaceful nighttime routine is healing both mentally and physically.
So how do I unwind from the anxiety of the day?
My 12 minute peaceful nighttime routine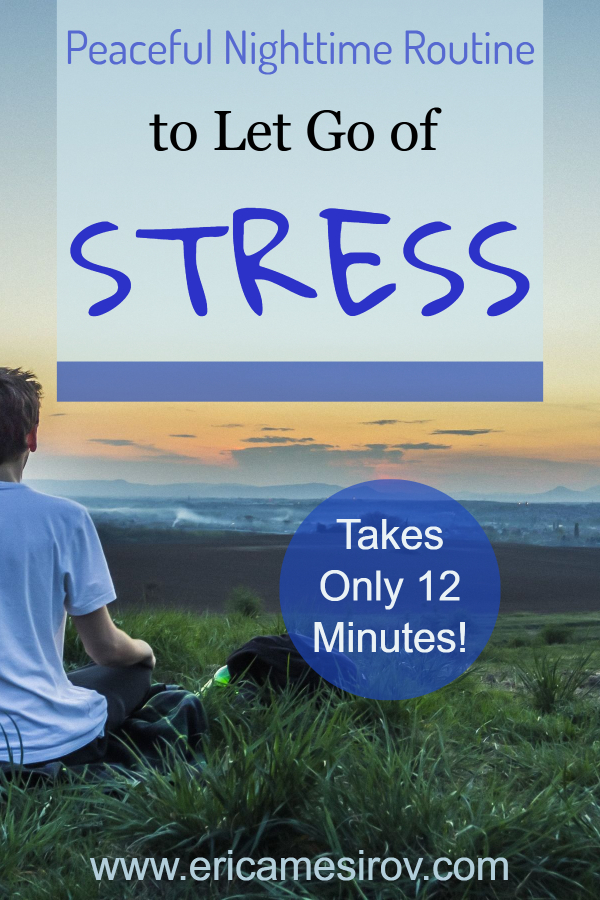 10 minutes of breathing
I often crash from stressful days the moment I sit. So I do this exercise before I switch on the TV or pick-up a book. I've got to do it immediately, or it won't get done.
I close my eyes and focus on my breath. I put primary focus on the exhale which which serves as a release. And as I exhale, I encourage myself to let go.
While I'm doing this, worried or scared thoughts often take over my focus. When this happens, I try not to get lost in thought. Instead, I ask myself to go back to focusing on my breath.
It's helpful for me to stream calming meditation music. I now have a playlist of some of my favorites. And I set an alarm for 10 minutes so I'm not watching the clock. On days when I'm really exhausted or short on time, I'll cut this process down to 5 minutes. But I ask for 10 minutes most days which is a small time commitment.
One minute of writing
When my alarm rings and my 10 minutes of breathing ends, I pick up a pen and start writing. And the subject is simple. I'll write down three things that happened during the day that made me smile.
I'm gonna be honest. There are days when this is WAAAAAY easier than others.  On difficult days, my mind will only want to focus on the negative. But the reality is that there are always flickering moments of joy even in the worst of circumstances.
I just write the three things down in sentence form. I mean, you can write a paragraph if you want. But for time's sake, I like to keep things brief. And often I just write about small moments.
This helps me establish a feeling of calm. And it switches my brain from stressful matter to focus on the positive. This one minute part of my peaceful nighttime routine is integral to moving my brain to a place of calm.
One minute of creating a calming environment
This is the last step. For me, taking action to transform my living room into a calm space is a symbolic act. It's transformative both mentally and physically.
I usually like to diffuse essential oils. I choose ones like lavender, clary sage, or bergamot. Or sometimes I'll pick one that make me joyful like peppermint or mandarin.
Of course, essential oils aren't the only option. It's important to find something that's meaningful to you. That could mean lighting candles, burning incense, or turning on peaceful music. It's just about choosing things that help transform your environment.
I let the essential oils diffuse for way more than a minute. But setting up the process is brief. And now I've successfully transitioned from my hectic, often nerve-wracking day, to a place of greater tranquility.
This doesn't always absolve me of stress. The tension will creep back on especially challenging days. But moving from a place of constant stress to one that is more calming is a process. For me this is an important piece.
We pay so much attention on diet and exercise changes for good health. But we let stress run amok. It takes discipline to make time for mental health. But as I mentioned earlier, the stress hormones directly impact physical health. So in my opinion, this peaceful routine is 12 minutes well spent.