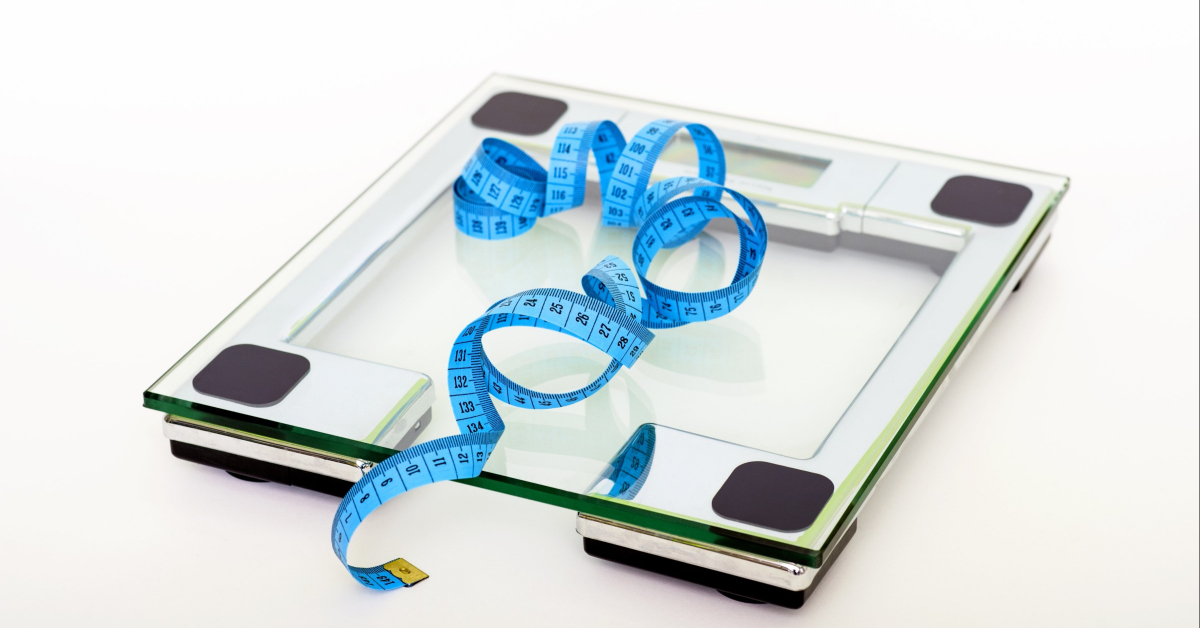 So your weight is fluctuating . This was the common for me back when I was in college. I'd get on this good weight loss kick. Until one week I'd get on the scale -and bam! I'd gained a pound…or two. And ack! I was so frustrated. Something like this feels like a slap in the face.
Somehow, the precedent got set long ago that successful weight loss should be a straight line. Total lie! That's rarely how it works. So when you have a bad week, or a few weeks were you experience your weight fluctuating, you're likely to feel like a failure.
There are totally normal reasons you might gain or lose during a week. This doesn't necessarily mean you've gone off track. But I hear so much despair in people's voices when they mention a "bad week" on the scale.
So here's to getting excited about the natural bumpy journey that is weight loss. During healthy weight loss, your weight varies for normal reasons. So here are some common reasons you're going up and down on the scale.
You're gaining muscle
If you're working out as well as changing your diet, you're gonna gain some muscle. In your head, you know that muscle has weight. But it's so easy to overlook your muscle when you have a week without weight loss. Or even gain a pound.
When you're on a plan to lose fat, you should also be on a plan to gain muscle. This is healthy. So the scale doesn't tell the whole story of your success. It's about how your clothes fit and how you feel.
Your body needs to detox
Where does your body store the toxins you encounter daily? In your fat cells. So as you literally lose fat cells, those toxins often get dumped back into the body. Which can mean you need to detox.
Toxins in the body cause inflammation. And inflammation slows the metabolism which will eventually lead to some weight gain. So indirectly, you can gain weight because you just lost weight! Confusing, right?
But this isn't cause to throw in the towel. Just include more detoxifying activities into your weight loss regimen. Do lots of sweat inducing activities. Eat good amounts of protein and vegetables. Lay very low on the sugar. And try some herbs for detox like turmeric, dandelion, and burdock root. With time, this plateau should rectify itself.
It's "that time" of the month
You know you can retain water with your period. So why are you shocked when you gain a pound or two in the week before it begins? Bloating is a real thing people.
If you reach a plateau or gain a bit of weight on the second half of your cycle, take a deep breath. Wait to see if things even out after your period arrives. And just keep making the healthy choices you've been making up to this point.
You've eaten too many carbs and too much sugar
Sugar creates hormonal imbalances in the body. First, it turns on the hormone insulin which is responsible for storing fat. Second, it can impact the hormones throughout your body.
Many women suffer from something called Polycystic Ovarian Syndrome (PCOS) A key lifestyle contributor to PCOS is a diet heavy in sugar and processed carbohydrates. And a main symptom is  weight disturbances, leading to frustrating weight gain.
If you've eaten too much sugar and too many carbohydrates in the past, you'll need to give your body some time. A diet lower in starchy carbohydrates will help minimize weight fluctuating hurdles. So keep with it because eventually the scale will calm down and move more consistently in the right direction.
Your not sleeping well
Sleep is integral to weight loss. As a sleep deprived body is one that can easily hit a plateau or fluctuate. So if you're feeling like the scale is moving all around like a yo-yo, it's time to prioritize sleep.
Lack of sleep leads to an increase in the hormone ghrelin and a reduction in the hormone leptin. And this literally makes you more hungry and slows your metabolism. So if your weight is consistently going up and down, you need to to follow these good sleep habits.
Set a reasonable bedtime and stick to it. Turn off all electronics an hour before bed. Set up a sleep routine that helps ready your mind and body for sleep. And go to your doctor if you find that even after you make lifestyle changes, your still getting bad quality sleep or waking groggy.
You're eating too much artificial sweetener
Many dieters rely on fake sugars. But these fake sugars are very controversial for weight loss. In fact, there are multiple findings that link artificial sweeteners with weight gain! If you've eaten too much sugar and too many carbs in the past, artificial sweeteners can further aggravate problems.
Right now, stevia seems best if you're looking for a touch of something sweet. But buyer beware. Many stevia brands are mixed with other artificial sweeteners. So always read the label so you know what you're really getting.
You're a human being
We all go up and down a little bit daily. There isn't a person alive who weighs exactly the same every day. So when you're losing weight, you'll see disturbances in your progression simply because you're human.
It's difficult, but stop giving so much power to your weekly weight goals, And start looking at your trends from month to month. This will give you a much better picture of your progress.
Your weight fluctuating or a "bad week" is not a reason for frustration or for despair. It doesn't mean you're off track. You just might need to look deeper. Look at this list, and see if anything might apply to you. Make changes that make sense and keep moving forward.