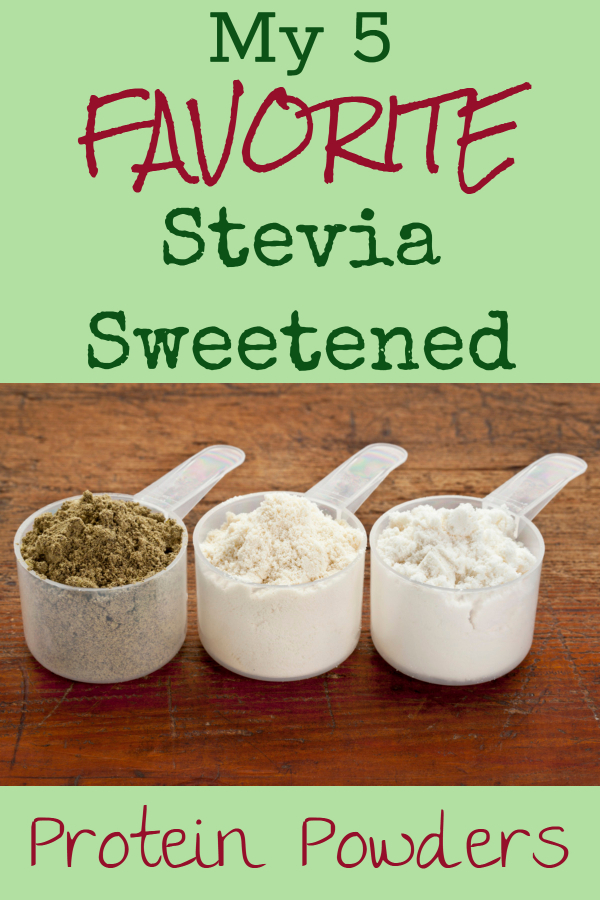 Here's why I love smoothies. They can be a filling snack or a light breakfast. They're easy to make. And they're great for sneaking veggies into the diet. But let's not forget one thing. A smoothie is only as good for you as the protein powders you put in it.
So many protein powders are full of junk. They have sugars or artificial sweeteners. Vegan varieties can contain processed soy. And whey based options can have poor quality dairy.  Let's get the most of our smoothies by choosing the most nutritious options.
I've tried to get myself to use unsweetened protein powders. But blech – they tend to taste like chalk. Just telling it like it is. So I've had to go the stevia route.
So why do I choose stevia over other sweeteners? It's the only one that's shown health benefits. And it's deemed safer to use than other artificial sweeteners. So here are my favorite stevia sweetened protein powders:
Orgain Organic Plant Based Protein Powders-
As the name suggests, this one is organic and vegan, It's made of pea protein, brown rice protein and chia. And it contains 21 grams of protein! Chocolate is my favorite flavor, but I also like vanilla almond.  
Many protein powders are high in sodium. This isn't too surprising – they're processed. But Orgain's sodium content is lower than many of its competitors.
This one can be on the expensive side when purchased in-store. But it's quite reasonable when shopping on Amazon. And while the container recommends using two scoops, I make it last by using  just one. This works fine unless you feel like you're not getting enough protein.
Orgain Organic Plant Based Protein Powder, Creamy Chocolate Fudge, 2.03 Pound, Packaging May Vary
Vega All-In-One Nutritional Shake
Vega was one of the first protein powder brands I ever tried. And it's still one of the better tasting ones to me. This brand gets it protein from the likes of hemp, pea, and sacha inchi (a seed – if you didn't know!) And yes, it's sweetened with stevia. I love the vanilla chai variety.
What's interesting is that it's full of healing herbs and Superfoods. Think maca, gut friendly bacteria, and broccoli, among other things. Plus it has 20 grams of protein.
Now, this can be on the pricier side. But it's packed with nutrition so that helps explain the price. In fact, many of the ingredients are things you might purchase as a supplement. So this may replace something you'd otherwise supplement separately.
This one gets its protein from pea, hemp, chia, and quinoa. As a bonus, it also contains a mix of nutritious vegetables and fruit. And like the others, it has about 20 grams of plant based protein.
Warning – this one is a little higher in sodium. But it's still not horrible for a vegan protein powder. And I love that the ingredients are clean. Other than xanthum gum listed low in the ingredients, this is made of whole foods.
The peanut butter variety is pretty unique. Or purchase the chocolate with the peanut butter and mix them to make a peanut butter cup smoothie. Or simplify things by adding a spoon of peanut butter to the chocolate variety. Lots of choices!
Amazing Grass Organic Plant Based Vegan Protein Superfood Powder, Flavor: Peanut Butter, 10 Servings, 14.8oz, Meal Replacement Shake
Tera's Organic Whey Protein Powders
Dairy is one of the most important foods to purchase organic. Conventional dairy is full of toxins. And worse, high antibiotic use with the cattle can transfer to exposure for you. So that's why I love Tera's Organic Whey Protein.
Yes, it's sweetened with stevia. And of course it has a good amount of protein (20 grams!) But I also love that everything is organic, including the stevia. As I talked about a couple months ago, all stevia isn't created equal. So it's comforting to know this is good quality.
I really like the chocolate flavor. Gotta get my chocolate fix somehow. But all the flavors are pretty good if you ask me!
Tera's Whey Grass Fed Organic Whey Protein, Dark Chocolate, 12 Ounce

Organic Whey 
Well, this is exactly as it sounds: organic whey protein. Obviously it isn't the right choice for someone who is lactose intolerant. And if you suspect a lactose intolerance, I recommend you stick with vegan protein. Better to be safe than sorry.
But if you're looking for a clean whey protein, this is an excellent choice. Like Tera's Whey, all the ingredients are organic including the stevia. And the whey comes from cows that are free range, which is better for the cow, and also better for you.  
And if you look at the reviews, opinion on taste vary. People either love it or hate it. Isn't personal taste fascinating? But I love the coffee bean variety. I'm such a sucker for anything coffee!
Natural Force® Organic Whey Protein Powder *RANKED 1 BEST TASTING* Grass Fed Whey – Undenatured Whey Protein – Raw Organic Whey, Paleo, Gluten Free Natural Whey Protein, Coffee Bean, 14.6 oz.
So now you know some of my favorite protein powders sweetened with stevia. They all have relatively clean ingredients. And all are a great choice if you're wanting to make a healthier protein smoothie as part of your weight loss diet or healthy eating plan.