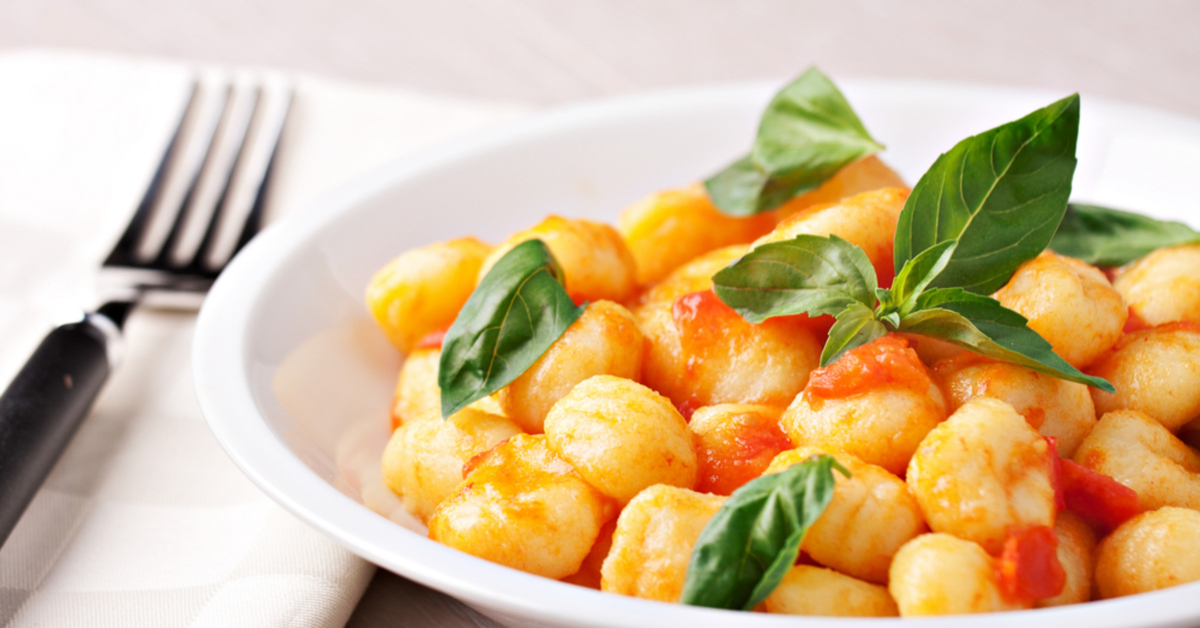 Cauliflower is all the rage these days. You'll find it in everything from mashed potatoes to pizza crusts to rice stir frys. So I was so amazingly fired up when I heard of Trader Joe's Cauliflower Gnocchi.
The very concept filled me with anticipation. I love that cauliflower can substitute for so many starchy foods. And given my husband's addiction to gnocchi (he's Italian, so what can you expect), I thought this could be a great new find.
So today I'll talk about my adventure with Trader Joe's Cauliflower Gnocchi. And I'm gonna break down my experience – from how it tastes, to how well it cooks, to how it really measures up from a nutritional perspective!
But first the basics –
Learn from my experience trying to find Trader Joe's Cauliflower Gnocchi in the store. I can't have you wasting your precious  time wandering the aisles like I did!  True story – I left with a bunch of other food I never intended to buy!
Long story short – it's in the frozen section, not the pasts section. I found it next to their sweet potato gnocchi. Which I  found 'oh so tempting.' But I'd already committed to the cauliflower option so I stood my ground!
Cooking up Cauliflower Gnocchi.
Look, I'm gonna admit that despite having an Italian husband, I haven't had a ton of gnocchi in my life. So this is a somewhat new experience. But I found this pasta a bit more messy to cook than standard gnocchi.
I took the boiling water approach. And the gnocchi appeared to be slightly dissolving in the water as I watched them cook. But I reminded myself that this is made of cauliflower and not the potato and wheat found in conventional gnocchi. So maybe this is to be expected.
However, they looked just fine once I threw them in the bowl. So I'm going to say that any loss due to cooking was minor. But once cooked, they stuck together more than regular gnocchi. To me, this wasn't a big deal.
The  Trader Joe's Cauliflower Gnocci taste
I chose to mix them with a basic tomato sauce. As a side note, I love Muir Glen Brand pasta sauces. They're made out of really clean ingredients. And they don't have added sugars like most alternatives.
But, I digress.  
They tasted moist and doughy. And were really supported by the taste of the tomato sauce. Plus, just like regular pasta, they were comfort food..
So, I kinda felt like I was eating something decadent. It totally satisfied my craving to load up on carbs. And, once they were smothered in sauce, they didn't scream cauliflower.
So how does Trader Joe's Cauliflower Gnocchi measure up nutritionally?
The fact that a main ingredient is cauliflower makes them sound super healthy. But are they? Or is this just a bunch of hype?
I'll say that the answer lies somewhere in the middle.
First, these aren't for people who want to avoid carbs. A one cup serving has 22 grams of carbs. Now, six of those grams are fiber. So that still leaves 16 grams of carbohydrate. Now, I'm not a huge 'anti-carb' person, but that's just something to keep in mind if you're expecting them to be extremely low-carb. 
And they're still a processed food. Processed foods tend to be emptier calories than fresh foods. But they do have cleaner ingredients like cassava flour, olive oil, and sea salt.
The bottom line is that these are better for you than conventional gnocchi. But these aren't nutrient rich or completely free of empty carbs. So enjoy them as a better quality treat. Or have them as a side for a nutritious meal. 
I think Trader Joe's Cauliflower Gnocchi was a great find. And I definitely plan to get them again. I love that I can get my pasta fix while slipping in some cauliflower. And at just a couple bucks for a bag, you totally can't go wrong!
(This WAS NOT a sponsored post)