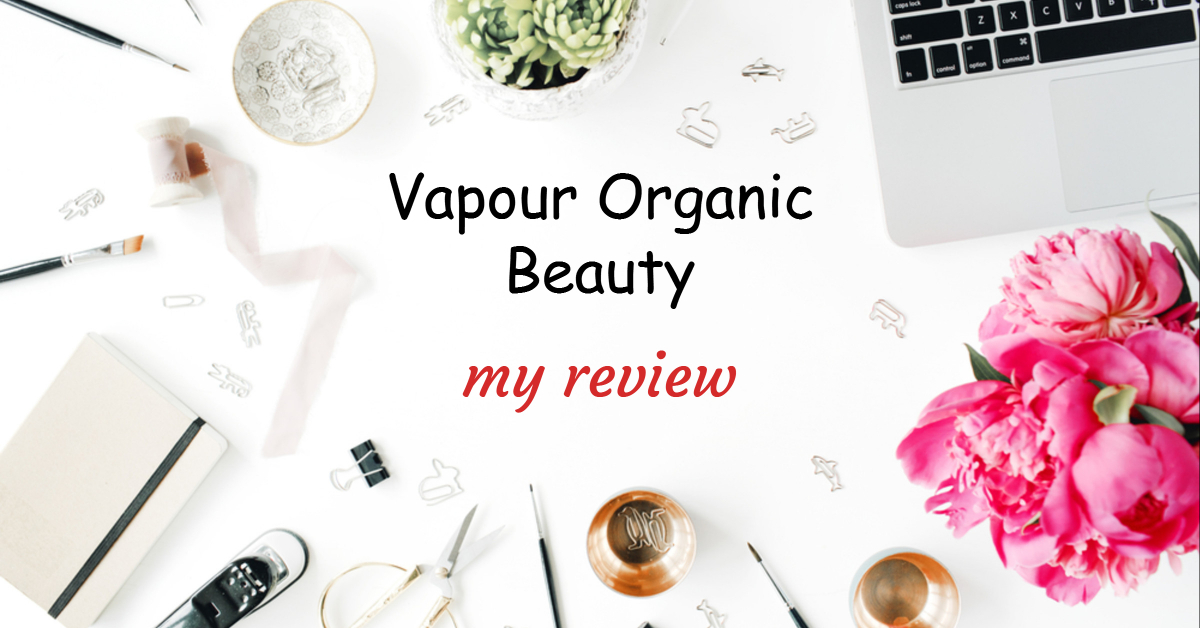 The girly girl in me loves trying on new makeup. A little known fact about me is that I once dabbled with the idea of becoming a makeup artist. As I've gotten older, I've become extremely picky about the makeup I wear. I won't let anything touch me skin that isn't made of clean ingredients that are non-toxic. And that's why I was super excited to try Vapour Organic Beauty.
(Full disclosure: I was provided free product in exchange for a review. However, I'm offering my real and unbiased opinion.)
Vapour Organic Beauty
Vapour Organic Beauty was founded in 2008 by Krysia Boinis and Kristine Keheley.  As a side note, I love using companies run by strong, entrepreneurial women. Yay to female power! The ingredients in their makeup are all organic. They make sustainable choices in their production. And their products are free from a long list of commonly used toxins.
So much of the makeup we see today is full of junk and chemicals. Makeup sits on your face and soaks into your skin people. If you value eating healthy, then don't use junk in your makeup. Putting chemicals on your skin is just as harmful as eating poorly or drinking unfiltered water. The right makeup is an important part of your health routine.
The Vapour Organic Beauty products
I tried a few different products from the Vapour Organic Beauty line. First I tried the Atmosphere Soft Focus Foundation. I also tried Illusionist Concealer. And finally I tried the Trick Stick Highlighter in Dazzle.
I'll start by saying this I'm always nervous purchasing new foundation and concealers online because I'm always afraid I'll pick the wrong shade. But the descriptions were detailed enough that  I felt assured I was making the right choice. Plus, they do have help available if you're feeling stuck. And when I got the products, they matched my skin perfectly. OK, we're off to a good start.
The Foundation
The older I get, the lazier I get with my daily makeup routine. In my younger days, I would apply foundation everyday with a makeup brush. But my life is busier now, and I love products that give me less complicated options.
There is a  video on the website demonstrating the Atmosphere Soft Focus foundation application. And the video recommends applying the foundation like moisturizer. Just dab it on your face and blend. 
I'll admit, this made me a bit skeptical. I was scared this meant the product would have the coverage of a tinted moisturizer. But this wasn't a tinted moisturizer at all. This was a medium coverage foundation. And total bonus that it was so easy to apply! My skin felt clean and not at all weighed down. And the shade I chose really helped balance out all the red in my skin.  
Concealer and Highlighter
I mainly use concealer to help under my eyes and for any redness that might not have been covered by foundation. I'm used to a heavier concealer, so I was a bit concerned when it went on so light. But it totally did the trick, especially under my eyes. And it blended nicely with the foundation for bright, clear looking skin.
I used the highlighter above my cheeks and on the outer corner of my eyes. The effect was subtle. But there was definitely a highlight effect. I'm not sure if I would get the highlighter again. Maybe I wanted something more dramatic. But it definitely did the job of providing a subtle highlight which was very natural.
The final results.
After laying down the foundation, I set it with some light powder. Then I added the basics like mascara, blush and lipstick. This is an everyday makeup routine that came in under 5 minutes. Oh, and it's non-toxic and healthy for my skin. My skin actually felt healthier once I put it on.
The true test was when I wore the foundation the next day. My husband said, "That foundation really works. You have a glow to your skin." This is coming from a guy! Aren't they not supposed to notice these types of things? So all and all, I give a big thumbs up to Vapour Organic Beauty. It's clean makeup you can feel good about wearing.  
Vapour Organic Beauty