So I'm starting a new category of my blog that I am really excited about. I'm going to take a food item and compare different name brand options to find the best option. I want to make it easy for busy people like you to be able to make good choices and get the best bang for the nutrition buck.
Today I am going to talk about ketchup, a standard of the American diet. I wanted to see what ketchup products would be most supportive of good nutrition and health. Here is the main challenge with ketchup: the two unhealthiest ingredients, sugar and salt, are also two of the main ingredients that give ketchup its identifying taste. Are there really options out there that can make this staple healthier?
Let me start with the brands to stay far away from:
The Heinz brand is synonymous with ketchup.
But sadly, it rated worst on my list. It was the only ketchup that I found that contained high fructose corn syrup. It also had sugar listed on the food label twice. Companies often divide sugar into different types on their food labels as a little trick to consumers. This allows manufacturers to list sugar lower down on the food label and make it seem like not quite as prominent an ingredient. Nonetheless, the Heinz ketchup contained a very average 4 grams of sugar and 180mg of sodium per tablespoon.
Hunts has a newer ketchup product that they are advertising as natural, a.k.a healthier. It is called Hunts 100% Natural Tomato Ketchup. But does it really measure up to its "healthy" title? For starters, it contains as much sugar and sodium as Heinz. The only discernable difference between the two is that Hunts took out the corn syrups and added sugar. The benefit of sugar over high fructose corn syrup is it creates a little bit slower of a blood sugar spike and is less processed. Having said that, if "natural" is what you are looking for, I will get to much better options.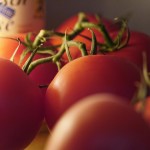 But first, I want to get to a couple of products that are marketed to sound healthy, but contain unhealthy ingredients.
First, there is Heinz Reduced-Sugar Ketchup.
This product seems good in concept. That is until you read the label to discover what is replacing the sugar. The very last ingredient on the label, so inconspicuous you might miss it, is sucralose. What is sucrolose you ask? You may know it better by its brand name Splenda. Artificial sweeteners have been shown to upset blood sugar, cause inflammation and weight gain and increase risk of disease. I think I'll stick with the regular sugar.
An even worse product is Waldon Farms Ketchup.
I was flabbergasted when I read the ingredients list because this company seems to pride itself as being health conscious. Not only did the ingredients include sucralose, but a food dye called FD&C #40. Considering this food dyes have been tied to inflammation, allergies and other health problems, I would stay far away from this option.
Ok, now to the better options:
It may be of no surprise that the organic options were in general better than the non-organic options. Having said that, both Annie's Organic Natural Ketchup and Woodstock Farms Organic Ketchup still had 4 grams of sugar. Woodstock Farms only had 150mg of sodium which was lower than most conventional brands, though Annie's had a very average 190mg. Since tomatoes have a thin skin that can easily absorb pesticides, purchasing organic is still worth the extra dollar or so for that reason alone.
And the winner is:
In my book, the best option I found was Organicville Organic ketchup.
This product has only 3 grams of sugar and 125 mg of sodium per tablespoon. This saves 1 gram of sugar and about 65mg of sodium compared to the average ketchup. While this may seem to be modest savings, keep in mind that the average person uses more than 1 tablespoon of ketchup as a serving. That means the savings add up. Not to mention that this product tastes good! Add in that this ketchup uses sea salt as opposed to regular salt and all organic ingredients, and you have a clear winner! It costs about $1.50 more than Heinz per 24 ounce bottle. Since the average person only buys ketchup periodically, one can conceivably track sales and purchase it when on special, narrowing the price gap.
Honorable Mention:
There is one more product I want to mention. Rejuvenate Foods has a product called Live Ketchup. It has no sugar, little salt and is flavored by healthy organic foods like lemon juice and beets. I have no clue how it tastes, but it is listed as one of their top sellers. The $15 price tag for a small 15 ounce bottle makes this prohibitive for most. But hey, if you have the extra cash and want to give it a try, this looks like a great product. You can purchase it here: http://www.rejuvenative.com/live-ketchup/. Make sure to let me know if you like it!
So that is my ketchup comparison. While the red stuff may never be health food, there are ways to make it better. Making your own option at home is also an option, but may not be practical for those who don't eat ketchup in high volume or have limited time.
Let me know if you have a favorite ketchup that I missed!