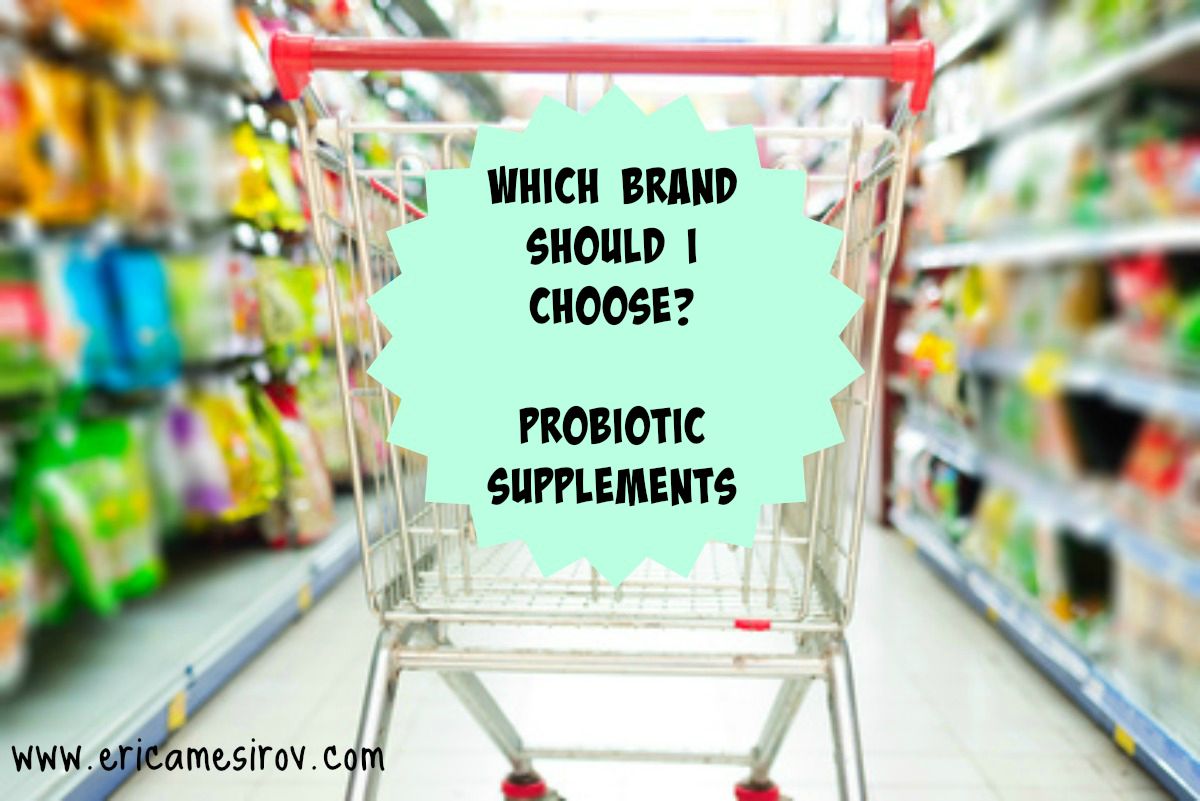 Due to popular demand, this week's post will examine the different brands of probiotics. A few weeks ago I talked about beneficial bacteria and probiotics. If you haven't read my article on how supplementing with probiotics can improve your health, please click here. Quite a few people responded to that post by requesting some more detailed information on which brands of probiotics to choose.
I mentioned some basic principals of choosing probiotics in my last article, but as a refresher,
I'll do so again here. Probiotic supplements should be refrigerated in most cases. There are many bargain brands that can be found on the shelves. But they aren't always of good quality. While you'll feel good saving money (hey, who doesn't like saving money??), you'll pay for your thriftiness by not receiving as much benefit from your supplementation. While every bargain probiotic isn't a dud, there are quite a few ones that are substandard.
Another tip for purchasing ANY VITAMIN is to look at the ingredients list. On the bottom of any supplement label, you will see a section labeled "other ingredients". It is important to look here because this will tell you how many artificial fillers are in the supplement. You want to choose options with as few fillers as possible.
So what brands should you choose?
There are tons of options on the market with many good options available. I can't possibly compile a list of every good option, so don't assume because an option isn't on the list that it isn't good.
Another thing to keep in mind. Different formulas contain different cultures. Lactobacillus and Bifodobacteria bifidum are some of the more common strains found in commercial brands. A probiotic offering more strains isn't necessarily better. Determining what will work for you may require a little trial and error. These brands should be a good place to start.
So, without further adieu, here are some of the recommended probiotic brands.
Ultimate Flora –
This brand has a good mix of strains, no fillers other than the capsule itself and comes in many varieties. If you are new to probiotics, I would start at the 15 billion CFU mark. They do have one option made exclusively from strains that are stable at room temperature. Otherwise, these probiotics need to be refrigerated. This brand is commonly found on store shelves  and is rated high in customer satisfaction.
Dr. Mercola's Complete Probiotics
Dr. Mercola's supplements tend to be high quality. Some of the advantages of Dr. Mercola's Complete Probiotics is that they are bile and acid resistant.  This means that the beneficial bacteria will make it through digestion and get to your colon to do their work. They also have been tested to have a shelf life of 18 months, making them good for travel.
This brand contain a good mix of bacterial strains. They're also free of all major allergens and very reasonably priced. The only downside to a probiotic newbie is this product contains 70 billion CFU which is a high starting dose. A good way to test tolerance is to open the pill and sprinkle a portion onto your food. Once you know that you can tolerate the full 70 billion CFU, taking it in pill form is preferable.
Custom Probiotics CP-1
I personally love these probiotics. First of all, they are free of almost all major allergens. Second, while they do need to be refrigerated. They can survive 2 to 3 weeks at room temperature without any real discernible loss of bacteria. Custom Probiotics was founded by a chemist who himself suffered from H. Pylori, a bad bacteria in the digestive tract that causes ulcers. He got his own imbalance under control and now makes his product available to the public.  Many say that the CP-1 was the one probiotic that finally helped them heal. The CP-1 supplement contains 60 billion CFU of beneficial bacteria, but again, a new probiotic user may want to try it out before taking such a high dose.
One important note about ordering these online; Most retailers will tell you that you need to purchase an expensive ice pack and expedited shipping to keep the viability of the product. However, Custom Probiotics says on their own website that it is fine to ship without ice due to the short-term stability of the product without refrigeration. Of course, if you are shipping to a different country, expedited shipping may be preferable.
Udo's probiotics
One of the advantages of this probiotic is that you know what you are getting. A lot of companies label the bacteria count of their probiotics based on the count at time of manufacturing. Yet, some of these bacteria do not survive the manufacturing process. Udo labels their products based on the actual bacteria available after manufacturing. So you get a very realistic depiction of what you're paying for. Another plus is that these pills are designed to survive the bile and acid of digestion. This brand is a particularly good brand for those just beginning a probiotic regimen because they have options with smaller doses. Their standard adult probiotic contains 17 billion CFU, a more reasonable place for someone to start with a probiotic regimen. This lower dose also comes with a lower price tag which is very healing to the wallet.
Dr. Ohhira Probiotics
A renowned Japanese microbiologist developed this brand. They're good quality products with both organic and non-GMO ingredients. They are made from fruit, seaweed and fresh herbs and their standard adult formula only has 900 million CFU. This is great for someone new to a probiotic regimen and may be enough for someone just trying to maintain good health. But a higher dose will certainly be needed if a bacterial imbalance has already started. Fortunately, they also have a higher dose option for those customers. You don't need to refrigerate these supplements, making them very portable.
Garden of Life
This is another brand you should always find in the refrigerated section. These probiotics use a high quality, multi-strain formula and have different products in their line, aimed at different imbalances. There is one for colon support, support for vaginal infections, a men's formula, a woman's formula, and over-50 formula, so these are good for people who want help in a specific area. Many of their supplements also include a multitude of additional vitamins and minerals, which may be good for someone needing supplemental nutrition. But beware of adding this to your regimen if you're already taking a comprehensive multivitamin as you might overdo it in certain vitamins.
One final note.
If you purchase a probiotic that lists on the label that it needs refrigeration, make sure you purchase it from a retailer that has kept it refrigerated. I've seen many brands that I know need to be refrigerated sitting on the store shelf. An independent study done by ConsumerLabs in 2009 showed that 85% of probiotics don't have the level of organisms listed on the label due to improper shipment or storage. There have been improvements in recent years, but consumers must still be wary.
Also note, if you are allergic or sensitive to any ingredient within the probiotic supplement, DO NOT TAKE IT!  But I imagine that goes without saying.  Also, if you have new health concerns that last more than a week or two, make sure to go to the doctor to rule out something more serious.
Again, this isn't a comprehensive list of quality probiotics. But this is a list I can recommend. And it's a good place to start. Your gut health determines the way you feel and live in your body.
Do you have a favorite probiotic brand that I haven't mentioned? Please share it below!