It all starts with healthy collagen.
The collagen in our skin is what keeps it looking bright, smooth and young. And as collagen proteins begin to break down, our skin starts to wrinkle and look tired. While we can't avoid this from happening forever, we sure as hell can delay the onset. The choices we make now will affect our collagen and our skin for years to come. So make good choices and reap the rewards for years. How about that for an investment that pays dividends!
And yes, you can go out and buy a $100 bottle of skin cream that's supposed to carry the fountain of youth. But you can't truly put a band-aid on bad health and diet habits. Healthy, radiant, resilient collagen starts on the inside. It comes from a lifetime of living a healthy lifestyle. And if you haven't followed through with healthy habits until now, today is an excellent day to start.
So where do you start in keeping your skin vibrant? Here are 7 ways to keep the collagen in your skin young.
Go easy on the alcohol
Alcohol is one of the greatest enemies of youthful skin. Think back to your college days. Remember how crappy you looked after a night of heavy drinking? Two of the major factors in alcohol's aging capabilities are dehydration and inflammation. And your collagen starts to take a beating when heavy drinking becomes a repeated pattern. Heck, even just a couple drinks a day will start to age you over a matter of years. 
If you're going to drink, red wine is probably the best option. Red wine contains resveratrol, a protective compound for the skin. But even red wine should be consumed in moderation if you want to keep inflammation at bay
Think about sunscreen and cover-ups daily
Of course you wear sunscreen on a hot day on the beach. But did you know that walking around on a more mild day can also take a toll on your skin? So it's important to wear sunscreen on your face anytime you will be exposed to the sun.
But here's a caveat. Some unblocked sun exposure is good to help in the formation of vitamin d. Studies show that vitamin d is crucial to overall health. And sun exposure is the best way to get needed vitamin d.
You should determine how much unblocked sun exposure to get based on your skin tone. The lighter your skin tone, the less you need. And if you aren't getting enough vitamin d from the sun, make sure to take a supplement. But remembr that you only need a little unblocked sun every day.  Anything else will just age you
And here's another point. The best sunscreens are made from nature, not toxic, skin aging chemicals. So keep that in mind when purchasing a daily sunscreen. I look for sunscreens made of Zinc Oxide. I know that zinc oxide sunscreens can be a bit more messy than the chemical filled ones. And I've had a hard time finding a good quality everyday zinc oxide sunscreen  I now recommend Badger Rose Daily Sunscreen. This is the best zinc oxide sunscreen I've found because it doesn't leave a white film on your skin or clog pours. Oh, and it really works.
Badger Balm Spf25 Tinted Rose Face Sunscreen Lotion, 1.6 Ounce
Satisfy your sweet tooth the natural way
Refined sugars are a double wammy for skin. Sugar creates the same internal inflammatory process as alcohol. Remember how I just talked about inflammation's troublesome effect on skin collagen? 
But sugar's aging effects don't stop there! Sugar takes more nutrients to digest than it provides. So remember all those nutrients you got from eating a healthy breakfast? Well those nutrients are now being used to digest your sugar. Which means there won't be much leftover to nourish your skin.
The best sugars to choose are those in whole fruit. But after that, maple syrup and raw honey can also be good choices in moderation.
Eat fish a couple of times a week
Omega-3 fatty acids get a lot of positive press for being good for the heart. But they are also amazing for your skin. We've talked quite a bit on how inflammation can be super destructive for your skin collagen. Well, omega-3 fatty acids are very effective at fighting against this inflammation. So, omega-3s keep your skin younger for longer.
But it's also important when eating fish to choose lower mercury options. While mercury surely isn't good for your body, it's also bad for your skin. Options like salmon, sole, flounder, tilapia, and crawfish tend to be lower in mercury. And they're even better if you can get them wild as opposed to farm raised.
If you're a vegetarian, or just can't stomach fish, you can also take flax seeds. Flax seeds contain alpha-linolenic acid, which can be converted to omega-3 fatty acids. But keep this in mind. Not everyone's body is effective at doing this conversion. The body needs an abundance of nutrients to effectively make the conversion from alpha-linolenic acid to omega-3 fatthy acids. This includes vitamin B-6 which many vegetarians lack. Deficiency in any of the needed nutrients will halt this conversion. So eating fish and/or supplementing with fish oil is still the best way to go.
Get your required sleep every night
There's the expression, "I'll sleep when I'm dead." But the reality is that without proper sleep, that day might come a lot sooner. A lot of people get into the mindset that they can compensate for a lack of sleep by chugging caffeine. And while that will help you feel more alert, it won't slow down the accelerated aging process that  accompanies sleep deprivation.
There are a few things that happen with sleep that support healthy collagen production. The first is that sleep time is the major time of body detoxification. And when the body doesn't detoxify properly, increased toxicity creates inflammation. And we all know by now what that does for your skin.
Additional, sleep is the primary time of day when your body secretes something called growth hormone. Growth hormone is esteemed as so beneficial for skin that many Hollywood starlets are straight up injecting themselves with it. But the best way to get growth hormone is to produce it in your body. And the only way you can do this is with proper sleep.  
Fight against dehydration
Ok, you knew this one was coming. Water can actually help you fight against aging. And most people don't drink enough water. Ideally, you should be drinking half your body weight in pounds divided by two.
200 pounds divided by 2 = 100 ounces of water daily. Get it?
When you don't drink enough water, your skin does more than look dry Long-term dehydration can cause permanent harm. This is because cells can become damaged or lose their ability to retain moisture. And this results in old looking skin.So drinking water doesn't just help your skin look good today. It helps it nourish and thrive for years to come.
Start with a small goal. If you're not drinking any water, set a goal of having a glass of water in the morning, one in the afternoon, one in the evening and work up from there.
Have something green on your plate at every meal
There are a lot of nutrients needed for healthy skin. And this is why fruit and vegetables are so important if you want to have beautiful skin. But many of us include vegetables into our diet an an afterthought
When we're missing proper vitamins and minerals, we don't have the nutrients needed to build healthy collagen. And this is just the start of the problem. A lack of nutrition also means we are missing the skin's line of defense against toxins and other aging invaders. Which means the toxins will succeed at damaging the skin. And this means your skin will start to look older.
Try to have some type of vegetable with every meal. Plan ahead. And build up your skin from the inside out.
Daily health habits Lifestyle habits are more important than creams
Adding nutrients topically won't undo bad lifestyle habits. It's up to you to make choices daily that protect your skin. And again, it's never too late to start.
Follow these 7 healthy habits for youthful skin. And while everyone else is spending money on botox and hope in a bottle, you'll be able to just sit back and know that your skin glows from the inside!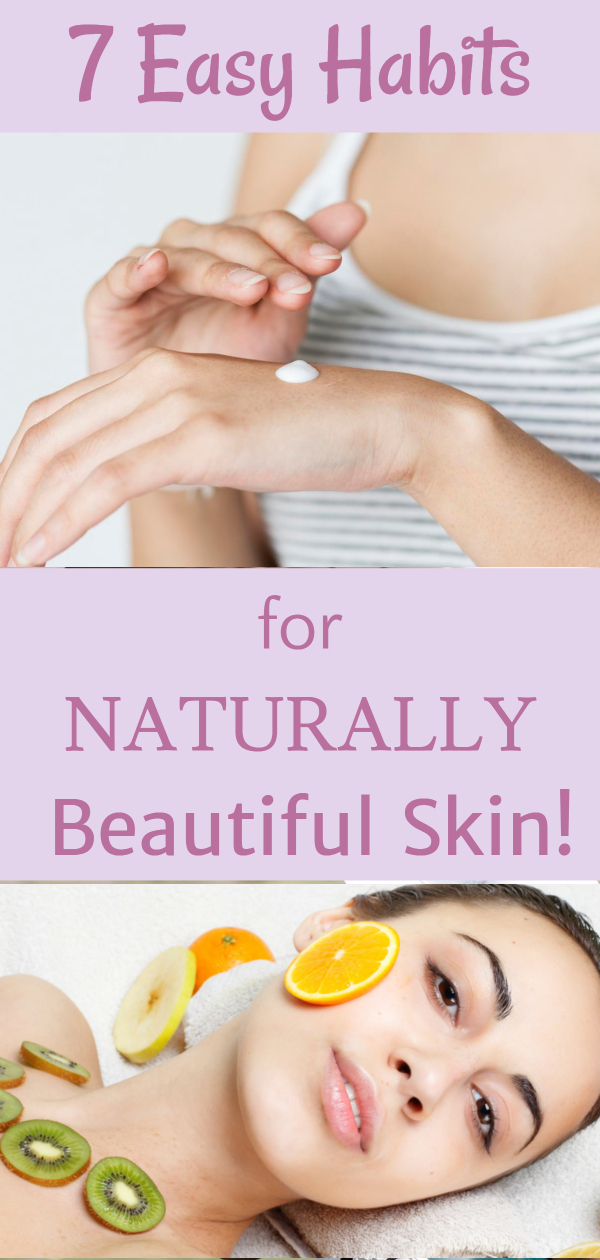 *Please note: this post contains affiliate links. If you buy this product, I will make a small commission at no extra expense to you. I only recommend products I believe in.