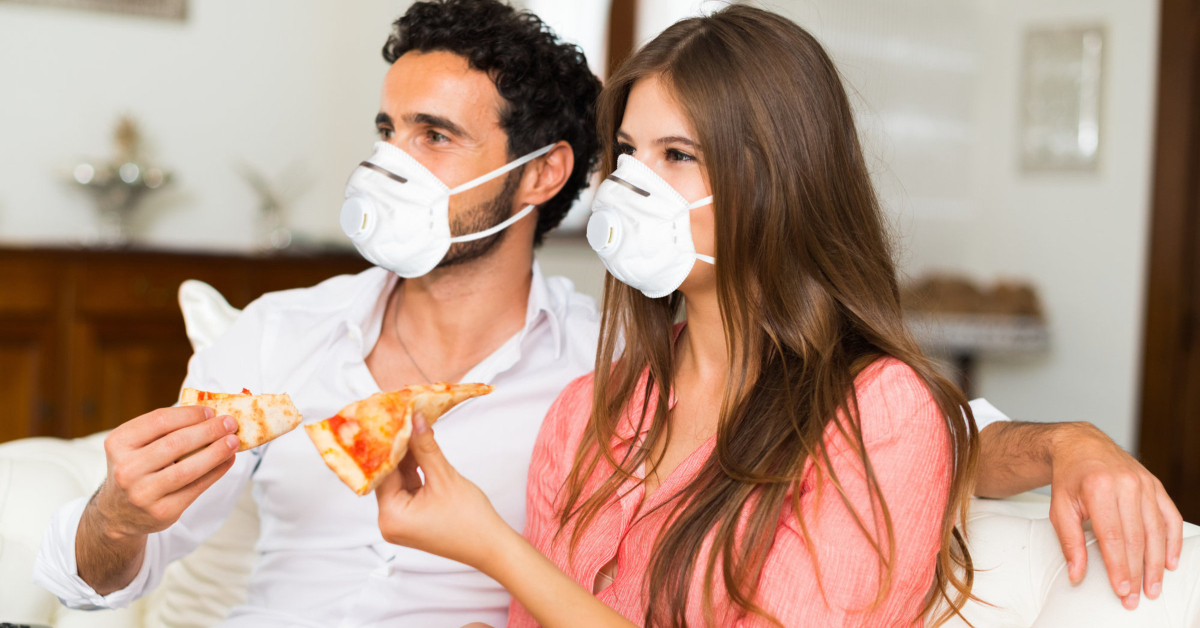 The world is opening up. And if you're like me, you're ready to get moving back into the real world. But getting back into non-stretchy pants isn't for the faint of heart. Who's ready to face their COVID weight gain? I wasn't.
My experience with COVID weight gain
So, my COVID weight gain wasn't huge, but I do feel different.
COVID took me out of my long-term exercise routine with Classpass. 
Without hard-core trainers to kick my butt, I was left on my own. And while I got myself to sweat from time to time, it wasn't the same. 
So while I haven't gained a ton, I for sure feel more poufy. I'm missing most of the tone. And I for sure feel extra jiggle.
But as women, it's so easy to be uncomfortable in our bodies. Like we're always trying to reach some level of perfection that's impossible. 
And COVID seemed to make everything more unattainable. Not to mention all that inactivity and stress eating. 
But I refuse to feel bad. And so should you.
Here's why. 
Your weight gain likely only seems huge
The average weight gain during the pandemic was 29 pounds. OK, that's not great news. But it's not the worst thing either. 
You might feel like your COVID weight gain is a mountain. But with healthy changes, you can start seeing positive changes quickly. 
It's easy to come out from a period of weight gain and feel that all is lost. 
But you haven't hit the place of "no return". Small tweaks in your diet and exercise return will help point you back in the right direction. 
This year was about survival
Maybe you were living in the scary COVID world with a pre-existing condition that was high risk.

Perhaps you lost your job and were worrying about paying bills.

Possibly you suffered from depression heightened by all the isolation.
Congratulations. You're still here and breathing. That was the point of getting through this year. Your COVID weight gain is just a symptom of working so hard to survive. 
You're your own worst critic
You judge your body harder than anyone. You see any extra weight as an outward manifestation of your greatest faults. Not true. 
To the people who love you, you're more than your waistline. Today you might be a few pounds less. Tomorrow, you may be a few pounds more. That doesn't change you. 
You're not unique as you feel
There are so many things that make you special. 
But your COVID weight gain isn't in any way unique. This isn't one of the ways in which you stand out. 
This is something universal. Most of us stayed at home a lot. We moved less. And we picked up hobbies like baking.
Most of us go up or down a few pounds at different times in life. But COVID is a time when many of us gained together. 
Join the club. 
It's an easy time to get moving
Summer is coming. If you've had an inactive year and a half, this is the perfect time to build some activity into your day.
Get on that bike and start exploring.

Go for a walk. It's likely safe enough now to even bring a friend.

Support one of your local exercise studios
You don't have to go completely hard-core to move more. Just get out there and do something fun. 
Movement is good for you and will have you feeling great in your body. And when you're feeling good, you don't have time to worry about anything else. 
You now understand the value of comfort
This year was the year we ditched the makeup and embraced comfort. Seriously, are you ready to jump back in those stiletto's?
The moral of this year's story? Comfort rules. And wearing clothes that feel good on your body is alluring. 
So stop obsessing over the mirror. And go back to how you feel.
Do things that make you feel good in your skin. Wear clothes that feel good on your body. Because you were so much more at peace with yourself in that space. 
Weight will always fluctuate
It's easy to feel like you've failed when you up a clothes size. And yes, large, ongoing weight gains can be a health concern.
But the reality is that weight will fluctuate over a lifetime. Magazines will have us believe there is only one perfect size. 
But even models gain and lose. Perfection isn't something you can own.
A healthy lifestyle is an ongoing process. And every day, your goals should simply be to do something nurturing and nourishing for your body.
Tomorrow is a new day
This is an expression we say often. But this time, it rings even truer.
As regulations lift, and the world starts opening, we have the opportunity for something unique. 
We get to change the rules of how we've been living.
We are entering a world that seems so different from what we left 1 ½ years ago.
So this is an opportunity to set new rules and boundaries.
And my personal goal is to embrace health, while discouraging judgement from myself or anyone around me about my health journey. 
So, I refuse to feel bad about my COVID weight gain. And my hope is that you do too.