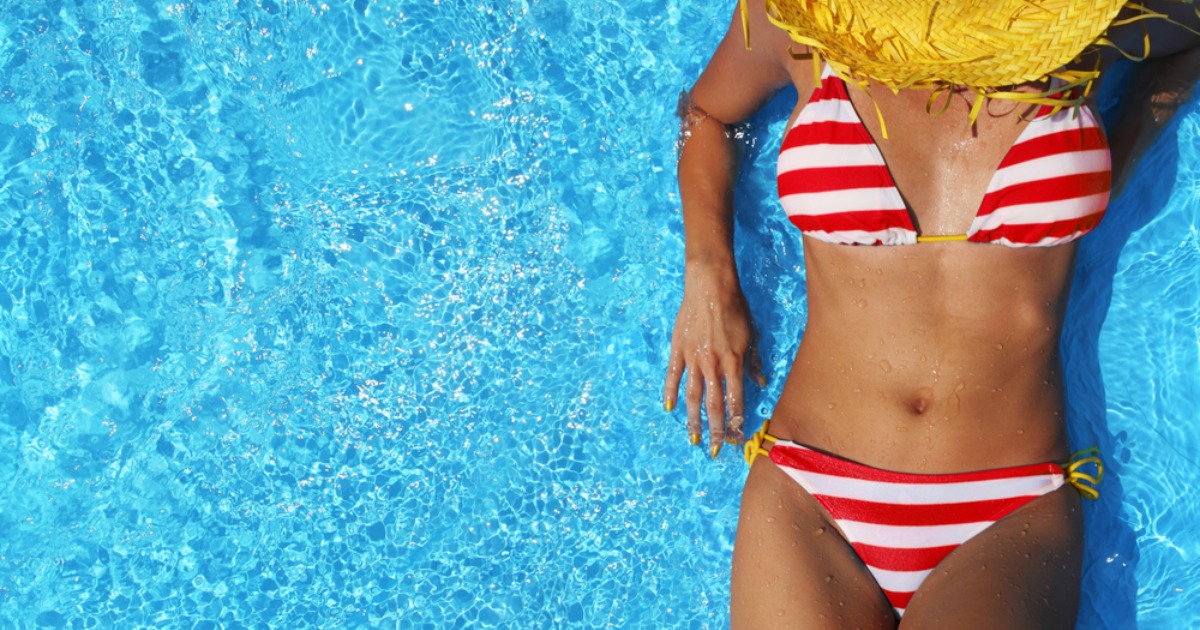 It's getting to be that time of the year again. The time when we throw out our long sleeves and leggings and exchange them for a short skirt and a tank top. And the place to be is anywhere outdoors. So if you're smart, and you're spending more than a short time outdoors, you're also grabbing your sunscreen.
As someone with blue eyes and pale skin, I'm all too aware of the price to be paid when exposed skin sees too much sun. I had some bad burns as a little kid running amuck on the Florida beaches. I'll be damned if I don't do my best to protect myself now.
So is choosing a sunscreen as simple as 1) pick an appropriate SPF 2) Lather it on generously 3) repeat? Not necessarily. In fact, applying sunscreen is a much more complicated matter. And if you don't do it right, you can cause more harm than good. So as we go into those liberating, fancy-free, frolic in the sun summer months, here's a few things to keep in mind about sunscreen.
Don't be fooled by high SPFs
Should you buy the first sunscreen you see that has SPF 80 or higher? The answer,according the The Environmental Working Group's 2017 sunscreen report, is no. The Environmental Working Group is an American organization that helps people live healthier lives. And they know a thing or two about safe sunscreen.  According to their scientific study. higher SPFs can be dangerous.
There is quite a bit the average person doesn't understand about sunscreen. And this is why this information might seem confusing. Keep these things in mind when choosing an SPF:
SPF 100 doesn't offer that much more protection than SPF 50.
You would think the protection would double. But that just isn't the case. The added sun protection is minimal. And don't be tempted to buy the higher SPF just to be safe. Because double SPF means double chemicals. And I'll talk more about the problem with that in a minute. But first…
SPF doesn't tell the whole story about a sun lotion's protection level.
SPF refers only to a sunscreen's ability to block ultraviolet B rays. These UVB rays cause sunburn and some skin cancers. But here's the problem. The majority of US sunscreens don't provide adequate protections against the extremely damaging ultraviolet A rays.  UVA rays are more difficult to block, penetrate deeper into the skin, and are responsible for much more dangerous cancers like melanoma. And they don't cause the skin to burn. So the highest SPF still has a huge gap in coverage, and you won't see any physical signals . European sunscreens provide better UVA protection. But we're still behind here in the US.
High SPF use gives consumers a false sense of protection.
The reality is that any day spent playing on the beach needs to include a good amount of shade. This is the only way to get true protection from UVA rays. Think big floppy hat, lounging under an umbrella, and hanging out the shade from a tree. 
And don't forget those toxic chemicals: 
Remember I said I would talk more about the dangers of using a higher SPF? The average drugstore sunscreen is loaded with chemicals that can not only damage the skin, but cause endocrine imbalance. And the higher the SPF, the higher amount of dangerous chemicals. Plus remember that you're only getting minimal extra protection with a higher SPF.
Endocrine disruptors in sunscreen can cause serious illness
We all have hormones like estrogen, progesterone and testosterone. Many products used in the home, on the skin, and in makeup products are filled with chemicals that mimic these hormones. And these fake hormones can create an imbalance with our real hormones.
This puts us at risk for infertility, birth defects, and many hormone dependent cancers including breast and prostate. Endocrine disruptors are everywhere in modern life. And all of us should aspire to eliminate as many of them as possible.
Here are two very widespread active sunscreen ingredients that are toxic endocrine disruptors.
Experts also recommend staying away from the inactive ingredient, methylisothiazolinone, used in over 70% of sunscreens. It is a common allergen and toxic to many people
So what kind of sunscreen ingredients are better to use?
Here are the active ingredients you should seek in a sunscreen. You'll most likely find these ingredients in sunscreens sold in health stores, but always read the label to be sure. 
Zinc oxide

Titanium Dioxide

Avobenzone
Check out The Environmental Working Group's 2017 report
Did you want some great guidance on getting the best sunscreen without having to worry about doing deeper harm? Then check out their great report. They have lots of terrific information on safer sunscreen brands, keeper your kids safe, and everything else you wanted to know about staying safe in the sun.  And this isn't a sponsored post. I find this to be a great resource.
Final reminder
Remember, no sunscreen takes the place of good old fashioned shade. There isn't a chemical that makes it safe to spend hours upon hours in direct sunlight. So be smart when spending time outdoors. Cross the street to walk in the shade. Wear a hat and carry an umbrella. (so you might look eccentric. Who cares?)  And give yourself breaks by seeking shelter when possible.
I've got big plans for lots of fun this summer. And I love the beach. I'm just gonna make sure to show up responsibly, with safer SPF 30 sunscreen and a lot of shade. I hope you do too. Your future self will thank you!