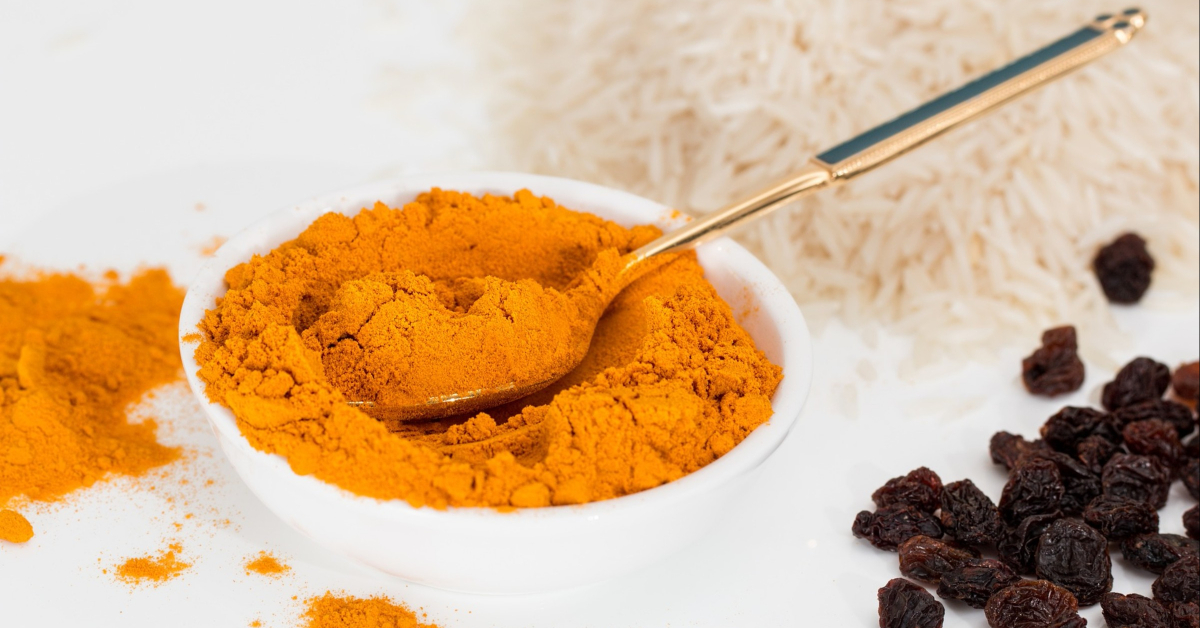 Turmeric is a wonder spice that not only helps food taste good. It can also help the health of your body. So today, I want to talk a little bit more about everything fabulous about it.
If you're not familiar, turmeric is a spice often used in curries known for its bright yellow color.  And curcumin is the main, healing component found in the spice. Be careful when cooking with it though because it does stain. I know from experience.
Funny story…
Years ago I moved into a small 1 bedroom apartment with spotless white carpet. To preserve my new carpet, I started a new habit of taking off my shoes at the door. 
One day I cooked up a curry with turmeric. As I was carrying it to the table, I tripped over a shoe, dropped the plate, and stained a large section of my carpet. And that's irony my friends. But nothing a little throw rug couldn't hide.
But don't let my clumsiness stop you from exploring this spice. Because It's  great to eat daily. And here are some of it's fabulous, healing benefits.
It can fight inflammation
Modern lifestyles can leave your body in a state of inflammation. Either from too much processed foods, too much stress, or too many environmental toxins. And an inflamed body is an unhappy body.
Inflammation can lead to a state of disease. It can also promote weight gain. The curcurmin in turmeric is fabulously anti-inflammatory.
It can be a powerful antioxidant
Oxidative damage is behind many aging related problems. Antioxidants neutralize free radicals before they have the chance to damage the body. So a powerful antioxidant can play a part in aging without pain or disease.
Curcumin isn't just beneficial in the fight against free radicals. It helps boost the body's natural anti-oxidant abilities. And this will help the body fight keep fighting oxidative damage long you've eaten the spice. 
It can boost brain health
There have been many studies on turmeric/curcumin and brain health. And findings show that this spice can help preserve the brain. It has even been shown to potentially play a part in preventing alzheimer's. How amazing is that? 
This most likely has to do with curcumin's anti-inflammatory and antioxidant capabilities. Memory is something that's important to everyone, not just those suffering from alzheimer's. When your brain isn't at it's best, quite obviously neither are you.  
It can help fight the pain of  osteoarthritis
If you're not concerned with arthritis, chances are that you will be someday. Arthritis in some form or another affects most of us as we age. And there are tons of medications that offer the promise of pain reduction. But what if we could help arthritis naturally?
The anti-inflammatory benefits of curcumin work wonders for arthritis. In fact, everyone who suffers from osteoarthritis should at least consider turmeric supplementation. Because, why live in pain?
Curcumin may be toxic to cancer cells
There's no way to 100% avoid getting cancer. But there are supplements that help strengthen the body against cancer cells. And turmeric is one of those supplements.  
For instance, one study with breast cancer showed that curcumin supplementation improved breast cancer treatment. In another trial, curcumin proved effective in fighting prostate cancer cells.  There are too many positive studies on turmeric cancer to talk about them all here.  
It can help your heart
Curcumin may help protect you against heart disease. Inflammation is something that usually precedes heart disease. It sets the stage for heart disease to progress. So the anti-inflammatory benefits are already healing. 
But the spice can also prevent the buildup of plaque. This is the same plaque that can eventually clog your arteries and lead to a heart attack. So eating turmeric can play a part in your heart health in multiple ways!
There's so much else turmeric/curcumin can do!
This just a partial list of the health benefits of turmeric. The list goes on and on. You can add turmeric to some of your favorite recipes. Or you can choose a turmeric supplement.
But first a word of warning. Any natural supplement can have side effects. Please talk to your doctor before added high quantities of anything to your diet. You need to be especially careful if you're currently on medication, pregnant, or trying to get pregnant.
Fun ways to add turmeric to your diet
Add a teaspoon or two to your smoothie

Throw it into a curry

Make a turmeric root tea (turmeric root can be purchased at most natural food stores)

Mix it into vegetables

Add a sprinkle to your rice before cooking
A note about black pepper
There something to be said about consuming turmeric and black pepper together. The pepper helps support the bioavailability of the curcumin. So when adding turmeric to recipes, try to add some black pepper too. And when looking for a turmeric supplement, look for one that includes black pepper.
If you haven't been including turmeric in your diet, consider trying some today. It can be a delicious spice. This is a healthy habit that can come easy. In fact, the health promoting properties are just an added bonus!
So, how do you enjoy turmeric?