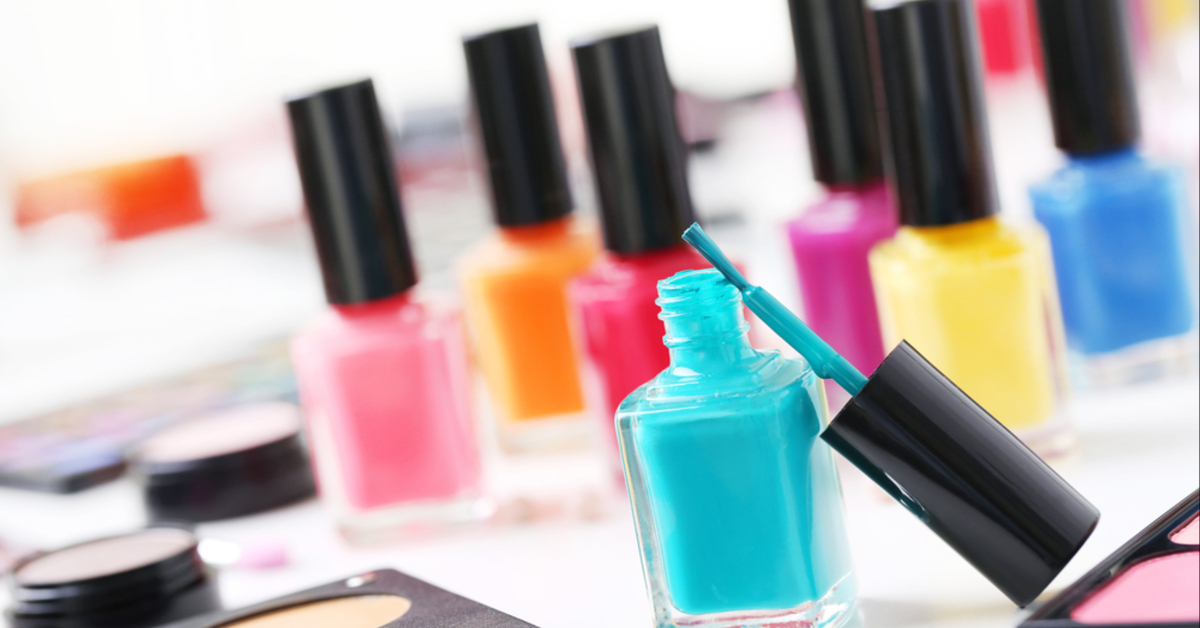 What's a healthy, holistic living girl to do? A good pair of sandals is nothing without pretty painted toes. But many nail polish options are full of toxic chemicals that can wreak havoc with your health! The good news today is that we're talking about cleaner nail polish.
First, let's get into the dirty details of most conventional nail polish options. Because behind those pretty colors sits a very ugly truth. Many nail polish options are bad for you.
Toxic Nail Polish
Here are three things you'll find in many conventional nail polishes.
Formaldehyde
This is a known carcinogen. And it can cause all sorts of problems for your nervous system. Think chest pain, coughing, and shortness of breath. But the dangers go deeper than that. Because it can also cause illnesses like cancer.
Formaledehyde is something you want to avoid. But it's pretty hard when it's on your nails, seeping into your skin. And this is a very common chemical found in nail polish.
Toulene
So toulene is usually found in coal tar and petroleum. But thanks to modern science, it's now a really common ingredient in nail polish. But is something usually found in petroleum safe for the body?
This is another one that affects the brain and nervous system. It can affect the liver, lungs, kidneys and even immune function. And if you use most nail polish options, you're absorbing this into your body regularly
DBP
DBP is a common ingredient in things like inks, varnishes, and lacquers. It's has very many industrial uses. But it's also a very common ingredient in nail polish.
DBP may increase the risk of genetic mutations and developmental problems. This can be especially problematic for pregnant women and for use with young children. So it's best to avoid it when possible.
Camphor
Camphor is another chemical frequently found in nail polish that can be toxic. And you might love the glossy finish that camphor gives your nails. But the gloss doesn't come without risk.
Admittedly, camphor isn't as toxic as the first three listed. But it does contribute to a high risk of skin irritation and allergies. So if you can avoid it in your products, you'll be safer.
Safer Non-Toxic Nail Polish
The good news is that there are now many nail polish options that don't include these toxic chemicals. They provide that colorful pop in more natural ways. And this really provides peace of mind.
I personally love a feature of the Environmental Working Group website (EWG) that rates cosmetic products based on the safety of their ingredients. It's called Skindeep. And it's a tool I found valuable while coming up with this list. These are polishes that according to the EWG use safe ingredients. 
So here are 5 non-toxic nail polish options you can feel good about. They have much cleaner ingredients. And they'll still make you toes look cute barefoot!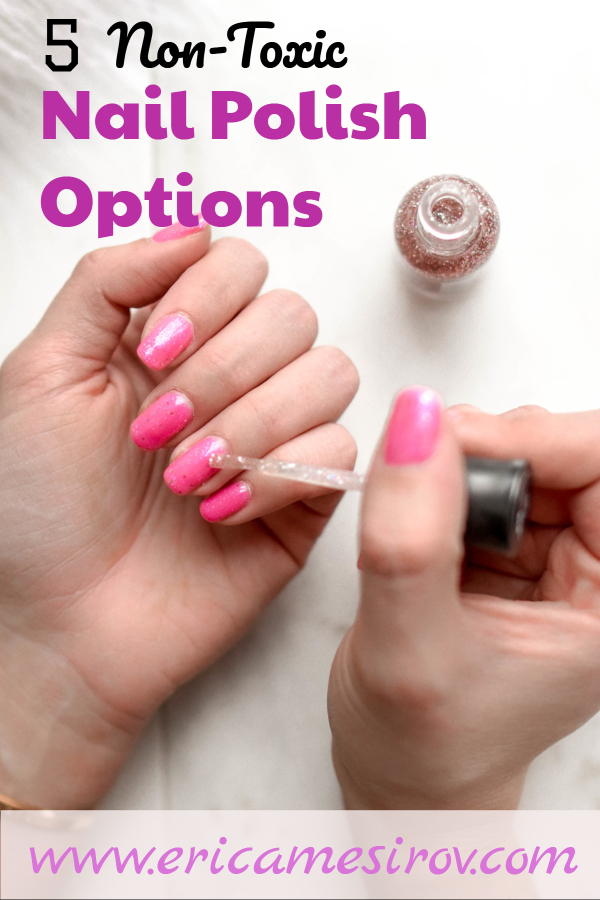 Piggy Paint
First of all, just such a cute name. Plus these products aren't just clean. They're cruelty-free too. And they have options for kids and adults with lots of fun colors.
The great thing is that Piggy Paint is very economical for a non-toxic, clean nail polish. As of this posting, the average polish is only $7.99. And if you go to their website, you get free shipping with just a minimum of $20! Such a good deal!
Suncoat
This is another safe and clean nail polish brand. What I like about this line is that it has some more subtle colors as well as brighter options. So you can find a fun, bold color. Or you can choose one that's really good for casual everyday wear.
This brand was developed because the founder wanted safer options for her young daughter who asked for painted nails.  So there are great, safe options for children too. And now they offer a full makeup line as well.
Sophi
Sophi is a division of Piggy Paint. But while Piggy Paint creates fun colors for all ages, Sophi's products are targeted to women. And while they do offer colors that pop, they also have many more natural colors. And the great thing is that they're still just $7.99
The concept of Sophi is that it allows women to have a worry-free manicure. There's a Prime+Shine+Seal system that keeps nails from chipping. And all this comes in a polish that is truly non-toxic.
Keeki
This is another brand developed by a mom with concern for her daughters. I just love all these great, safe companies run by women. And Keeki's products are free of a whole bunch of chemicals, including the big ones previously mentioned.
The polishes come in lots of color options. They're very reasonably priced. And reviews indicate the polish is successfully chip resistant – which is totally good to hear. Because any polish you put on your fingers or toes has got to stand the test of time.
ela + mila
Since we're on a theme here, this company was actually named after the twins daughters of one of its founders. Their mission is to provide fashion-forward beauty products without having to sacrifice safety. And their polishes have fun names like Honeymoon Bliss and Unwrap Me.
I couldn't find any information on them with the EWG. Which doesn't mean they're not clean. It just means they haven't been tested and rated yet. I look forward to that in the future. But in the meantime, they're good quality products that you can feel good about wearing.
Final Thoughts
So those are 5 non-toxic nail polish options that will have you feeling truly good about your nails. Fashion can come at a horrible, unsafe price when you start to understand the chemical risk. But you can get the fashion look without sacrificing your safety.
And its nice to know is that these products won't drain your wallet. All these nail polishes aside from Suncoat cost less than $10. And Suncoat comes in at about $12.99 per bottle. Plus these polishes last so long. You're paying just cents more per week for clean polish.
Since even in winter, many of us like pretty hands and feet, these brands can be great year-round. So check them out. And feel good that you've removed your exposure from some bad chemicals. All while looking beautiful!