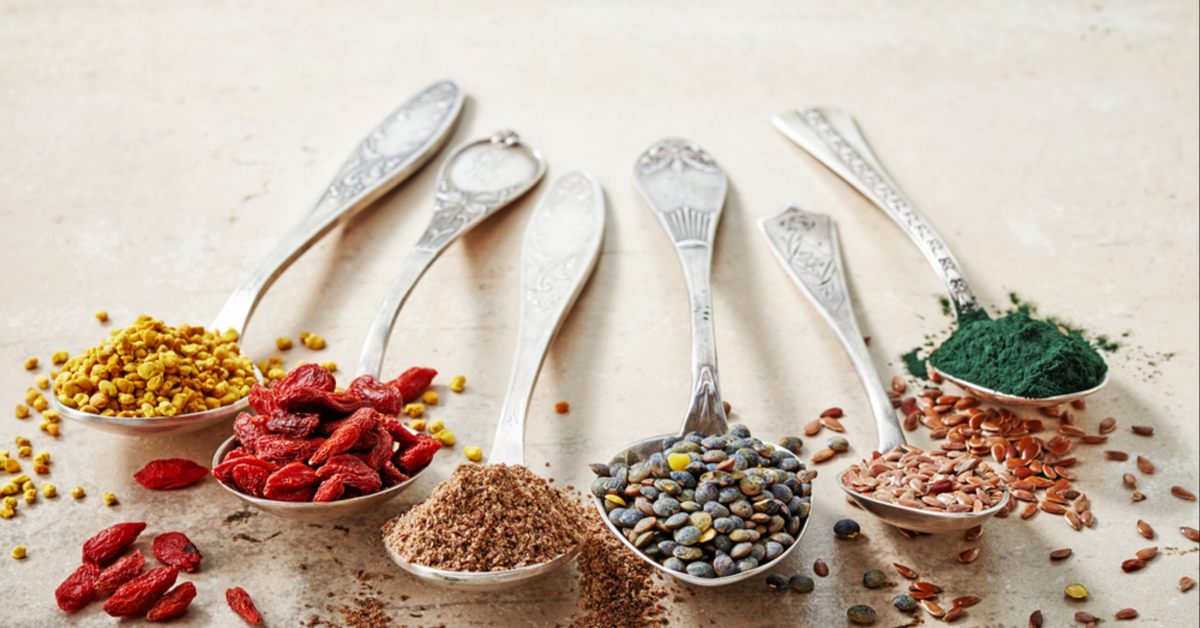 What's a healthy change that's easy to make? How about getting yourself to eat more Superfoods. These are foods that are especially nutrient rich. And getting yourself to eat more of them is a big step in a healthy direction.
A healthful lifestyle isn't a destination. It's an ever evolving process. And you won't reach perfection every day. But including Superfoods in your diet even on the less than perfect days can help you stay on track.
These foods are healing to the body. They're anti-inflammatory. And inflammation is a main cause of disease as well as weight gain. So, here are 10 ways to eat more Superfoods to eat every day!
(Pssst: Get your FREE Fifty Nifty Fun to Eat Superfoods HERE!)
Turn them into a dessert
Just because Superfoods are healthy doesn't mean they can't be a treat. In fact, you can turn them into a decadent dessert. Here's one of my favorites – fresh berries, mixed with cacao nibs, and sprinkled with hemp seeds. Satisfies your sweet tooth while being oh so good for you!
Make trail mix
Everyone loves trail mix. And it can be super good for you if you throw in some Superfoods. Here's one of my favorite combinations – walnuts, goji berries, pumpkin seeds, cashews, and candied ginger with a sprinkle of cayenne pepper on top.
Top your oatmeal or yogurt
How about oatmeal with antioxidant packed blueberries? Or what about sprinkling it with hormone balancing help seeds?  You can eat more Superfoods by using them as toppings. Pick two or three of your favorite Superfoods and get started!
Blend them into a smoothie
Smoothies are a great way to eat more Superfoods. Challenge yourself to see how many healthy foods you can fit into one drink. Extra credit if you mix in foods you might not otherwise normally eat. Think kale, spinach, and chard. Throw in some fun ones like blackberries and strawberries too!
Make them into a breakfast cereal
A healthy breakfast on-the-go is a great challenge. So consider making a breakfast cereal out of Superfoods. Take  ½ cup of oats and add a tsp of honey. Spread the oats on a tray and bake at 200 degrees for about 15 minutes. Add your favorite fruit and nut Superfoods once cool!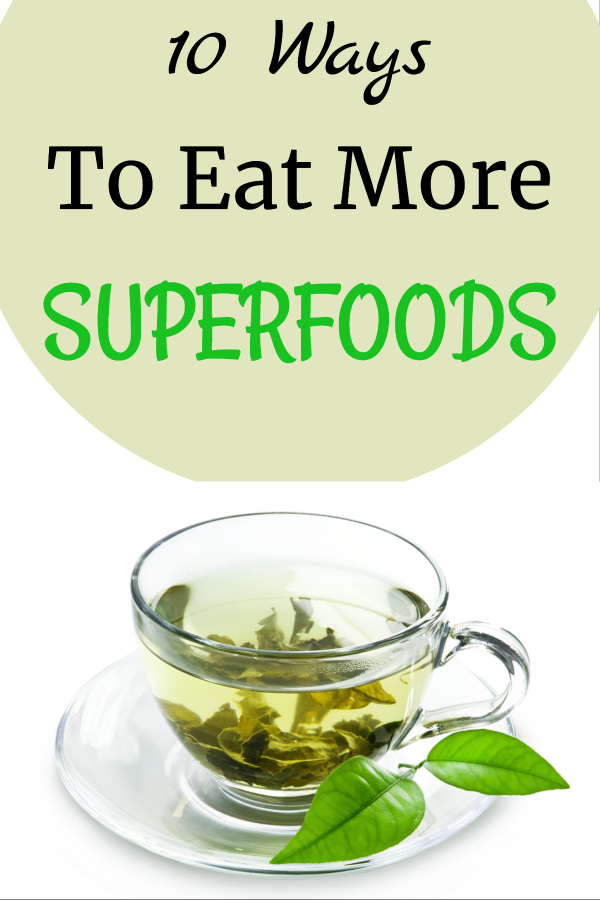 Turn them into a latte
Many spices like turmeric and ginger are Superfoods. And what better way to enjoy them than to ditch the afternoon caffeine fix for a turmeric latte. Heat up your favorite unsweetened non-dairy milk. Mix in turmeric, ginger and a stick of cinnamon as you heat the milk and serve.
Pour them over a salad
Olive oil is full of healthy fats. Apple cider vinegar can be good for everything from your gut health to your blood sugar. Lemon is good for digestion. And all these can be squeezed or poured over a salad. What an easy way to eat more Superfoods.
Substitute them for chips
When you eat chips and dips – which taste is dominant: the chip or the dip? I'm voting for team dip. So why not substitute some veggie Superfoods for your chips. Try radish chips or broccoli spears. All the crunch of your favorite chip!
Substitute them for butter
Using avocado in recipes instead of butter is easy – just add 1 cup of avocado in place of 1 cup of butter. Or spread it on a potato or onto a dinner roll. Avocado is a Superfood filled with healthy fats. Just remember, avocado treats leftovers should always be refrigerated.
Add them to sauces
You might not eat enough broccoli, spinach, or kale. But when you mix it into a sauce, you hardly know its there. And don't just stop with greens, Throw in the amazing Superfood, garlic. That way you can painlessly get all those needed vitamins and minerals.
So there's 10 ways to eat more Superfoods. How many more Superfoods do you think you can slip into your day?
But before you go – want a list of 50 amazing for you Superfoods? Get it FREE now!