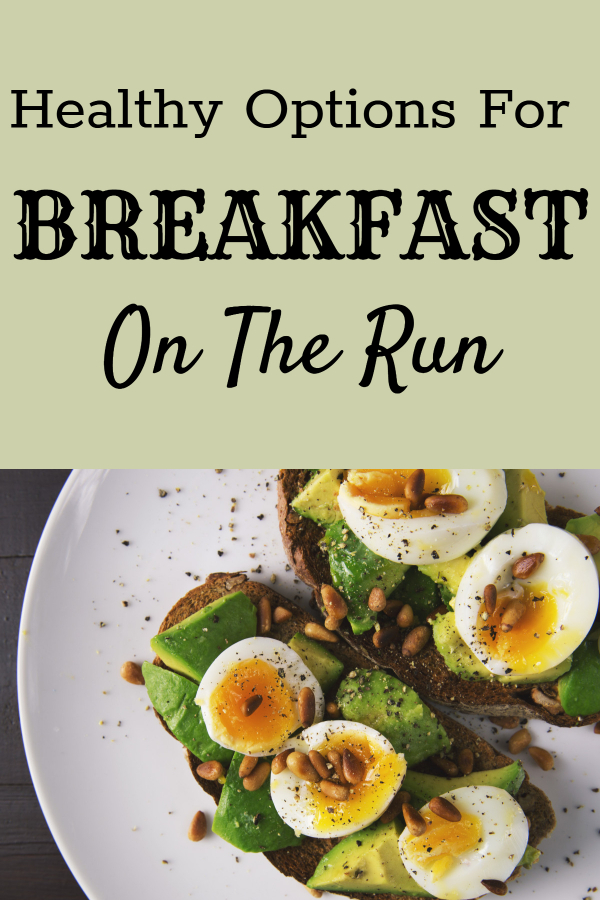 Reality check. It's all well and good to to say you want a healthy breakfast. But your biggest obstacle is probably time. It's not easy to eat healthy when you're on-the-go and in a rush. So today I want to talk about some of my favorite on-the-go breakfast options.
Breakfast has always been a tough one for me. As a kid, my mother didn't know what the heck to feed me. There was a long time when I survived on chocolate chip muffins – talk about a breakfast that leaves you exhausted by 10 am.
But I was a picky eater. And my mom was a sucker to make me happy. And it's so hard to think of nutritious things to eat when you're in a rush.
So today I want to talk about breakfast ideas for those whirlwind mornings. Days when there's no time to slave over a stove whipping up a bowl of nutrition. Breakfasts that will give you energy all morning long. Here are some of my favorite on-the-go breakfast idea.
Overnight Oats –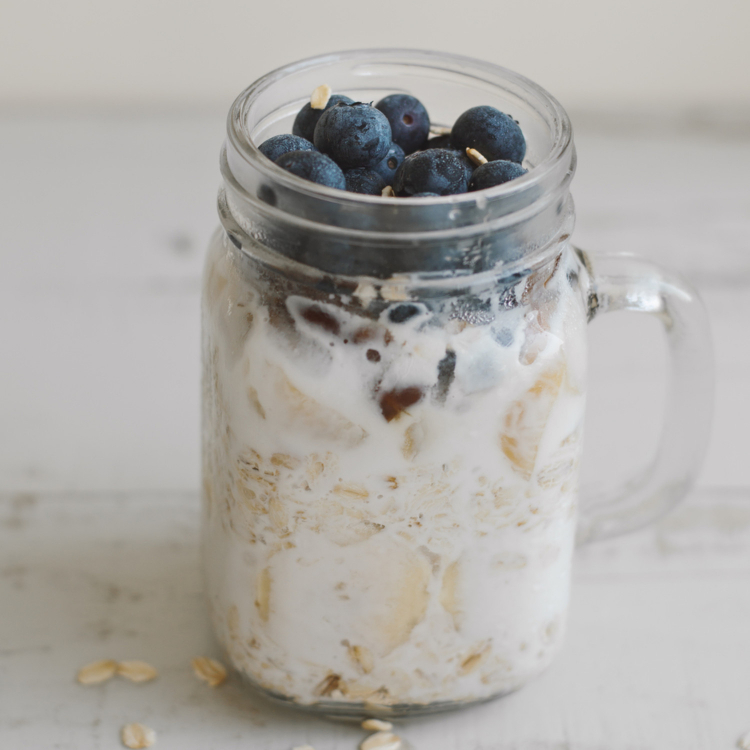 Unless you've been living under a rock, I'm sure you've heard of overnight oats. They're so popular because they're so easy to make and so portable.And you can make healthy, no-added-sugar varieties that taste good too.
I use jelly jars to make mine. They're the perfect size for a single serving. Here's my favorite nutrient rich and healthy recipe – filled with Superfoods:
½ cup rolled oats

1 Tbsp raw cacao nibs

1 Tbsp walnut pieces

¼ cup frozen blueberries

½ tsp stevia powder

3/4 cup unsweetened almond milk
Add all ingredients to a jelly jar and let sit overnight. And then just grab and go when you're on the run!
Garden Lites Superfood Veggie Cakes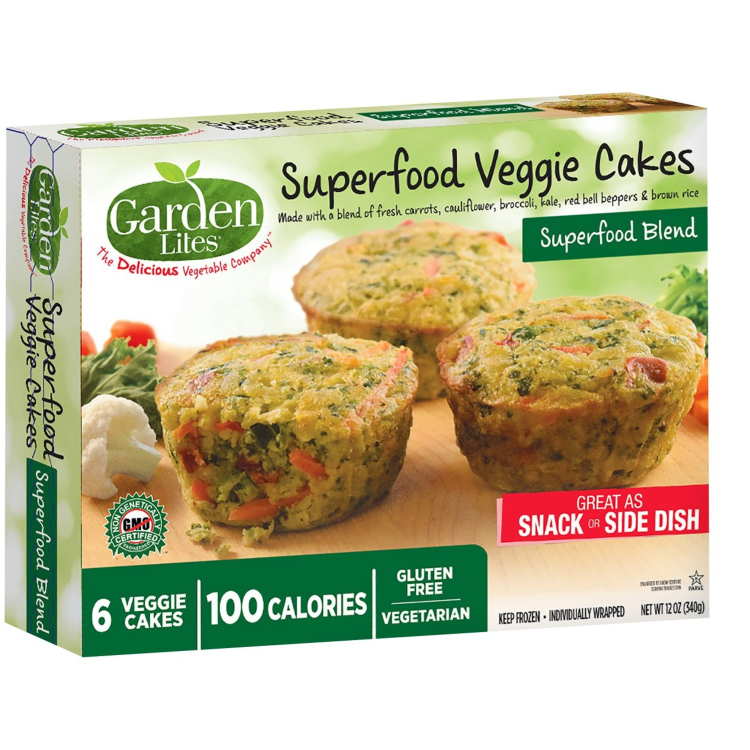 Remember I ate a chocolate chip muffin everyday growing up? Well, if you're going to grab a muffin in the morning, beware that even most healthy sounding muffins (like bran) are overflowing with empty carbs and sugar.
That's why I like these veggie cakes. They're more of a souffle than a muffin. And they're filled with nutritious vegetables and bound together by eggs. If you're going to grab a muffin, this is one of the most nutritious options you can get.  
Plain yogurt with fresh fruit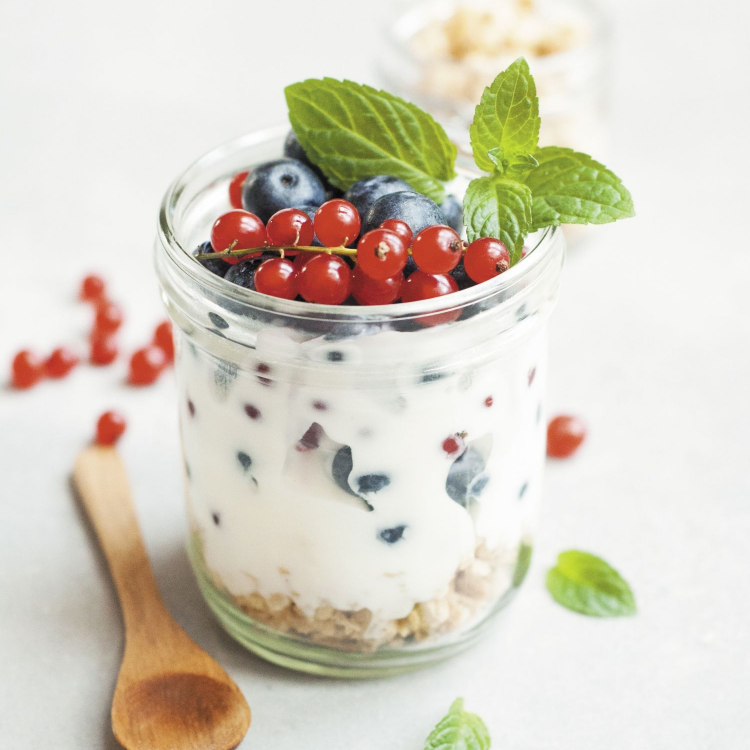 Most yogurt cups do not provide a nutritious on-the-go breakfast. They often are missing all the fat. And when fat has been removed from dairy, it tends not to be as filling. Plus they're filled with so much sugar that you might as well eat a candy bar.
So here's a solution. Put a cup of low-fat yogurt in one Tupperware container. In another container, place ¼ cup of your favorite berries, 1 Tbsp sliced toasted almonds, and 1 Tbsp raw cacao nibs. Mix the fruit into the yogurt container, and you've got a healthy on-the-go breakfast.
Sweet Earth Food Lighten Up Breakfast Burrito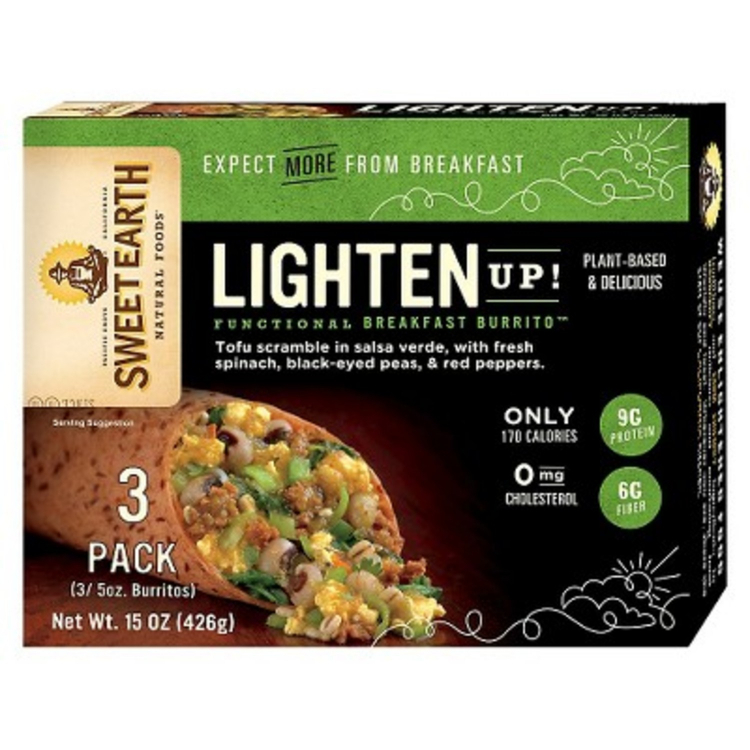 There are a couple of things I like about this burrito as opposed to the many other burrito options on the market. First, it's naturally high in fiber from vegetables and black eyed pea. Plus, it's not filled with cholesterol and saturated fat rich smoked meats and cheeses.
It's still a processed food. But the ingredients are better quality. And this breakfast option is a big step-up when you're grabbing breakfast on-the-go.  Plus, it only has 190 calories. So it won't weigh you down if you're looking for something light to start your day.
Hard boiled eggs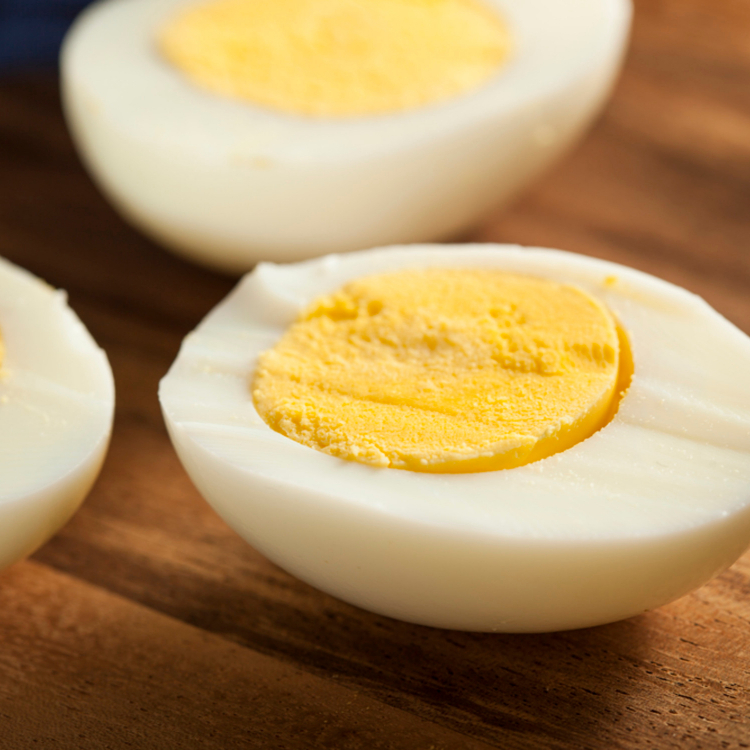 Eggs get a bad rap because they're high in cholesterol. And I don't recommend eating eggs every single day. But if you're not suffering from high cholesterol, eggs in moderation can contribute to a nutritious diet.
And the great thing about hard boiled eggs is that they're easy to prepare ahead of time and super portable. Plus, they're packed with protein. And protein in the morning can give you the jump-start you need to leap into your day!  
Nut, quinoa & fruit salad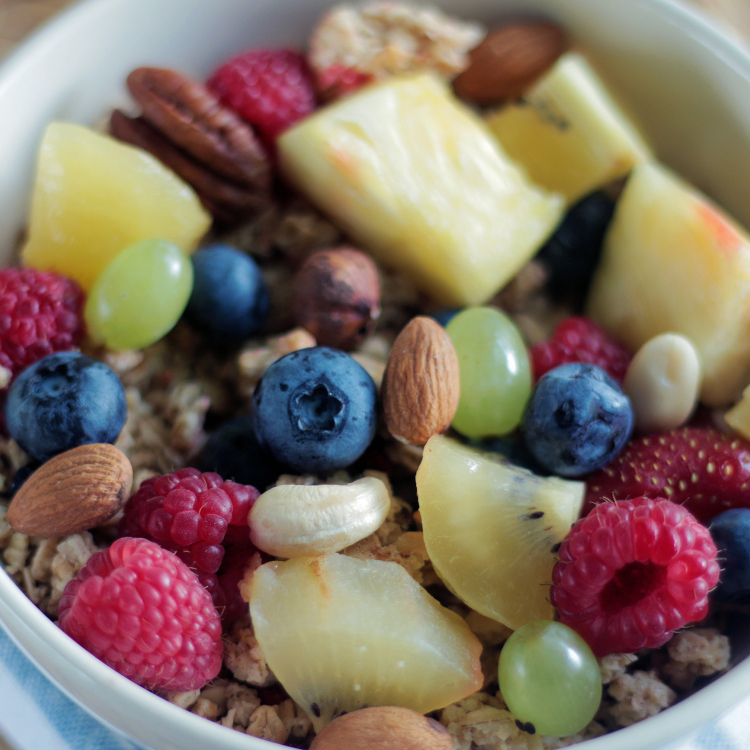 This is a simple concept that can be a powerhouse on-the-go breakfast. First, let's start with how easy it  is to make. Take quinoa that has been cooked and cooled. Mix ½ cup quinoa with 1 ½ cups of your favorite fruit. Add 2 Tbsp chopped walnuts or almonds. Divide mixture between 3 containers and you now have 3 healthy breakfasts!
This simple concept gives you a bit of everything. Both the quinoa and nuts contain protein. The fruit is filled with fiber. And the nuts provide some healthy fat. Plus it's sweet and light if you're the type that finds it difficult to eat in the morning. Yum!
RX Bars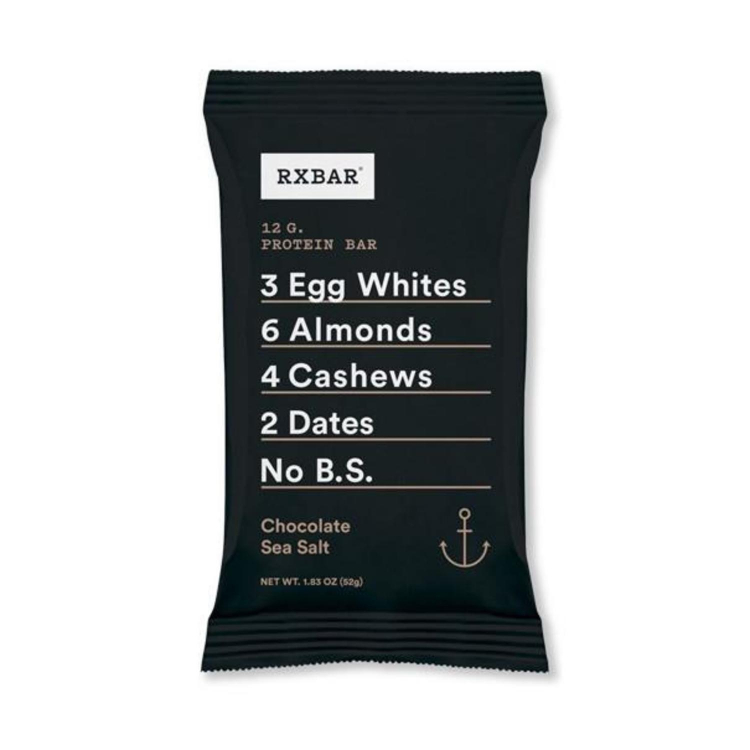 I'm not a big fan of relying on bars for your nutrition. But sometimes in a pinch, they can really come in handy. The reality though is that most protein bars are so full of junk. And even when they're low in sugar, they're usually overflowing with unhealthy sugar alcohols and artificial sweeteners.
The thing that's nice about most varieties of RX Bars is that they're made of 100% real ingredients like eggs, dates, and nuts. Plus, they're not super high in sugar. Most varieties have about 12 grams of sugar entirely from fruit.
So much better than these processed bars with fake sugars. Plus they'll leave you more nourished than most protein bars. And feeling more satisfied due to their whole food ingredients.
Avocado sprouted grain toast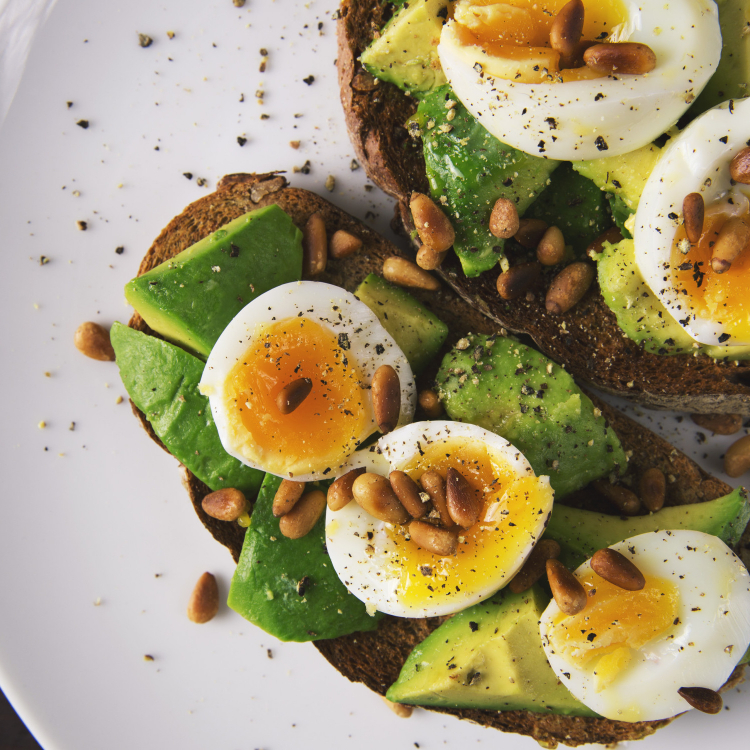 While I'm not a huge supporter of eating a bunch of carbs in the morning, there are ways to make them healthier. So getting sprouted grain bread would be a good option. Or, if you want to go the low-carb route, consider almond or coconut flour varieties.
Take ½ avocado and mix it with a sprinkle of red pepper and parsley. Add salt and pepper to taste. Scoop mixture onto toasted bread. Add a hard boiled egg for extra credit! This is an on-the-go breakfast that's worth take 5 minutes to make!
And those are some quick breakfast ideas for when you're on-the-go. A busy morning doesn't have to mean a drive thru. There are plenty of healthy options that are easy to pop in your bag, or take in your hand and go!
So now you've got breakfast down! Let's go conquer the rest of the day!