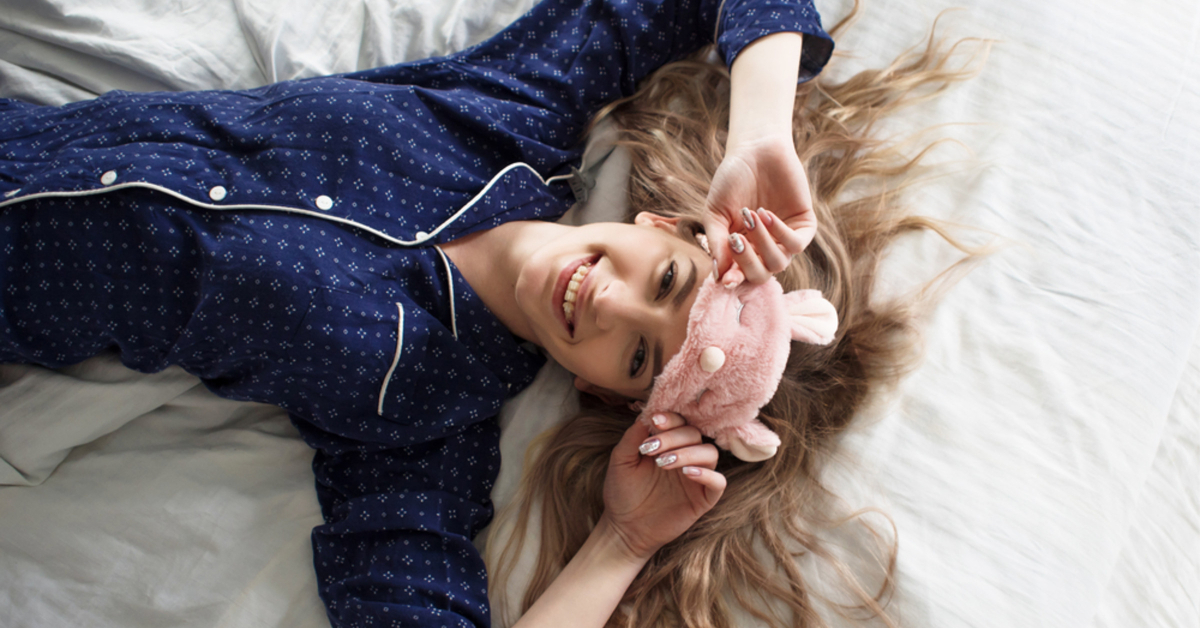 Life isn't as sweet when you're sleep deprived. It's impossible to drag your bleary eyed self through all the challenges of a normal day. You feel off from the moment you get out of bed. And that's why I love these 5 accessories for great sleep.
When I used to think of getting a good night's sleep, I would focus on things like cutting back on caffeine. I never thought of sleep accessories. But when I say these have made a huge difference, I'm talking huge!
I imagine the ideal sleeping environment is a dark, empty, sound proof room without any windows or electronics. Sleep occurs completely alone, on a bed of fluffy blankets and pillows. And you know who sleeps like this? Nobody!
I wasn't sleeping in the ideal environment. But I brought in accessories that helped me transform my less than ideal circumstances into something a bit more conducive to great sleep. These accessories are a game changer.
So today I'm sharing my 5 favorite accessories for amazing sleep. These made such a difference for me. And hopefully they'll help you experience truly restful sleep as well.
Pretty In Pink Earplugs
In general, pink accessories drive me crazy. Pink razors, pink deodorant, and anything else pink marketed to women. Have you heard of the 'pink tax'? Women are deceived into buying pink products that are close to identical to the male variety at a higher price.
But these pink earplugs are the real deal. These work so much better for us women. Look – men's ears tend to be physically bigger, so their earplugs are bigger. I didn't think this was a problem – until I tried these pink smaller one
They're not only a superior fit. They offer significantly improved sound protection. Who knew? I never thought I needed special pink earplugs. But now that I've tried them, I'll never go back. They are one of my accessories that's transformed my sleeping environment.
HEAROS Sleep Pretty in Pink Ear Plugs, 
Degrees of Comfort Weighted blanket
Last year, I talked about how my weighted blanket transformed my sleep . Weighted blankets are great for stress relief. And while I started a skeptic, these really work.
I love the Degrees of Comfort weighted blanket because it's something that can help with sleep year round. Weighted blankets can be blissfully warm in winter. But they're often too hot for summer. However this blanket can help keep you cool when it's warm.
If you tend to battle stress, you must try a weighted blanket. Yes, it is a bit of an investment. But I feel so much more relaxed underneath it. It totally transforms stress induced insomnia.
Degrees of Comfort Weighted Blanket 
Silk Sleep Mask
This is one of the cheapest sleep accessories you can buy, and it will make such a different. You're likely exposed to so much light while you sleep. This includes light from electronics, alarm clocks, and even street lights seeping in through the curtains.
You might not cognitively be disturbed by this light. But your brain takes it in. And this can lead to disrupted sleep. Light sends signals to your brain so stop producing melatonin, a sleep inducing neurotransmitter. So you might find yourself restlessly awake while feeling tired.
For this reason, a simple and economical sleep mask may make a big difference for your sleep. If your room isn't pitch black (meaning no light from street lights or electronics), you need one of these. And it's so comfortable, you'll never know it's there.  
ZIMASILK 100% Natural Silk Sleep Mask,

Lavender essential oil
First of all, I just love the smell of lavender. It makes me feel happy. And, of course, relaxed as well. It's one of those essential oils I like to always have on hand.
Lavender essential oil can be part of a bedtime ritual that readies me for sound sleep. I put some in a spray bottle with water. I then mist it over my pillow and throughout my room. I also massage it into my feet, and dab a little on my wrists and temples.
Properly winding down is an important part of a good night's sleep. The lavender smell now instantly makes me feel cozy and ready for bed. And this is an important part of preparing to sleep through the night.  
Viva Naturals Organic Lavender Essential Oil 1 oz 
Homedics White Noise Machine
I think some people are afraid to try white noise because they're scared the sound will keep them up. But it's just a matter of picking the right sound. I pick a sound that's neutral and constant – like rain.
Rain soothes you when you sleep. So it works perfectly for white noise. And it just blocks out all the other ambient sound in my home like the cats playing, or the floorboards creaking as my husband walks around late at night.
Constant exposure to different sounds can lead to restless sleep. Creating a neutral sound background helps me stay in a restful place. And I keep the volume low enough that it isn't disruptive
This is the white noise machine I use. I love it because it doesn't need a plug so it's good for vacations. And it has lots of variety, and even has a timer if you don't want it to run the whole night. 
HoMedics White Noise Sound Machine
These accessories might not seem like much on their own. But combined, they've really transformed my sleep environment. thereby improving my sleep quality.
Sleep is so important. It affects how you feel every minute of every day. And this is why this is so valuable to me.
Do you have products or accessories that use to improve your sleep? Let me know in the comments!