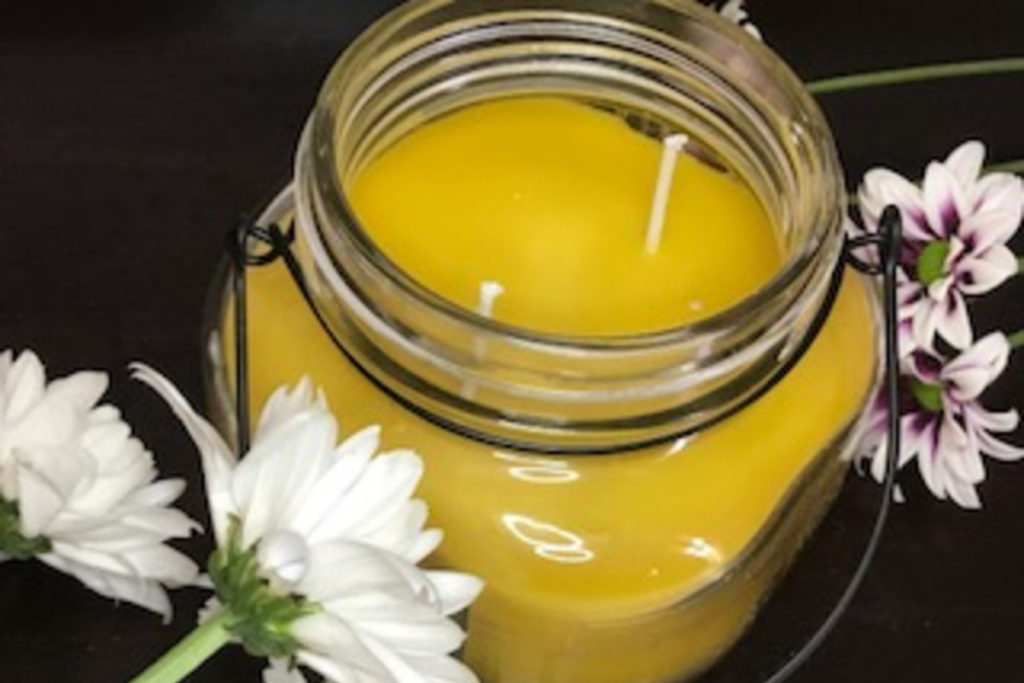 My husband and I are like two peas in a pod.  Except when it comes to our entertainment choices. He likes to relax to sports and anime. I chill-out to gritty dramas and off-beat comedies. But there's one thing we can agree upon. Relaxation time is that much more enjoyable when you turn off the lights and burn some frankincense and lavender candles.
I used to always fill my house with relaxing candles. That was until a few years ago. This is when I learned that most beautifully scented candles contain toxic paraffins. I'm so careful about what I put on my body and in my home. And here I was, just burning and breathing chemicals on a regular basis.
The toxic side of most candles
Get this! Paraffins are a form of petroleum. Petroleum contains volatile organic compounds (VOCs) which are  carcinogenic and can cause DNA damage. And I was burning these to feel calm? Not anymore. 
But just like every other change I've made in my life, there's an easy, more natural alternative. And this led me to make my own calming frankincense and lavender candles. These candles are super uncomplicated, very economical, and are a perfect excuse for a non-crafty person like myself to actually create something. Woohoo!
Frankincense and lavender essential oils
Frankincense and lavender are two amazing, calming, healing essential oils. Lavender is very soothing to the central nervous system. And frankincense is considered a naturally uplifting essential oil.  So together, these oils are the perfect antidote to an "OMG, I wanna scream" kind of day." And while the average candle will just smell nice, candles made from essential oils can truly help relax you.
One important point. Essential oils are a huge market these days. Everyone and their brother is selling these magical oils. But make sure you purchase from a company you know and trust. The essential oil industry isn't regulated. And if you're buying essential oils for their healing properties, you want to make sure you're getting pure oil and not synthetic fragrance. 
Easy frankincense and lavender essential oil candles
These candles are so easy to make. Seriously, I'm not a naturally crafty person. But this project took only about a half hour. I bought all the candle ingredients on amazon. And I got the containers at the 99 cent store (For $1.49 – yes, it's hard to find something that is truly ninety nine cents anymore.)
Here is what you'll need
Frankincense and lavender essential oils.

Candle container – I recommend a mason jar

Pre-waxed candle wicks

Beeswax Pellets

Glass container or empty metal can to melt beeswax

Popsicle sticks or pencils

Tape
As a note, I spent a few dollars extra to get pesticide-free, chemical-free beeswax. I figured, as long as I'm taking the trouble to make natural, healing candles, I might as well avoid burning chemicals into the air my family is breathing.
Add the beeswax to the glass container or metal can. You can even use an old coffee mug if you don't mind it getting covered in wax. I needed a lot more beeswax for the size of candle container I chose than originally anticipated. That's because the pellets shrink in volume as they melt. I would recommend using about 1 ½ to 2 times the volume of the container you're trying to fill. This means that if you're trying to fill a 12 ounce container, melt 18 to 24 ounces of beeswax.  
Sit the glass or metal container in a pot of boiling water to melt the beeswax. This works like a double boiler with the outer pan filled with water and the inner can or jar filled with beeswax. Stir melted beeswax with a pencil or Popsicle stick to prevent clumping.
Step 2 – Make the candles
While you wait for the wax to melt, you can ready the candle wicks. Wraps the ends of the wick around the pencil or Popsicle stick. This will help keep the wick in place as the candle hardens. I used old Christmas pencils I had sitting around!
Once the wax is melted, take it off the burner and add the essential oils. I added about 10 drops each of frankincense and lavender oil. I also added a couple drops of cedarwood oil, just because I had it on hand and it is also a relaxing oil. Feel free to experiment.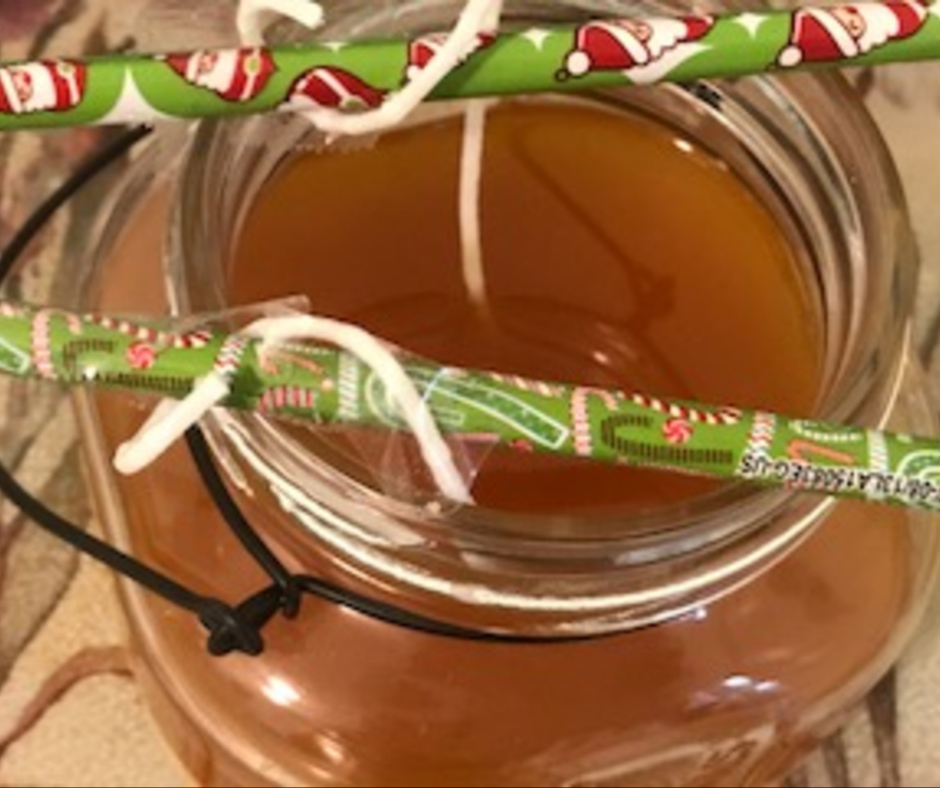 Pour the beeswax into the mason jar or other candle container. Place the wicks in place, leaving the candles on the top of the jar to help steady the wicks. And that's it! Now you just need to wait for it to harden
Enjoy your relaxing candles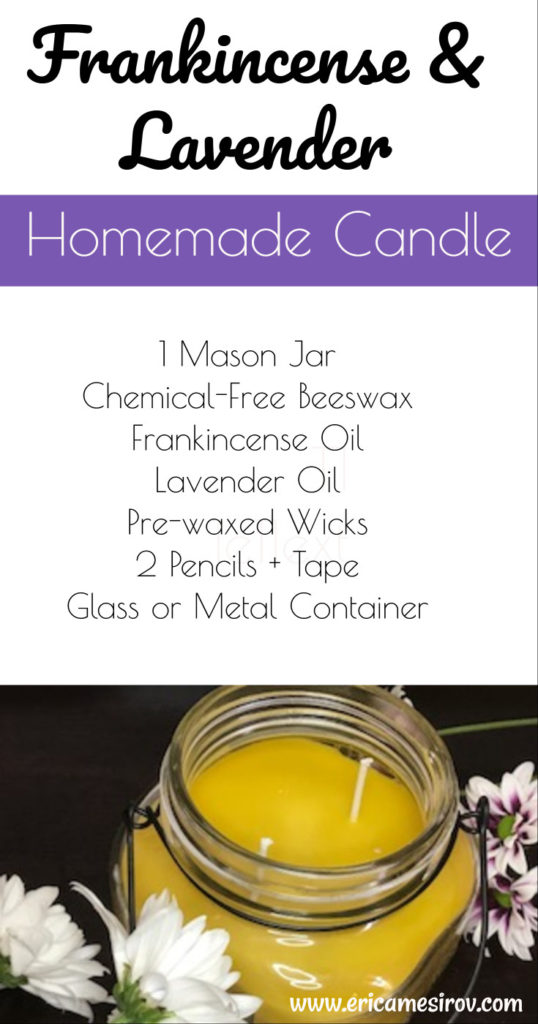 My husband and I love burning these candles. We love that they make our house smell lovely. And we love that they help us live well.  And while we still can't agree on TV, we can agree that burning off a little stress from our day always feels good
*This post contains affiliate links. If you buy a product using these links, I will make a small commission at no additional cost to you.