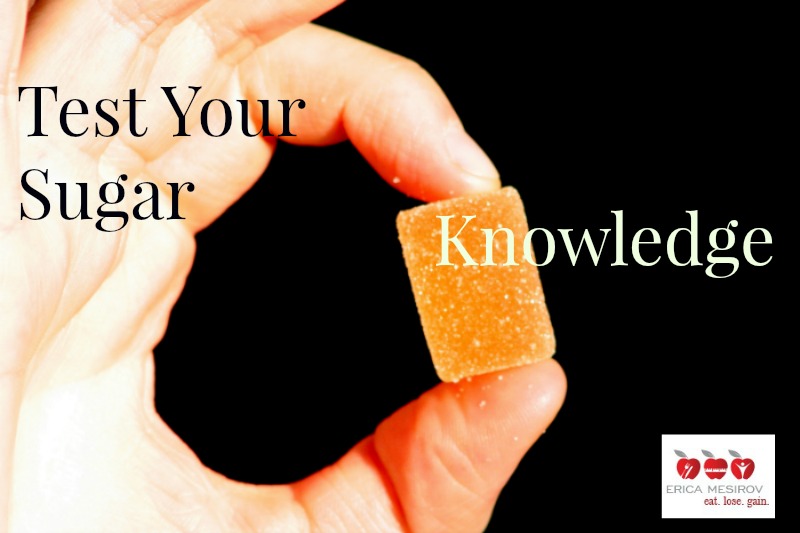 How much sugar is in a Hershey's bar?  What about a Yoplait yogurt?  So what do you think about a Cliff Bar?  This is the question that faced those unwitting patrons who wandered over to my booth at the West Hollywood Health Fair this weekend.  And there was something at stake for getting the answer right.  One winner would be chosen at random out of the correct answers to win a free month of food coaching!  (to be announced on my Facebook page.)
So how would you answer this question:
Which product has the most sugar?
Here are the suspects –
Hershey Bar with Almonds (regular size)
Cliff Oatmeal Raisin Walnut Bar
Original Yoplait (pineapple)
So what is your answer?

Most of those who came up to my both were savvy enough to know this:
I wasn't going to make it easy for them.  For that reason, the Hershey's Bar got the fewest votes.  I would say about 70% of people who answered said the Cliff Bar.  Good answer because the majority of protein bars are healthfully packaged candy bars.  I'm glad to see that the patrons of the West Hollywood Health Fair were well aware of this.
And here is the final tally:
Hershey's Bar with Almonds – 19 grams of sugar
Cliff Oatmeal Raisin Walnut – 21 grams of sugar
Original Yoplait Yogurt (pineapple) – 27 grams of sugar
So everyone who said Yoplait, good job!
My goal was not to convince people that they should choose a candy bar over a yogurt for health snacking. Quite the contrary.  It was to demonstrate that just because something is packaged by a marketing exec to make a product sound healthy, doesn't mean that it will support a healthy weight or body.
If push came to shove, I would still choose the yogurt over the candy bar.
The yogurt has protein while the candy bar is nutritionally empty.  But if I had the choice, I would get plain, unsweetened yogurt and add berries, banana, coconut, almonds, hemp seeds, chia seeds or other nutrient rich options for sweetness and flavor.  That option makes a great meal or snack, is nutritionally dense and can support weight loss.
Thank you to everyone who participated!  I enjoyed meeting each and every one of you.  And to the winners – congratulations!  I look forward to working with you on your path towards a healthy life!