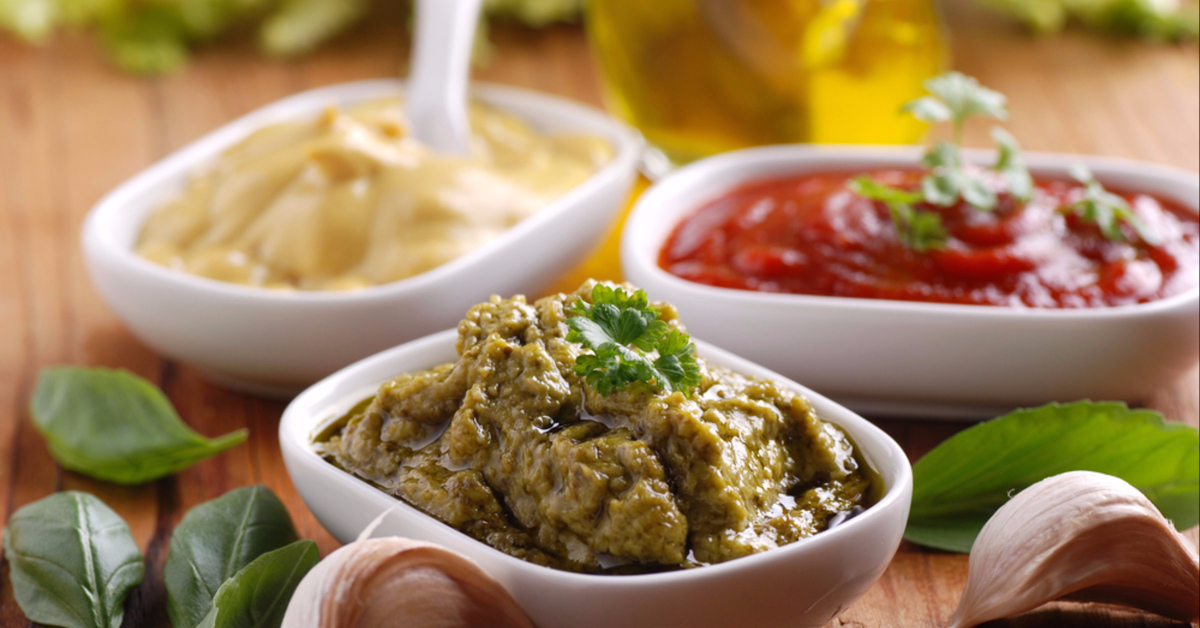 It can seem like your taste buds will suffer as you start to eat cleaner. So that's why I love condiments. They're a gift of guilt-free flavor for your taste buds.
Many of them are lower in calories. Most don't have bad-for-you fats. The majority aren't high in cholesterol. And they can liven up your taste buds.
But before we go over my favorite healthier condiments, keep one thing in mind. Low-sodium varieties are always preferable when given the option. And homemade is best, since you can have even more control over the ingredients.
And there are certain condiments you need to adapt a little to make healthy. But, that's OK. It's worth it once you see how good they can make clean eating.
So here are some of the best condiments to liven up a healthy lifestyle.  Grab a fork and a knife and get ready to salivate. 
Mustard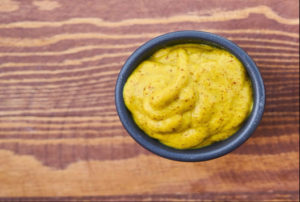 There are many varieties of mustard. Think yellow mustard, dijon, and brown mustard. And the ingredients obviously vary. But the primary ingredients in mustard tend to be vinegar, mustard seed, maybe some garlic or turmeric. Very basic, healthy stuff.
Most mustards don't have added sugar. But, of course, watch out for honey mustard. That one can potentially pack a sugar wallop
Hot Sauce (like Tabasco)
Hot sauces are another one that usually have very basic ingredients. Thing vinegar, some spices, and hot peppers. You'll rarely find one that has added sugar since sweet conflicts with the kick from the spicy. So if you think healthier eating has to be bland, think again!
Hot sauces are a fantastic way to add spice when your food seems uninspired.
Tahini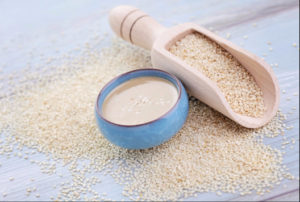 The main ingredient in tahini, if you didn't know, is just little sesame seeds. And sesame seeds are healthy for all sorts of reasons.
They are higher in healthy fats, and lower in the bad ones. They can help lower cholesterol. And they can potentially help your hormonal balance via phytoesterols. Plus they're full of vitamins and minerals.
The unhulled variety is best since it's less processed. Or this is a great one to make at home. Because homemade is almost always the best choice if possible.
Relish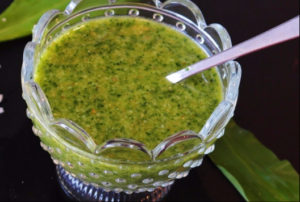 But there's a big caveat to this one. Most commercial brands are overflowing with sugar. And many of the no-sugar varieties are packed with chemical based artificial sweeteners.
So do-it-yourself is really the best way to go. It's really hard to find a quality store bought variety. Here's a homemade no-sugar relish recipe so give it a try now!
Hummus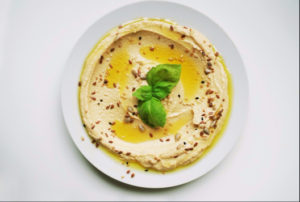 Chickpeas are super healthy foods. They are good for balancing blood sugar. They are a source of vegetarian protein. And they contain lots of fiber.
Here's a really simple hummus recipe. Making hummus at home is so easy and economical. Or check out the different store-bought varieties. You're bound to find one that'll make your taste buds sing!
Kimchi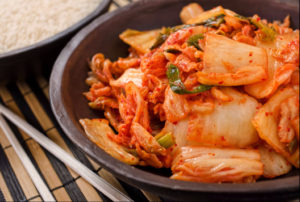 Kimchi is relatively new to America as a condiment. But it's one of the healthiest ones because it's made through a process of lacto-fermentation. Eating kimchi helps populate your digestive tract with friendly, gut-protecting bacteria.  
The main ingredient of cabbage is already healthy. But the fermentation process maximizes its nutrient potential. Just make sure to read the label to stay away from varieties with MSG.  
Pico de gallo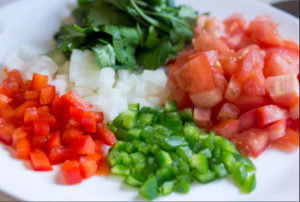 This one is so simple. Just wholesome foods like tomatoes, onions, and jalapeno peppers with lime or lemon juice and spices. There's really no excuse to not make this one at home. It couldn't be easier
This is a healthy way to give your Mexican food a more authentic kick. And don't stop with Mexican. You'd be surprised at how many uses you can find for pico de gallo. Put it on chicken or tofu bowls, on top of soups, on salads, or anywhere you like!
Salsa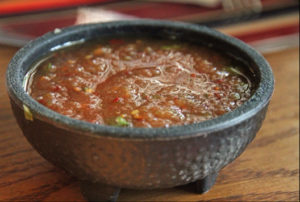 This is another one you need to check the label for sugar. But salsa can be one of the healthier condiments. It's made from simple ingredients like tomatoes, onions, and spices. We're talking really wholesome, potentially low in calories, and  low in bad fats.
Again, check the labels to keep out added sugar. Or try this fun, no added sugar, salsa recipe! 
Sauerkraut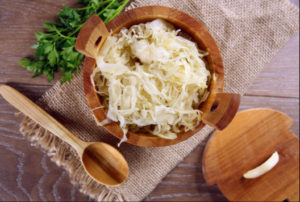 Here's another one of the fermented condiments. It is a source of beneficial bacteria to heal the gut. It's low calorie and high in nutrients. And it just tastes great.
Try to get a variety of sauerkraut that isn't heated to super high temperatures during processing. The higher the heat during processing, the more those helpful beneficial bacteria get destroyed. For instance, check out GOLD MINE ORGANIC RAW SAUERKRAUT 16 OZ
. It is a high quality, raw sauerkraut. Being minimally processed, it will retain its full nutrient potential.
Vegan Pesto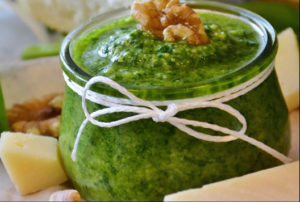 Conventional pesto usually contains cheese. And cheese can be rather inflammatory. But there are all sorts of creative ways to replace the cheese in pesto for a healthy supportive condiment.
For instance, Organico has a pesto that has the main ingredients of olive oil and cashews Organico Organic Vegan Pesto 130g
. (healthier fats!) And Biona Organic has a pesto made from sundried tomatoes, olive oil, and spices Biona Organic – Green Pesto with Pine Kernels – 120g
.
Low-sodium, gluten-free soy sauce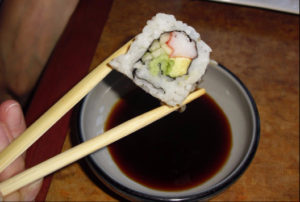 Why gluten-free? The regular variety uses wheat as a filler. So I prefer the gluten-free variety which is just soybeans. And when dealing with soy, try to get non-GMO if that's something you care about. Most American soy has been genetically modified.
The low-sodium varieties aren't sodium-free. So don't go overboard. But they're much better than the regular.
Guacamole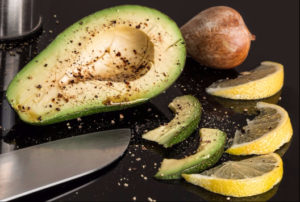 You knew I couldn't talk about condiments for clean eating and not include guacamole. The healthy fat in avocado is one of nature's best gifts. And guacamole makes almost everything it touches taste amazing.
I'm a big fan of making my own guacamole. But some store bought options aren't too bad. Either way, guacamole is a huge winner in the condiments department.
Condiments make clean eating fun
Stocking your refrigerator full of condiments is some of the best advice I can give to those transitioning to clean eating. Because they can give the drab, pizzaz. They can make the ho hum, exciting. And they can make the goal of clean eating totally achievable.
Just make sure that your read the label if you buy store bought options. There is so much salt and sugar hiding in these jars and bottles. Not to mention some of the other pitfalls I've discussed. So buyer beware.
But with a little research and planning, you can use condiments to really spice up clean eating. Who knew healthy living could be so easy? Now that you know, make sure to stock up on your favorite condiments today.
(This post contains affiliate links. If you purchase something using one of these links, I will receive a small commission at no additional cost to you.)