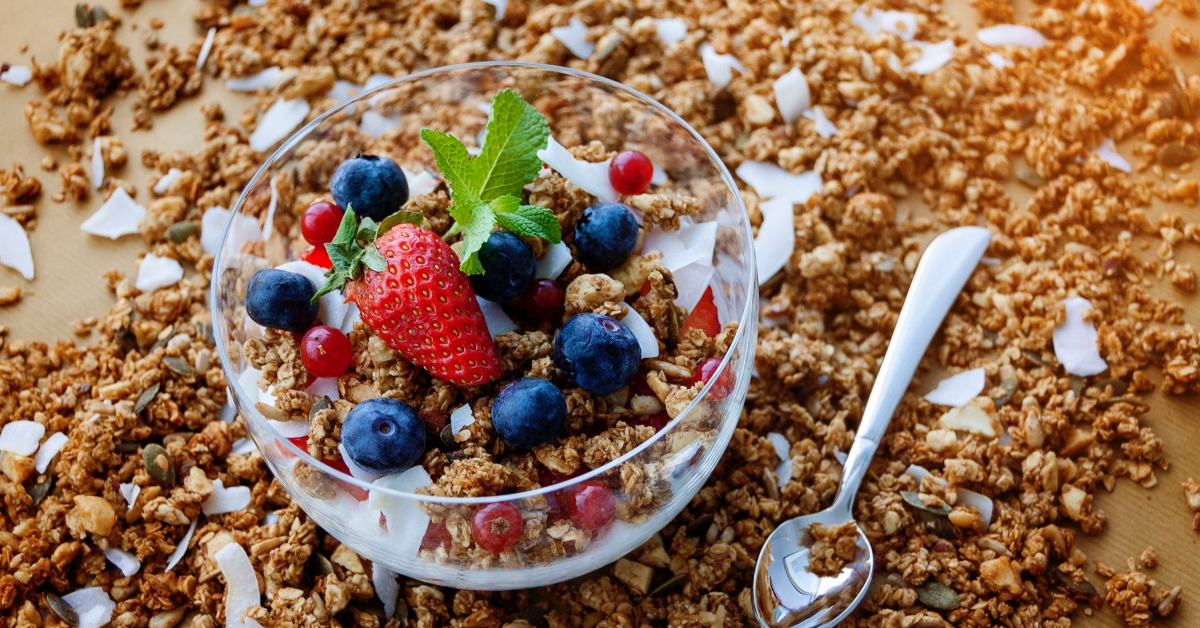 Breakfast is such a diet conundrum. Healthy options take too long to make or taste like Styrofoam. And even nutritious sounding cereals can be overflowing with fattening sugar. So today I want to talk about weight loss friendly, healthy, low-sugar cereals you'll totally grab your spoon for.
I love cereal. If you're like me, you grew up chomping down on sugary flakes while playing with the toy hidden on the bottom of the box. But there's more to cereals than sugar and prizes.
So today I want to talk about cereals that will delight your inner-adult. That part of you that wants sweetness and flavor, but knows the true prize is doing something that's good for you too. Something you can enjoy like in your younger days without packing on the pounds.
So here are 7 low-sugar cereals. Get ready to repair your relationship with breakfast. Because these low-sugar options will make you feel good about eating cereals again.  
Seven Sundays
These low-sugar cereals are so good for you. And they taste perfectly lightly sweetened. There's no added sugar. They just use your favorite dried fruit. And they come in craving flavors like Blueberry Chai and Dark Chocolate Almond.
You can sprinkle all the yumminess over yogurt as part of a parfait. But these taste best after sitting overnight with some milk to make overnight oats. So easy to grab and go in the morning.  As an added plus, these are all paleo and gluten-free!
Seven Sundays Muesli – Wild & Free Blueberry Chia
Elan Chocolate Cereal
Elan cereals have lots of cereal goodness with just the slightest touch of maple syrup. In fact, these low-sugar cereals only have 3 tasty grams of sugar per serving. And did someone say chocolate? Yes, please!
This is a keto friendly, low-glycemic treat. And while I don't usually recommend keto products for those not on keto specific diet, this is high in healthy fats. So this is perfect for anyone wanting a nutritious, comforting breakfast without all that sugar.
ELAN Keto Dark Chocolate Granola, Low Net Carb

Wildway Hot Cereal
Here's a novel concept. A sweet hot cereal that not only doesn't have any grains. But it also doesn't contain any added sugar. And it comes in fun flavors like cinnamon roll and toasted coconut. How's that possible?
Wildway hot cereal comes in a powder-like form. When you add water, it transforms into an oatmeal-like consistency. But the trick is that the powder is made from just nuts, seeds, spices, and dates. So simple and surprisingly delicious. You have to try it.
Wildway Vegan Granola | Variety |
Food for Life Ezekial 4:9
OK, I'm gonna admit this one won't be the perfect choice for everyone. If you're used to eating things that are super sweet, this might taste too 'healthy'. But if you like things subtly sweet, and you want a healthier cold cereal that contains lots of healthy grains, this is your pick.
The cinnamon raisin one is my favorite. And if it there aren't enough raisins for you, you can just add some of your own raisins or dates. What a Superfood powerhouse: sprouted millet, sprouted lentils, and sprouted barley. You'll feel as strong as a Superhero after this one!
Food For Life Ezekiel 4:9 Organic Sprouted Grain Cereal, Cinnamon Raisin
Diabetic Kitchen Granola
These aren't just for those with diabetes. These tasty low-sugar cereals are specifically designed to help you balance your blood sugar. Blood sugar imbalances usually develop over the course of years. So these can help even those who are healthy today. And they come in the fun flavor of cinnamon pecan. Take that Cinnamon Toast Crunch!
These don't have any added sugar. They're sweetened by stevia and monk fruit extract. And they're keto friendly for those who are counting. But a main benefit of this yummy cereal is that it's high in fiber. So it keeps you full and helps stabilize blood sugar, all while satisfying your taste buds.
Diabetic Kitchen Cinnamon Pecan Granola Cereal

Evoke Muesli
Evoke Muesli is another cereal that's perfect for making overnight oats. Did I mention that I love the simplicity of overnight oats? I think I did! You can have them sitting in your fridge, ready to grab and go. And these are low-sugar cereals, having between 3 and 5 grams of sugar per serving.
They come in addictive flavors like Antioxidant or Athlete's fuel. They're chock full of healthy seeds and grains. And many flavors are simply flavored from fruit. And the great thing about that is that if you want them sweeter, you can just add some more fruit!
Evoke Athlete Fuel Organic Muesli
Michele's Granola Muesli
This cereal is so good. And it's something you can enjoy dry as a snack. Or you can have it at breakfast as a hot cereal. It tastes so fresh that it's like your Great, Great, Great Grandmother labored all day to cook this flavorful bowl up for you.
It only has 4 grams of sugar per serving. And it's sweetened only with dried fruit and a touch of maple syrup. So these low-sugar cereals are something you can feel really good about.
Michele's Granola Muesli (Toasted Muesli
Next time it's breakfast, and you're wanting a comforting, hearty breakfast, grab one of these healthier options. They're loaded with taste. But they're missing the abundance of sugar you'll so frequently find in conventional cereals.
Don't settle for an unfulfilling breakfast just because you're trying to eat healthy. Dig into something flavorful and satisfying. And feel good knowing these low-sugar cereals won't mess with your health or diet goals.