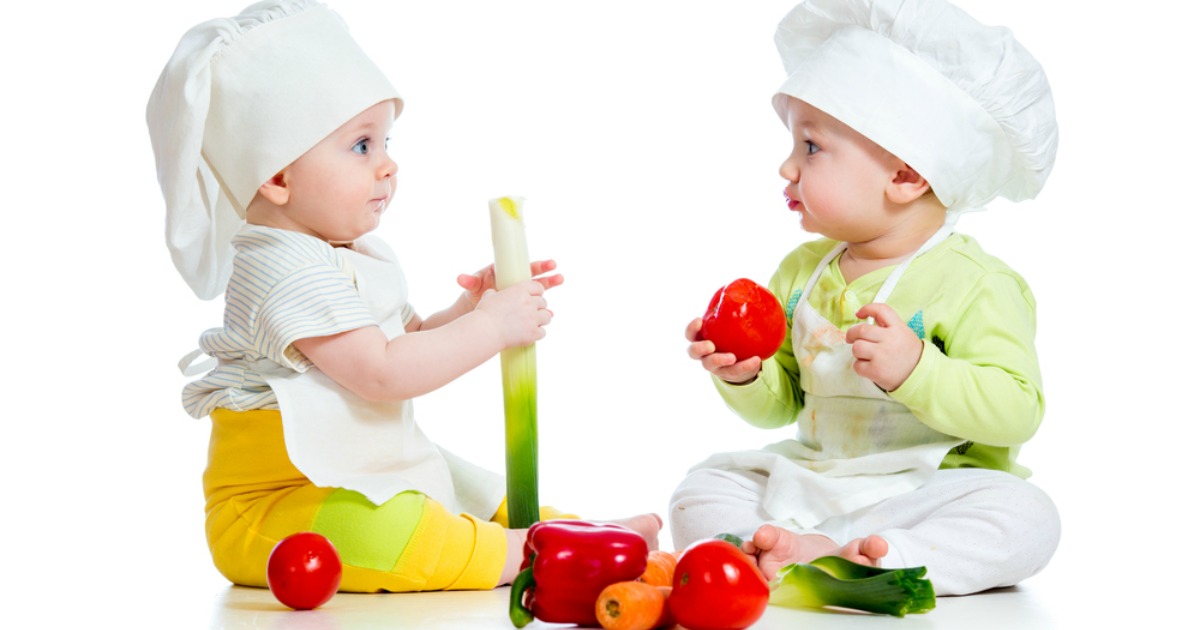 You get it. A healthier lifestyle is a commendable aspiration that will provide benefits for years to come. But change can be overwhelming and you're not an all or nothing kind of person. So how do you make baby steps towards a healthier lifestyle without feeling like you're going loco?
Take it nice and slow. It's better to make a few small changes and stick with them than go full-force screeching into a major life overhaul that you'll eventually abandon. Trust me. The second option will only break your heart.
This isn't to say that you shouldn't make huge changes. But you have to know yourself and you should adapt your healthier lifestyle to your personality. If big changes tend to be short lived in your world, let's focus on some baby steps.   
Baby step #1: Sneak vegetables into every single meal.
Duh! This should be a no-brainer. But if you only make one healthy change, this one is outstanding. Let's focus on all the amazing reasons to eat extra vegetables.
Lots of fiber to keep you full and ease digestive discomfort

Tons of vitamins and minerals to keep your skin, nails and hair vibrant and glowing

Nutrients to help the body detoxify and heal

Diet friendly – will help you lose weight
And here's you baby step challenge: Add a vegetable at every meal. You can put some kale in your morning omelet, have some baby carrots with lunch and add some broccoli to your stir-fry with dinner. And done! Now that you've got eating a vegetable at meals mastered, now, why don't we try for two!
Baby step #2: Make water fun so you'll drink more
You know you should drink water, but you just don't do it. Why? It bores you. But there's no such thing as living a healthier lifestyle if you're dangerously dehydrated. Which….wake-up call! Many of us are! Here are some great ways to make water fun!
Mix a squeeze of lemon or lime to seltzer

Add cucumber, orange and apple slices to a pitcher of water

Use frozen berries as ice

Mix seltzer with juice (¼ cup juice, ¾ cup seltzer)
Try one of these and see if you can sneak in a couple of extra glasses of water a day!
Baby step #3:: See how many fried foods you can enjoy baked
Did you know that lots of fried foods taste pretty damn good when they're baked? True story. And if you can start turning some of your favorite fried treats into better-for-you baked options, you'll be on your way to a healthier lifestyle. Here are some of my favorites to bake instead of fry
French fries (sweet potato fries are even better!)

Breaded chicken

Fish grilled in a panini press (tru it!)

Baked falafel balls
This is just a starter list. Take a moment and think. What's your favorite fried food? And would it be that difficult to bake it instead of fry?And how much of the flavor do you think you'd really lose?
Baby step #4: `Use a smaller plate to eat less food
We often get into the habit of eating too much because the food is just there.  Little kids are often told to clean their plates until it becomes a subconscious habit. But cleaning your plate isn't for the best if it will make you feel uncomfortably full.  
So what's the solution? Use a smaller plate. Heck, try using a little side dish plate. And see how full you feel after cleaning that plate instead of a big one. Because you might just surprise yourself by how satiated you actually feel. And if not…well there's always seconds!
Baby step #5: Make yourself take a label reading challenge
Food manufacturers will often use phrases like all-natural, wholesome, organic, no added sugar, and more to make you think that what's in the box is good for you. But do you really want to trust marketing executives with your health? So there's one way to get a better idea of what you're eating. Take a label reading challenge! Here's what you should look at on the label.
How many servings in a package?

What is the total number of  calories per serving?

How many grams of sugar per serving?

Are the ingredients on the label words you can pronounce?
The downside is that you might become shocked at what is in some of your favorites. But the upside it that, the more you become familiar with food labels, the more likely you are to gravitate towards food choices and brands that are good for you.
This is a springboard for a healthier lifestyle.
Do these things for a week or two, and I dare you to tell me that you don't feel healthier. And surprise! You might even lose a pound or two as well.
And what comes next? Well, once you've made a few changes towards a healthier lifestyle, you'll probably want to add a few more. Crazy how that works! And maybe a few more healthy changes after that!
But here's the most important point. Health isn't all or nothing. It's not like, "Oh, I ate that chocolate chip cookie so I should now go and eat a fried pizza." The things you do for a healthier lifestyle will nourish and support your health. And while, eventually you'll hopefully go whole hog with this health thing, baby steps are a great place to start!