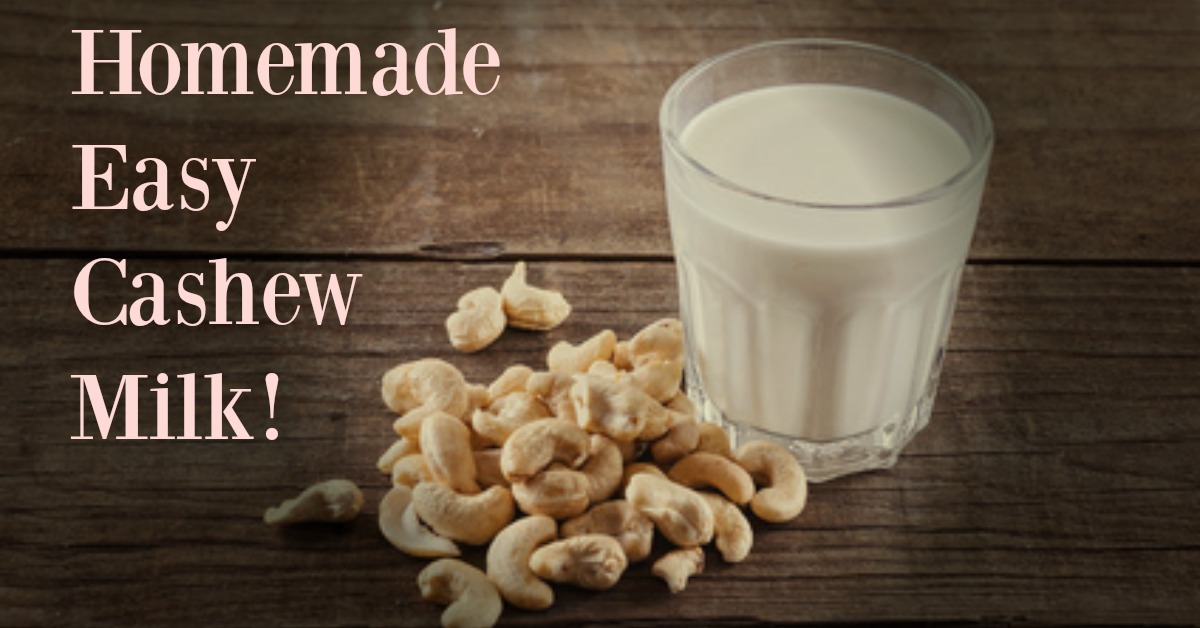 There are lots of reasons to make your own cashew milk. Maybe You're trying to cut back on dairy. Or perhaps you just like the creaminess of cashew milk. Or maybe you like the adventure of making your own milk but don't have room for a new pet cow! Whatever your reason is for wanting to make your own cashew milk, now is a great time to start!.
There are my favorite reasons for making my own milk. First, it just makes me feel good to go back to basics. And nothing gets more basic that making food from scratch. Making your own milk gives you back control to choose your ingredients. You can stay away from unnatural  preservatives. You can choose not to have any added sugar. And you can choose healthier sugars when desired.
Another benefit of making your own cashew milk is that each batch can be relatively low cost.  After you make your milk, you'll have lots of leftover nuts which can be used in another recipe. So your milk is almost free!
You can also control quality. Soaking nuts will increase their health value and will decrease enzyme inhibitors and other nutrient depleting ingredients. It is unlikely that this step is  taken with commercially made cashew milk. But it is something that you can do easily at home. Soak the nuts overnight for about 8 hours with a little bit of salt and they should be ready for use.
As I already mentioned, one of the great advantages of homemade milk is that you get to choose your own sweetener. Have you ever looked at the labels on many of these non-dairy milk products? The sugar content is crazy! Personally, I just love unsweetened milk, but it's OK if unsweetened isn't for you. Here's your chance to make a smarter choice. A couple of healthier sweeteners you can use are Medjool dates or whole leaf stevia.
There are a couple of tools you'll need before you get started. The first is a funnel to transfer the milk into a jar or bottle when finished. The second is a nut bag. (OK, stop laughing. What, are we 12?) You can purchase one pretty economically at a health food store or from an array of online stores.
Or check out this one from amazon:
*Please note: if you purchase this product, I will receive a small commission at no further expense to you.
Now we get to the fun part. Let's make our own homemade cashew milk!
Ingredients
1 cup raw cashews, preferably soaked for 8 hours and drained
3 ¼ cups filtered water
(optional) ½ tsp vanilla extract
(optional) 3 pitted Medjool dates or ½ tsp whole leave stevia.
Place the cashews, filtered water, and optional Medjool dates in a blender and blend for about a minute. Hey, that was quick and easy! (Please note: Your mixture will not look thoroughly mixed. Don't be alarmed.) Now take your nut bag and place it above a large bowl. Pour the contents of your blender into the bag to let the milk drain through into your bowl. It should take a few minutes for all the milk to make it through the mesh bag. Be patient.
And your cashew milk is almost done! Now all you need to do is stir in the optional stevia and vanilla extract. Pour the milk through your funnel into a container with a tight lid for storage. Make sure to refrigerate and consume within a few days.
You can, of course, discard the leftover cashews from your nut bag. But where's the fun in that? Set them aside and use them for another recipe. Think cashew crusted chicken, cashew Asian stir-fry, cashew cheese or a cashew crust pie. If you added dates to your milk, you'll want to use your leftover cashews for a recipe that can use a little sweetness. If you aren't going to use them the same day, make sure to dry them before storing them in the refrigerator. Place the cashews on a baking sheet and bake at as low a temperature as possible (preferably about 150 degrees) until dry. Use within one or two days.
So there you have your homemade cashew milk. Use it with cereal, in smoothies, in dessert recipes or any other place you are looking for a creamy substitute for dairy milk.