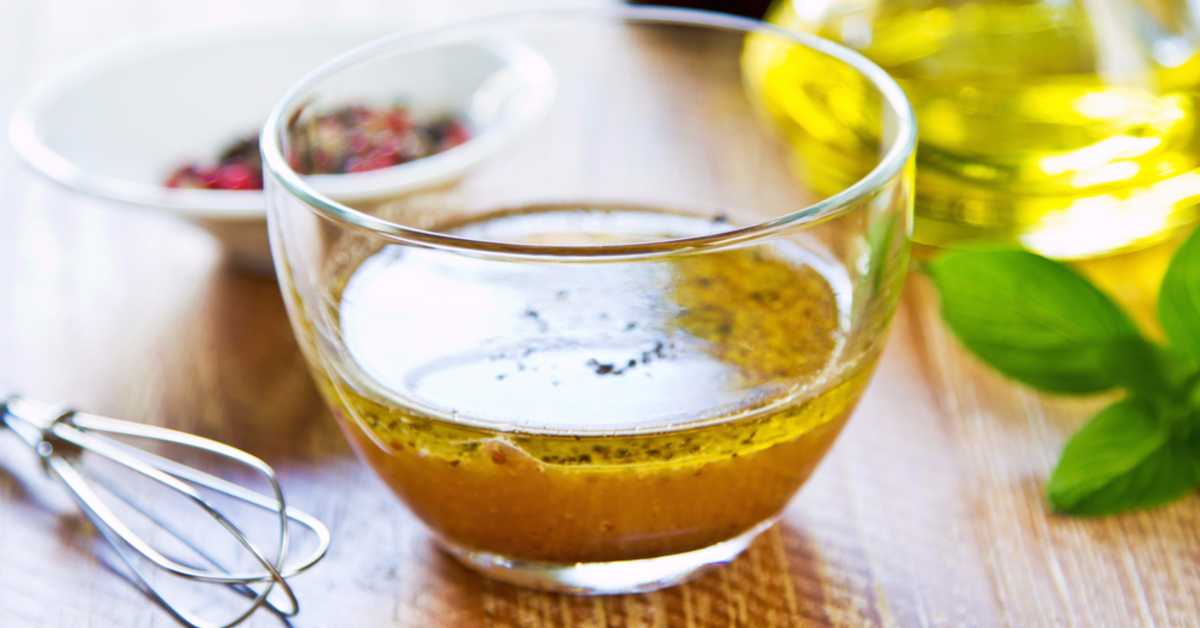 I remember being warned about salad dressing back in my very early dieting days. You can ruin a healthy salad with the wrong salad dressing. And don't forget dips, marinades and more. So today I'm going to talk about what I look for in a salad dressing and go over some of my favorites.
But before we begin, remember to get your free copy of my new Emotional Eating Cure. This is full of useful information to help you transform your relationship with yourself and your experience with food to a place of love. Create a plan for your personal food triggers, discover little known techniques to self-soothe in healthier ways, and learn to stop obsessing over what's on you plate!
My old habits with salad dressing
I used to look specifically for low-fat dressings. As long as there wasn't fat, I considered it healthy. But there is a big problem with this. Most of these low-fat dressings are overflowing with sugar.
What I didn't get back then is sugar is super inflammatory. And it's in everything. So the more I can cut it out of my salad dressing, the better I'm being to my body and my health.
I don't miss the sugar
When I transitioned from low-fat, high-sugar salad dressings, I just felt better. And my salads tasted fresher and less processed. And I felt my salads were more satisfying when they contained some fat.
Because come on people. A meal shouldn't be just plain, undecorated vegetables. There should be some oomph. And I personally feel that having a little fat in my salad dressing gives my salad that oomph. It's more satisfying than a salad covered in lots of sugar, but no fat.  
And mind you, these are healthy fats. We're talking about olive oil, coconut oil. avocado and such. These are all healthy, anti-inflammatory and weight loss promoting fats. Awesome!
Reading labels is king
So now I read the labels on all my salad dressings to look for excess sugar. And the best way to do this is to look at the ingredients on a label. But here's the catch. There are so many sneaky terms for sugar, it can be hard to identify.
Additionally, manufacturers often try to advertise their products as low or no added sugar by using sugar that sound more natural. For instance, fruit juice concentrates sounds so healthy and natural, right? I mean, it seems like it should barely count as sugar.
But that's not the case. Fruit juice concentrates are sugar. They're made by isolating the fruit sugar from the fruit. So you're not eating fruit when you're eating fruit juice concentrates. You're eating pure sugar. So even if a product advertises itself as low-sugar, or no-added sugar, you still have to check the label. I've seen dressings advertised as no sugar that are overflowing with "more natural" ingredients that are sugar!
Get my FREE sugar cheat sheet.
Get a free, downloadable pdf cheat sheet that lists many of the sneaky terms used for sugar on a food label! Don't let manufacturer's fool you based on their marketing goals. Take back control!
My favorite no-sugar salad dressings. (Nothing greater than a gram of sugar)
It isn't easy to find a bottled salad dressing that truly doesn't contain sugar. Even the healthier ones tend to contain sweeteners like honey or agave. And of course, you always have the option of making your own sauces from scratch. But there are days when you need something easier and more portable.
But the salad dressings that made my list  are all dressing without added sugar. And in my opinion, they taste phenomenal.  
Tessemae – Organic Lemon Garlic
I have to admit that this didn't appeal to me at all at first. I wasn't sure about the lemon garlic combo. But for real, every person I know who has tried this loves it. It's so much better than it sounds. Unless you're all about lemon with garlic in which case it tastes exactly as good as it sounds! And it contains very natural ingredients like oils, garlic, lemon and mustard.
Tessemae – Organic Green Goddess
Let's get real. I actually love pretty much every option made by the Tessemae brand. But Green Goddess is another one of my favorite no-sugar salad dressings. It's filled with great spices like garlic, onion and pepper, natural oils, and tamari for just a little kick.
Hilary's – Ranch Chia
I have to preface my review by saying this: Hilary's Ranch Chia does not taste like conventional ranch dressing. And it also isn't as thick. So if you're old fashioned ranch or nothing, this might not be the right option for you. But I think it has a delightful taste all it's own. And it's one of the only salad dressings I've used that contains coconut milk. Such a health promoting way to do creamy!  
Primal Kitchen – Ranch with Avocado Oil
Come on…avocado oil! How cool is that? This is another one with nice, simple ingredients like apple cider vinegar and cage-free eggs. And it's blended with the perfect spices, making for a really satisfying, healthier salad dressing.  Again, it doesn't share the thickness of conventional ranch. But that doesn't matter because it has a unique zing all its own.
Annie's – Oil & Vinegar
Many of Annie's options are relatively high in sugar. But this one is extremely natural. Nothing but oil, vinegar, and some herbs and spices. But you don't always need complicated. Sometimes a simple choice can be the best choice.  
Go simple or go home
I'm all about making interesting salads. But the dressing shouldn't be the main attraction. It should show off the wonderful foods you put in your salad. 
Most salad dressings (even healthy sounding ones using honey) contain high amounts of sugar. But you don't need all that. You just need something that's going to naturally bring out the best in your salad.
I hope you check out the salad dressings I shared today if you use store bought dressings. And I also hope you start to make a habit of reading the label when a food advertises itself is healthy. Marketing is deceiving. The only way to know for sure what your food is offering is to to read the label and keep out the sugar you don't need!
Please note; This post contains affiliate links. If you buy a product using one of these links, I'll make a small commission at no additional cost to you.