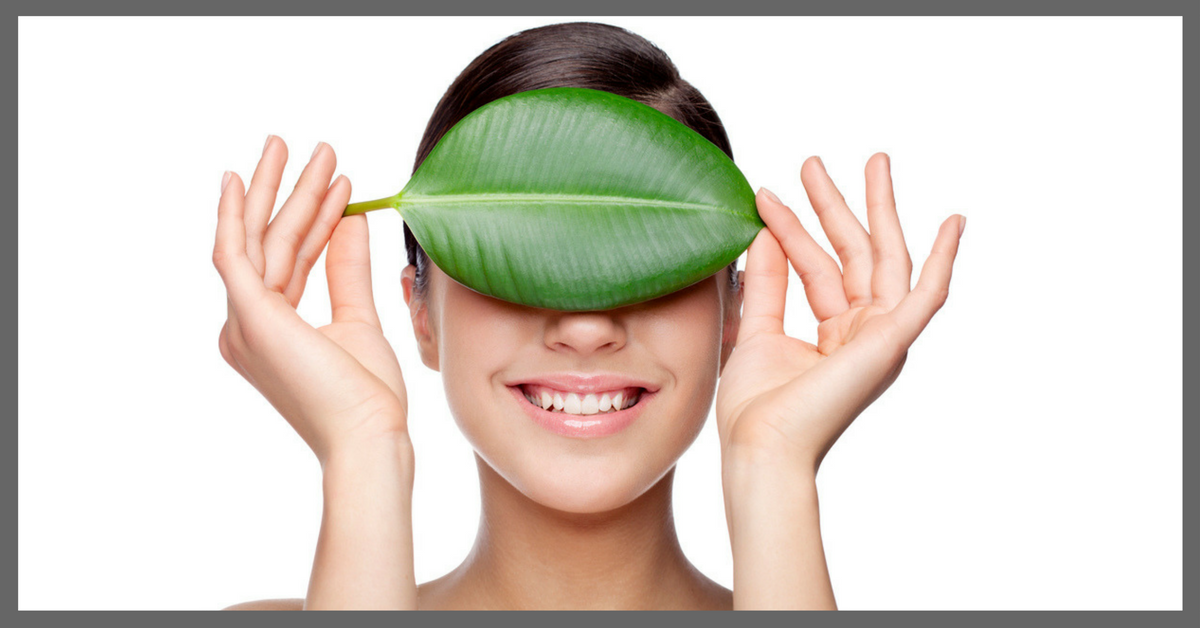 For years, I was super passionate about all the food  I put inside my body. But I didn't think twice about my toxic beauty regimen. Because I thought of nutrition as only having to do with food, and having nothing to do with lifestyle. Then one day, it hit me…
I started reading the labels on the products I used on my skin and in my home like I read the labels on my food. My gosh, what the hell were these products that I was slathering all over my body? And that made me realize that it was time to improve my beauty regimen.
Just to know a little about me, my background is in the theater. I have a flair for the dramatic.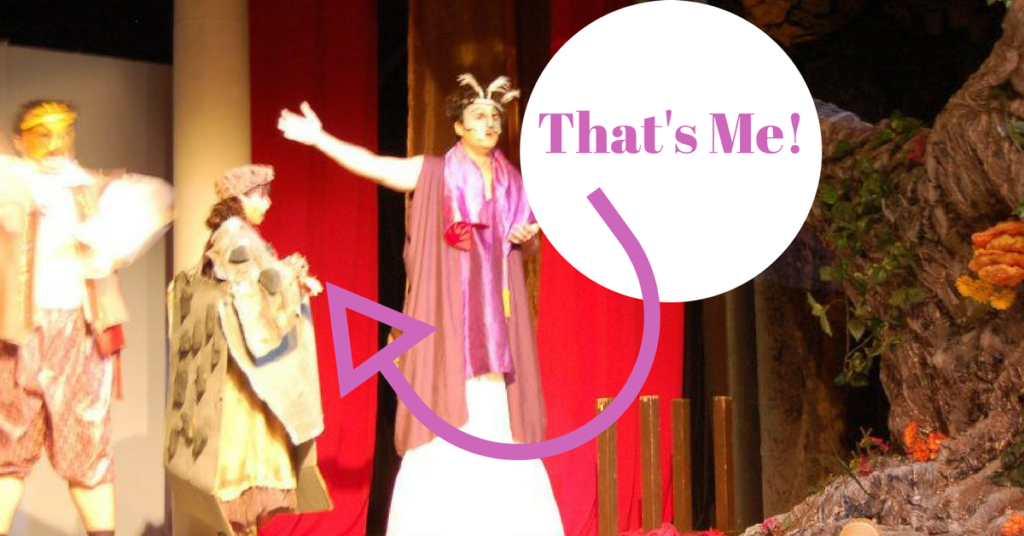 And as a preteen, I discovered I loved trying different beauty products. I started my applying Noxzema masks to my skin, and graduated to some of the more upscale beauty lines in my teen years.
So I didn't want to give any of this up. My beauty regimen was part of who I am. I just wanted to do it better. But it wasn't easy at first. When you've grown up using the "toxic stuff", your natural beauty regimen can feel a little confusing at first.
Where do you begin?
According to The Environmental Working Group, there is little regulating US based beauty products. The ingredients don't have to be approved by the Federal Food And Drug Administration. Toxic and allergenic ingredients don't have to be listed on the label.  And Dermatologist Tested is a vague term with little regulation.
Here's a statistic that shocked the heck out of me. 1 in 8 of the ingredients used in conventional personal care products is a carcinogen, pesticide, reproductive toxic or hormone disruptor. 1 in 8??? And that's legal? Yes, I was shocked.  
The David Suzuki Foundation, a Canadian based advocacy group for environmental and human rights, has named a Dirty Dozen list for beauty products. Keep in mind, this list just covers the most harmful ingredients in our beauty regimen. There are many toxins that didn't make the Dirty Dozen cut. But this is a good place to start.
Dirty Dozen list of harmful ingredients (lurking in our beauty regimen) –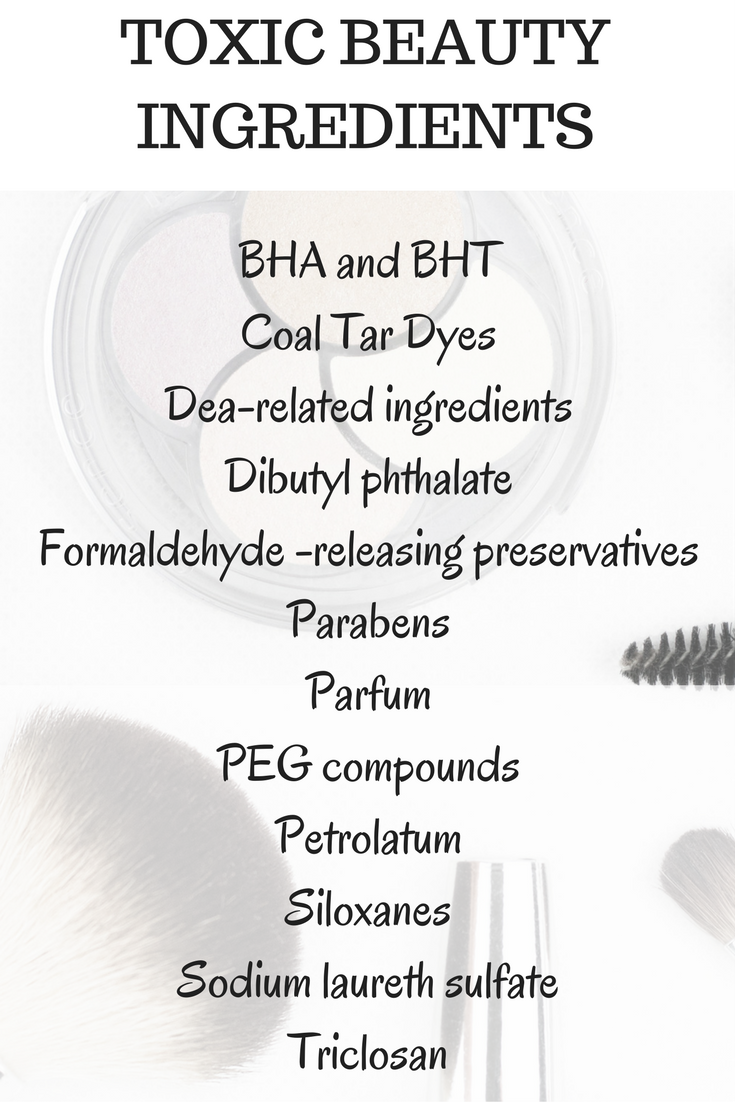 Quite honestly, these don't sound like they'd be good for you, right? And when I think of all the beauty and household products I've used in my lifetime, I can get a little overwhelmed. That's a lot of toxicity.
This is something I really care about.
If you don't know, my mother passed away from cancer a few years ago. And she had been a smoker, and a drinker and did a bunch of things that aren't considered "health promoting". But I know cancer survivors who ate healthy and didn't do any of these things.
So I think we have to start looking at many of the toxins in our environment. And we can't eliminate all of them. They're in our air, the wall of our homes, our mattresses and more. But if we can eliminate them from our beauty regimen, we've made a real, tangible impact.  
But here's the confusing part. Many products have claims like No Parabens or No Formaldehyde. Which is good, especially if you're allergic or sensitive to those ingredients. But those claims don't tell the full story about toxicity. Because there are plenty of other toxic ingredients that the manufacturer could have used.  
Environmental Working Group Verified products: The answer to your natural beauty regimen?
You can go on the Environmental Working Group's website where they rank most US beauty products based on their toxicity. This is really helpful if you want to see if a product's health claims are real.
But you can also choose a brand that is EWG verified. EWG verified products have submitted detailed manufacturing information to The Environmental Working Group. And the product becomes EWG Verified if it meets the highest standard for product safety and transparency. I like using EWG verified products because I feel safe knowing that the company's manufacturing policies are clear.
Having said that, just because a product isn't EWG verified doesn't mean it shouldn't be part of your natural beauty regimen. Many cleaner brands don't try to become EWG verified. So you still have to do your own research.
Some of my favorite EWG verified brands:
W3LL People

MyChelle Dermaceuticals

Beautycounter
The bad news to your beauty regimen?
These products are going to be more expensive than your average drugstore brand  But here's the good news. You can experiment with making your own products at home for a lot cheaper.
Lately I've been making my own body wash and moisturizer. It takes just seconds to make, is much cheaper than store bought brands in my beauty regimen, and keeps me clean. Oh, and they smell great too!
Homemade body wash
2 cups purified water

¼ cup castile soap

10 -12 drops essential oils
I like peppermint essential oil for the morning or lavender essential oils for the evening. Or for general use, I use wild orange which makes me feel good any time of day.
Homemade facial moisturizer for oily, acne-prone skin
I love coconut oil or jojoba oil based homemade moisturizers. But these always upset my skin. And while my skin doesn't break out under normal circumstances, it gets crazy upset at me when I use these oils. But the following works really well for me.
⅔ cup grapeseed oil

⅓ cup evening primrose oil

10 drops lavender essential oil (so calming!)
*I stay away from the cheap "knock off" essential oils. Essential oil ingredients aren't regulated and those cheap oils are usually just chemical filled fragrance or other synthetic scents. 
Move to a non-toxic, natural beauty regimen
Start today by swapping a toxic product for a more natural one.  This is how you start to make change. And you can clean up your beauty regimen by making one small positive change at a time.
I feel so much better now that I use more less toxic ingredients on my body. I haven't eliminated my toxicity. As I stated before, that's pretty impossible. But I've gotten a really sizable chunk of my toxin exposure out of my daily routine. And that feels good.
So, I encourage you to do the same. What is one of the more toxic products in your beauty regimen for which you can find a better substitution? Which healthier brand have you wanted to try, but haven't yet had the chance?
What you put on your body is as important for your health as what you put in your body. So I encourage you to give this part of your life some attention. And you too will be amazed at how much better you feel.