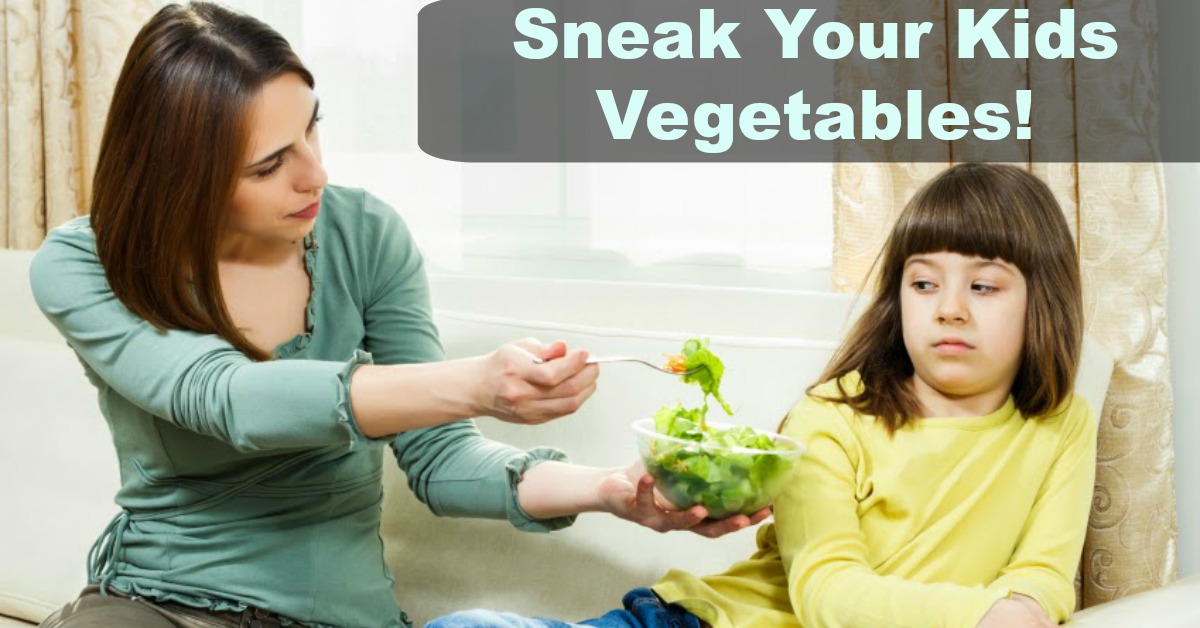 I have an abundance of sympathy for my mother. Because getting vegetables in my mouth was like Indiana Jones facing the Temple of Doom or like Harry Potter facing Voldemort. Dinner equaled drama in my house. You could hear the sobbing for miles.  
So now that I'm a health and diet coach (who eats my vegetables with nary a tear), what do I say with parents struggling to stuff the green stuff into their kids? Stop fighting and start getting sneaky. Now let's get this straight. I truly believe that honesty is the best policy. But hey, when you omit information, that isn't REALLY a lie, is it?
So here are my 10 favorite to sneak vegetables to your kids!
Shred vegetables into burger meat
Who wants a good turkey burger? Most kids will eagerly scream "Me!"! So as you make your patties, mix in some shredded vegetables  Once you add ketchup, mustard, pickles and throw it into a bun, your kids will have no clue of what's hiding in there.
Add them while baking
Look, a muffin doesn't become healthy just because you through some zucchini or carrots in it. But if your kids are gonna eat muffins, they'll be that much better with some added vegetables. And all you have to do is throw them in the batter before baking!
Blend them into a sauce
Your kids probably will eat pasta sauce with no problems. So what's the harm of throwing in a few extra vegetables? Just pour your pasta sauce in the blender before heating. Add carrots, fresh tomatoes, zucchini, or broccoli. Your kids will never know they're there!
Turn them into juice
Kids love fresh vegetable juice. So if you own a juicer, you've got a great opportunity. Mix in some fruit like apple or pear to make it a little sweeter. And if you want to get really daring, add some of the pulp. That way they get some of the much needed fiber.
Make them into fun shapes
OK, maybe all kids won't fall for this. But kids love to play with their food. So when their food comes in a smiley face or in the shape of a little house, they might not be able to resist. Give it a try and see what happens.
Hide them under a nut butter
A kid's staple is peanut butter and jelly. But who says that PB&J has to come on a slice of bread? It can be just as tasty on a crunchy piece of celery. And your kids may complete forgive the fact that they're eating a vegetable.
Disguise them as a familiar food
So you might be fine eat zoodles (zucchini noodles) or cauliflower mashed potatoes. But your kids might not be on board. But who said this has to be all or nothing. Next time you make pasta, throw in some zoodles. And next time you serve mashed potatoes, throw in some mashed cauliflower. Since your kids are primarily eating the  version of the food with which they're familiar, they will likely not notice the sneaky healthier additions.
Blend into  a protein smoothie.
A smoothie made right can be a really healthy snack. Choose a no-sugar added protein powder, your favorite milk, and some sweet fruit. But before you're done, throw in those leafy greens.  The fruit will determine the color of the smoothie, keeping the vegetables incognito in front of your kids.  
Serve with a fun dip
There is some unwritten kid rule that vegetables cease to be "toxic" when they are dipped That is, as long as the dip is kid approved. So get your kids involved. Let them pick out a dip of their choosing at the store. Then cut up vegetables so they can enjoy their dip!
Turn them into baked fries
Your kids probably have no problems eating french fries. And while it is true that a potato is a vegetable, it is one that is low in nutrients that can raise blood sugar and help make your kids gain weight.  So try a healthier option. Thinly slice carrots or parsnips, drizzle with olive oil, throw them in a baggie with spices and shake Then put them on a baking sheet and bake. Serve them with ketchup and your kids might be fooled.
And before we're done, here's something you can do for Extra Credit.
Have your kids help grow a vegetable garden
It is one thing to have green, mushy stuff dangled in front of your face. It is another to be part of its creation. Your kids will become more invested in the vegetables they help to nurture and grow. And this new appreciation might even convince them to try them.
Long-term effects
Will all this vegetable chicanery damage your children in the long run? Meaning, if they grow up only eating hidden vegetables, will they move on to not eating vegetables as an adult?
The best case scenario is that as they grow and mature, they'll become more and more open to trying new things. And what is a hidden vegetable today might be able to be eaten out in the open in a few years. You're just trying to get some much needed nutrition into their little bodies while they are still resistant.  
And if all else fails, remember this. I grew up protesting everything green on a nightly basis. And I LOVE vegetables. So there is always hope. Until then, what they won't know won't hurt them. Well, at least when it comes to vegetables!