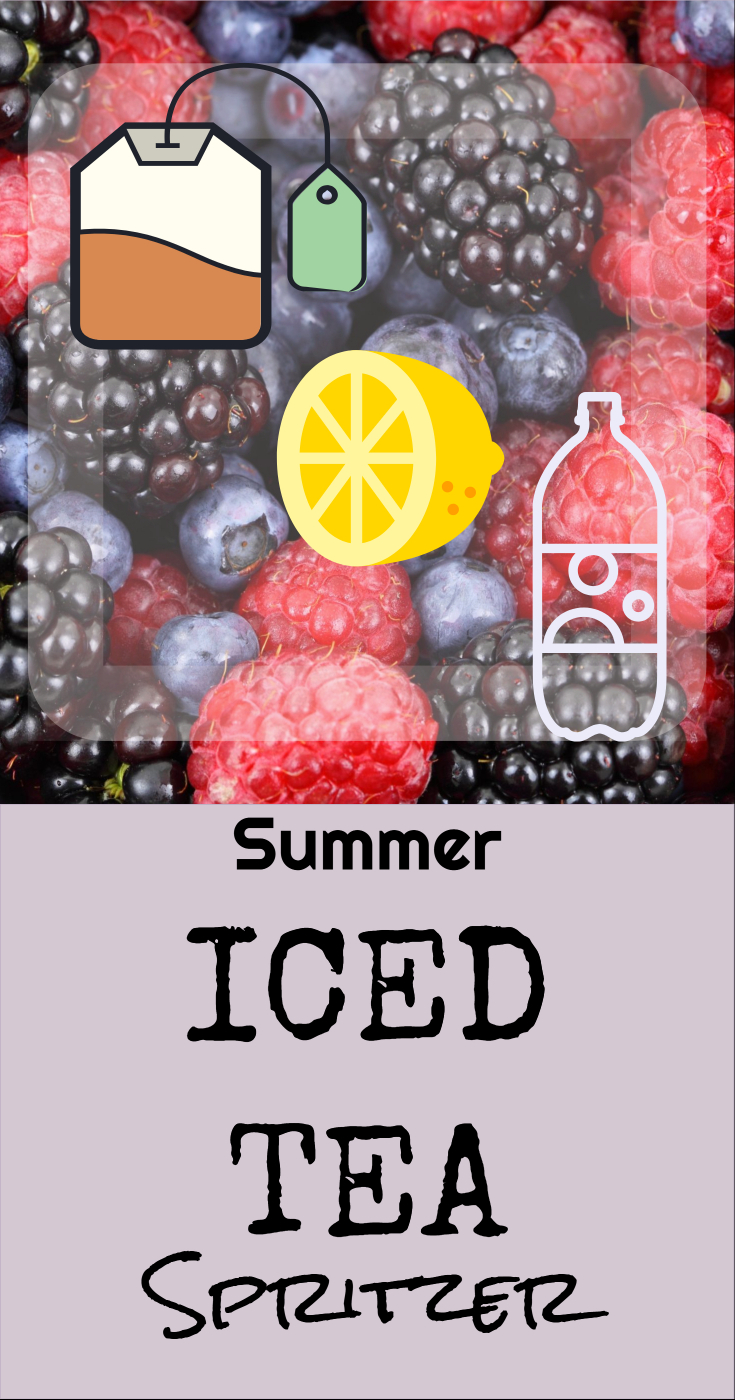 Ok, I spend a lot of time talking about food as nourishment which is all well and good. At the end of the day though, food isn't just a conglomeration of vitamins, minerals, protein, fat and fiber. In truth, food is a representation of our social customs and traditions. It marks certain occasions, comforts us in cold or hot weather and creates a space around which families often gather.
Summer iced tea spritzer inspiration
For me, cold food and drinks are integral to my summer experience. I have amazing memories of playing outside throughout the humid, sticky Florida summers as a little kid. My salvation: my mom kept the freezer stocked with Otter Pops.
If you've never had an Otter pop, it is a long, thin pop that you suck out frozen, sugary goodness from a plastic wrapper. It is labeled as a popsicle, with a texture somewhat similar to a snow cone. Aaah!
At nine years old, we drove north to set up residence in Pennsylvania. What did I discover when I got there? The happy chimes of the ice cream truck!
I can't imagine the reason, but there were no ice cream trucks where I lived in Florida. I had never even heard of the concept. It was a novel, albeit wonderful realization that icy goodness could be delivered daily to my street. I started with the snow cone and moved on to many of the ice creamy options.
Then I hit my teen years and I spent a few summer weeks with my friend at the Jersey shore. That is when I discovered the chipwich. I'm pretty sure the chipwich was created by some super genius ice cream God. What more could you ask for than a chocolate chip covered vanilla ice cream scoop that is sandwiched between not one, but two yummy chocolate chip cookies?
Gotta cool down somehow
Now that I'm an adult, I've moved on to iced drinks as my chilly comfort from the blazing summer rays. Sitting outside with a cold drink, packed with extra ice and dripping with condensation is my current salvation from the summer heat.
I mentioned a few weeks ago that coffee (my normal go-to summer beverage) is not an option for me right now due to my taxed adrenals. So, I've been on the hunt for a yummy, chilly summer drink and I think I have finally found it!
I call it Fruity Iced Tea Summer Spritzer.
The thing I love about it is that you don't need iced cubes. My fridge has ice making capabilities, but sadly my non-renovated, 1940s bungalow does not have water hook-ups for the freezer. My landlord said it was something about not wanting to ruin the apartment's 1940s authenticity. Personally, I would be willing to compromise authenticity for bountiful ice cubes, but I digress.
I'm stuck making ice cubes in the little trays, which means trying to smash the cubes out of the tray into my drink. This frustrates both me, and my loud noise hating poodle who takes any ruckus is indication of an intruder. I try to explain to her that I was just making ice, but she is too busy furiously barking out the window to listen. So, an ice cube-less cooling beverage is a double win for me.
Ingredients
8 ounces chilled iced tea
splash of seltzer water
squeeze of lemon
½ cup frozen berries
½ cup loosely packed mint leaves
How to make it
I started off by brewing the iced tea. This time I used Tropical Crimson herbal iced tea by Rishi Tea. I love it because it is a reasonably priced organic herbal tea that is tasty and refreshing. This would also go  well will with an iced green tea, but try it with your favorite.
I brewed the iced tea ahead of time (according to the directions on the box), so I had plenty of time to let it chill. With the heat we've been having lately, I want my beverage to be good and cold before drinking.
Once the tea was ready, the rest was easy. I started by placing my mint leaves on the bottom of the glass. Then I poured the iced tea , filling the glass ¾ of the way. Then I added just a splash of club soda (or any sparkly water).
The goal was to add bubbles without completely watering down the drink. There is nothing I hate more than a watered down drink. I then added just a quick squeeze of lemon. I just wanted to give the tea some depth of fruitiness.
Frozen berries is the final ingredient. I added about ½ cup, but add as many as appeals to you. The berries keep the drink cold just like ice without having to bang out any cubes and without watering down your drink as the beverage cools!
Summer refreshment
It's pretty to look at, chilly to drink and yummy to eat all the sweet berries once you get to the bottom of the drink.So that is my current summer obsession. So light and refreshing.
It is also rich in antioxidants and fiber. But who wants to think about nutrition that when soaking in the summer rays. To me, it is an Otter Pop for the slightly more mature seven year old in me.