When I was younger, I really struggled with diet frustration. I would be on a good path, only to have everything backfire within a few weeks. And this really toppled my self-esteem. If only I'd understood that many healthy sounding options are really weight gain foods. Because many of the healthy foods I was choosing were making me fat.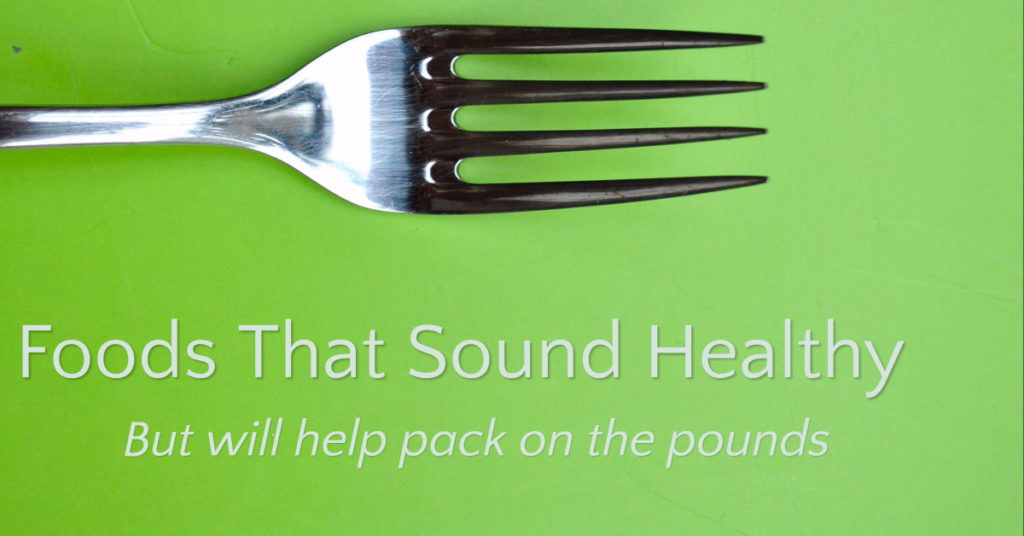 I had so little muscle tone. Which meant that all my extra weight was fat. And I knew I wasn't healthy in my size 14 body. But I didn't really understand what to do about it because my diets always failed.
So then I did what many of my clients do. I blamed my character for my weight gain. I must be lazy. I'm emotionally weak. If you've ever suffered from emotional eating or extra pounds, you know what I'm talking about.
Weight gain foods can sound healthy.
When I look back at my emotional turmoil, I have to remember the foods I was eating. I didn't know that I was eating lots of weight gain foods. I thought I was eating healthy!
And I don't believe in eliminating any specific food I enjoy from my diet. Hey, I like pizza and I'm gonna eat pizza. I just eat it less often and I modify it to make it better. But I believe it's important to be informed. Because, if I don't realize something is a weight gain food, I might eat more of it than I should.
So here are 12 weight gain foods that sound healthy, but can be fattening. Especially when eaten in excess.  
Dried Fruit
Dried fruit can for sure lead to weight gain. Once fruit is dried, it is so small that you can eat a lot of it. Would you eat 10 fresh apricots in a sitting? But how about 10 dried apricots? And think of all the sugar you'll be taking in. A handful of dried fruit can do a lot more damage to your waistline than you'd think.
Non-Fat Flavored Yogurt
Plain yogurt is fine. But flavored yogurt is packed with either sugar or artificial sweetener. And both have been linked to weight gain. Not to mention that dairy isn't very filling once the fats been removed. 
Sprouted Grain Bread
Don't get me wrong. Whole grain bread is for sure better than white bread. Like, a whole lot better. But it's still fattening bread. Don't think you can indulge in your afternoon treat because you had sprouted grains for lunch. Choose sprouted grain bread over regular. Just remember that it's still bread.
Non-Dairy Milk
What could be more wholesome sounding than hemp milk or coconut milk, right? These just sound so nourishing. But make sure to buy the unsweetened variety. Because the regular version has so much fattening sugar.  It took me years to figure this one out. 
Veggie Chips
I don't even know where to start here. First, many veggie chips aren't 100% veggie. They're made from vegetables and filler. Or they're made out of root vegetables which are the most fattening vegetables. And they're very likely covered in oil. Unfortunately, veggie chips are pretty much just chips
Whole grain cereals and granola
There's that whole grain word a gain. I experienced lots of weight gain from my cereal addiction. Cereal certainly sounds healthy. But it has so much sugar. And many brands claim to be made of natural sugars like coconut sugar or agave. But in reality, those sugars are still sugar.
Sushi
Hear me out. It isn't that sushi can't be good for you. It's just that it isn't always thinning. If you choose a conventional roll with rice, you might be getting a lot more starch than you anticipated. Plus, sushi rice often contains sugar, the mother of all weight gain foods.  So if you're really eating sushi to be healthy, choose options that don't contain rice.
Brown Rice Pasta
Brown rice is better than white rice because it's less processed, right? But when you turn brown rice into pasta, you've now made it processed So it's become an empty, processed, fattening carbohydrate. Just like any other pasta. 
Flavored Waters and Sports Drinks
You feel good because you're not drinking soda. But many of these healthier drinks contain as much sugar as a soda. Say it ain't so! I used to be such a sucker for sports drinks. But all these extra calories make you gain weight 
Gluten-Free Products
I want to scream every time I hear someone choose a gluten-free pizza crust or muffin because they're trying to be healthy. Gluten-free products aren't any healthier than their gluten filled alternatives. They also aren't any less fattening. They just don't have gluten. In fact, gluten-free diets for those who don't need to go gluten-free have been linked to an increased risk of Type II Diabetes.
Diet Soda
We don't yet know everything there is to know about artificial sweeteners. But research indicates that diet soda is a contributor to weight gain. While the science behind this isn't clear, studies show that diet soda can contribute to sugar cravings.  And that these sodas play a part in metabolic syndrome and weight gain.
Protein Bar
I'm going to be short and sweet on this one. Because you know me, you know I talk about the crap they put into protein bars. The ingredients are pretty horrifying. And the bars that aren't overloaded with sugar tend to be stuffed with artificial sweeteners. And we just talked about how artificial sweeteners make foods weight gain foods.
But don't despair
I still eat most of these. From time to time. The difference is that I now know these foods can lead to weight gain.  So I think of them as treats as opposed to health food. And this little shift makes a huge difference.
Because I used to think my faux healthy choices allowed me to indulge otherwise. And this really helped me hit a wall with my weight. As I said, I personally don't put foods in the never category. But I'm super passionate about making informed choices. Because, to me, that's what it's all about.