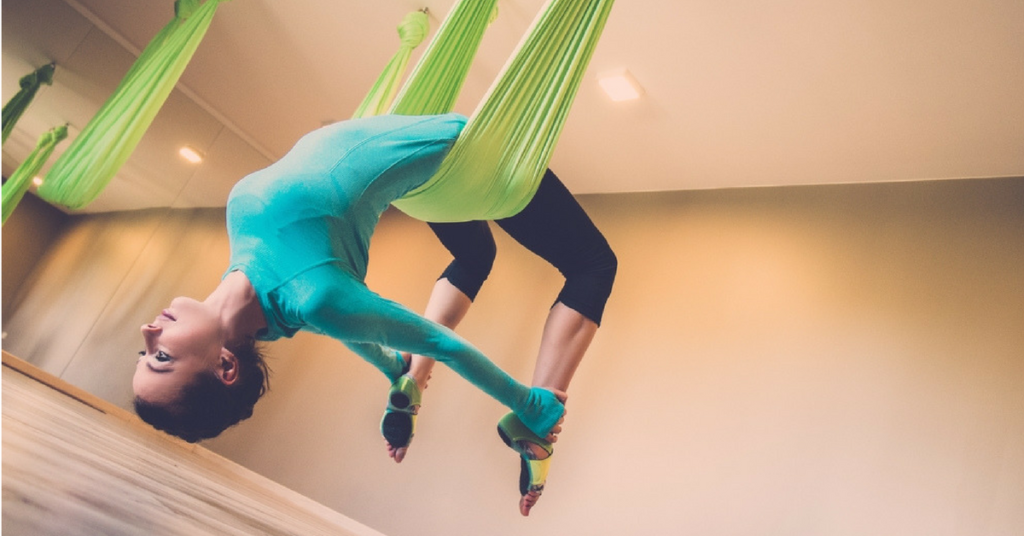 I talked a couple of months ago about my experience with a childhood illness and everything I've overcome  physically. But here's something that's been vital to my recuperation. I've realized that I have to approach exercise like little kids approach playing. Boredom is the enemy. And exercise classes should feel like recess instead of work.
There are people who just love the feeling of their heart rate pumping. They get off on a good sweat. And I imagine for them, exercise is easy. But that isn't me.
I need to find classes that distract me from all that. That get me so involved in the fun, that I forget that I'm pushing myself to the max. I need classes that crush my boredom. So today I'm going to talk about some of the favorite exercise classes to help my feel like a kid.
How exercise classes crushed my workout blahs.
I considered sports that interested me as a child. Things that looked fun when watching the Olympics. Screw it that I wasn't coordinated and my days of Olympic aspiration were over. My inner-critic wasn't invited to the discussion.
So I let go of perfectionism and embraced my sense of play. And I came up with boredom crushing exercise options that made me feel like I was back in school at recess. These classes were so much fun, I forgot all about the nasty exerting and sweating part of it all.  And I exercised like I'd never exercised before.
Some of my favorite exercise classes to fight boredom.
By now I've tried a lot of different types of exercise. And survey says that the following are my absolute favorites. These classes are fabulous in three criteria:
Fun

Body transforming
Easy to forget they're a workout
Aerial Tissu/Hammock Classes
Ever want to join Cirque de Soleil? Well, this is your chance. I'll preface this by saying that I have a horrible fear of heights. So this wasn't an obvious choice for me. I was lucky because I belonged to a gym that had a tissu program. So, I decided to give it a try.
Here are some things I loved about it:
Makes you feel like Tinkerbell as you get in these pretty postures in the air.

Fantastic for arm strength and core. And much more fun than holding a plank.

Class just flew by. You're so busy trying to master a trick that you're not even focused on time.
Here's a little video in all my glory. Be kind! I was SUPER nervous and very new to aerial! And the audience was drunk. But that's a different story!
Figure Skating Classes
So here's some trivia about my childhood. I didn't even get on ice skates until I was 11 years old. I spent much of elementary school days living in Florida where I never saw an ice rink, And when I moved to Pennsylvania, the only rink was about an hour away. So I got onto ice skates for one of the first times as an adult.
When I moved to Los Angeles, I worked in the evenings and didn't know anyone. So I went to a daytime ice skating "coffee club" for adults. The club served coffee along with a fun lesson. This was about 10 years ago and the price at the time was really cheap (about $7 a class) And I will say I felt a little silly at first limping around the rink with 8-year-olds leaping around me. But it was fun and destroyed any chance of exercise boredom.
Fun fact: Many ice skating school will have classes for adults that run on a similar schedule as the one for kids. That way parents can get up and engage as opposed to just waiting on the sidelines.
Things I loved about  figure skating class
Helped me learn to take risks and pick myself up when I fall. Learning any new move usually involves some spills.

Helped me develop balance and coordination

Made me feel a lot more graceful
And if you're saying you're too old for something like this, know that many of the women in my coffee club were in their 70s. They were skating for the first time ever. Because they decided it was time to pursue a dream and they went for it.  
Pole Dancing
Since you (probably) don't know me, let me start first by saying this. I'm a pretty modest chick. Even in my younger days, I would always have preferred to be curled up on a Friday night in my PJs that strutting around in sexy clothes at the club. So pole dancing was waaaaaaaay out of my comfort zone.
I originally went to pole dancing class as kind of a dare. I had just had my heart broken. And some little voice in my head commanded me to live outside of my comfort zone. So, I decided to honor that voice and give it a try.
Things I loved about pole dancing classes: 
Moving slowly in sensual ways can kick your butt. I woke up the day after my first class and could barely more.

Hanging upside down from a pole works every muscle in your body.

Even if you don't identify with the word "sexy", you will feel sexier.
Pilates Reformer Classes
I was really studious as a kid. And, as part of my studious nature, I dragged my books everywhere, most usually flung in my bag over my right shoulder. And I've learned that all this book carrying created a small twist in my spinal cord. This small twist makes me favor the right side.
Pilates is one of the few types of exercise that doesn't just make you stronger. It helps your body move more effectively and gracefully. This might explain why so many pilates teachers are dancers.  And pilates reformer classes have really helped me be more balanced.  
Things I love about pilates
Helps straighten out your posture

Builds long lean muscles

Lots of fun to play with all the loops and props on the reformer
Honorable Mention (Curling Classes)
Have you seen curling at the winter Olympics? It's that weird sport where people sweep a puck. I know the sport is popular in places, but most of us in the U.S. know little about it. I never thought I would get a chance to try it. But I took advantage of a curling club that offered free lessons!
And, oh my gosh…it was not easy. I remember skidding all over the ice trying to throw the puck or ball or whatever it was called. But it was a ton of fun and really increased my heart rate. So if you ever get a chance to try curling, I highly recommend it.  
Ready to try new boredom crushing exercise classes?
I suggest giving Classpass a try. If you've never tried Classpass, it's an exercise program in many major cities. You choose a monthly package of let's say 5 or 10 classes. And you can take classes from most exercise studios in your city. I love that this allows you to try different exercise classes until you find something you really like.
My newest obsession is powerplate classes. This is where you do an entire workout on a vibrating plate which challenges every muscle in your body. I've only done 5 classes, but I'm becoming obsessed. Maybe I'll talk about this more in a future post. 
So kill your exercise boredom by trying something new today. Remember, no excuses. You're not too old or uncoordinated. Change your attitude and do things within your own limits. And do it because it's fun. Because when you're having fun, you don't even feel like you're exercising. You just feel like you're playing!