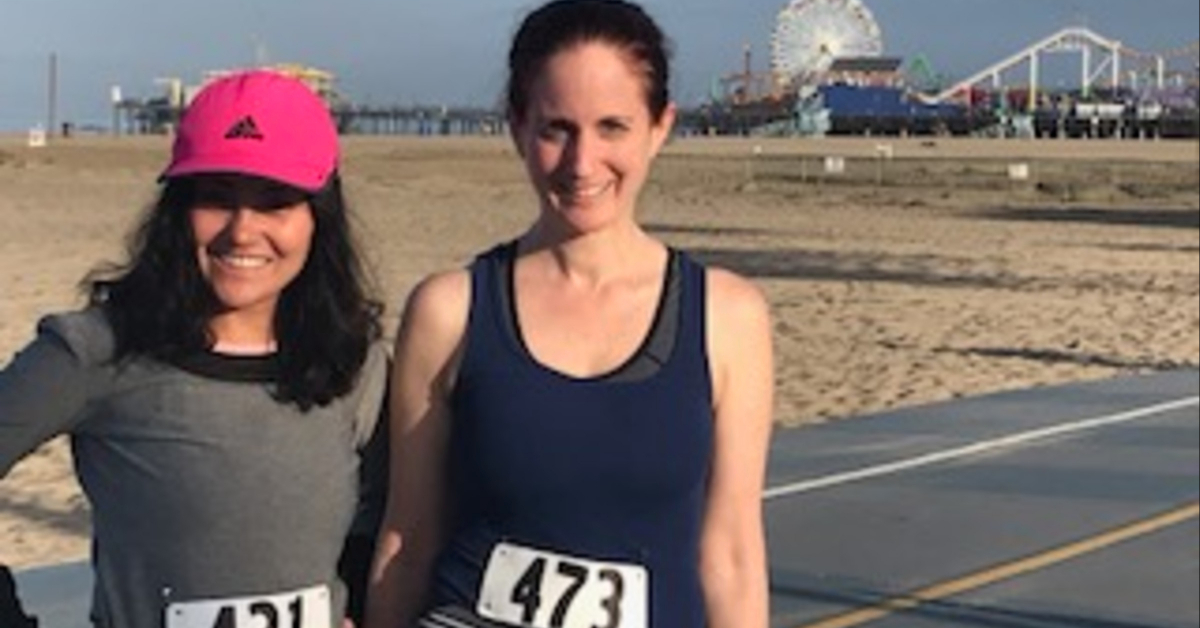 I mentioned last month that I do my first ever 5K. Woohoo! And let me tell you, this was a huge victory! As much as I preach about health and diet, running has never come easy.
I was literally the slowest runner in my class growing up. No, I'm not joking. Seriously. I wrote all about this last year. For me, doing a 5K meant conquering the challenges of my childhood and proving to myself that my life doesn't have to be dictated by my past.
And if doing a 5K wasn't enough of an emotional and physical challenge I injured myself a couple of weeks before the race. So, I wasn't  on crutches, or with a cast over one of my appendages. My injury wasn't so cool.
Here's the reality – I got a huge, painful blister on the bottom of my foot. I could barely walk!
But the training I had done in the last year had made me ready enough. And while I certainly didn't run my best time ever, I did run the whole race. Which is all I really wanted. So if you're hoping to run your first ever 5K, and you're not a runner, today I'm going to talk about the important steps to take to get you there. Despite any obstacle!
Start your 5K journey with kindness
This is so important, If you've never been a runner, you can easily tell yourself all sorts of discouraging things. My inner critic can be so incredibly mean. So make sure to silence your inner naysayer right away!
Focus on what you can do. And let go of what you can't. You don't have the time or energy for limiting beliefs.
Remember a time in your past when you thought something seemed impossible that proved possible. You need to hold onto this. Because you're constantly growing and evolving. And yesterday's no can become tomorrow's yes.  
Begin with what you know
For most of my life, I was not a runner. Meaning that when I did start running, I was really out of my element. So I had to start with what I knew.
I knew that I could run a few blocks. So that's what I did. Nobody who passed me on the street knew I was just running that short distance. And let's get real. Probably nobody was paying the least bit attention to me.
And hey – if you need to start by walking instead of running, do that. I've learned that it's not about where you start. It's about your dedication to finish. Think about what a great story you'll have to tell. Personally, I love my underdog story.
Ask yourself if you can do just a little bit more
How do you get yourself from running a few blocks to running a 5K? Well, you're not going to make the transition overnight. That's for sure. You're gonna take it one step at a time.
So each time you run, you're going to ask yourself if you can run just a little bit more. Four blocks is better than 2 blocks. 6 blocks is better than 4. It's these small steps that turned me into a runner.
Don't worry if you don't have a Fitbit
I mean, a smart watch or a tracking device would be amazing. If you have one. I didn't have one  and I was fine.
Let's get real basic. Say you're running from your house to a spot 6 blocks away. Get the address where you stop and stick it into Google Maps. Now you can tell how far you've gone. And if you clock your starting time in your phone, you'll know how long it took.  
Personally, I had good luck with an app called MapMyRun. I just pressed start when I started a run. And it logged my distance and how fast I was running without any equipment. I imagine the results weren't quite as accurate as when using a device. But honestly, I don't think it was that far off and it was free!
Get support
I finally got myself to do a 5K by signing up with a friend. I honestly didn't know if I was totally ready. But I figured that in the worst case scenario, I would walk part of the way. I mean, that really is the worst thing that can happen if you sign up for a 5K and can't do it. Who cares!
Doing it with a friend held me accountable. Once I injured myself and couldn't train the last couple of weeks, I wanted to back out. But I couldn't because I made a commitment to someone else. Oh yeah, and also myself!  
And consider joining a running club. There's lots of them out there. Look for one that caters to people of all levels. You want to find people who will be welcoming and supportive of a newbie. And people like that do exist!
Or, if you want some real hand holding and support while training for your first 5K, consider the Couch To 5K program. This is training plan for those new to running who want to do their first 5K. I didn't try it, but I've heard positive feedback from those who did.  
Make sure not to overtrain
I've already told you how an inconvenient blister halted my training. And that was just something innocent that proved annoying. Imagine if it had been a serious injury. Make sure to honor those sore muscles.
Pushing yourself is good – up to a point. Overdoing it is bad and is likely to lead to injury. So pay attention to what your body is saying. And if your body is in true pain, or is exhausted from being pushed too far, make sure to listen. Backing off a little isn't quitting. And it's better than getting injured!
Remember that showing up is the victory.
There are all sorts of ways that you can put extra pressure on yourself. Quite simply – don't do it. Because showing up is the real victory.
This isn't about having the fastest time. Or about never taking a break to walk. Or anything else arbitrary. I had to remind myself of this in the days leading up to the race when I wasn't even sure I could run.
It's about pushing through the words you use to define yourself. About going to a place in yourself you never thought you'd see. It's about breaking barriers you've set to limit yourself. And if you show up, you'll achieve this.
I'm so glad I finally did my first 5K. And I"m sure it's not my last. So if there's a little voice in your head that wants this, go for it. You'll see your strength, your will, and your dedication. And you'll even have a good time!