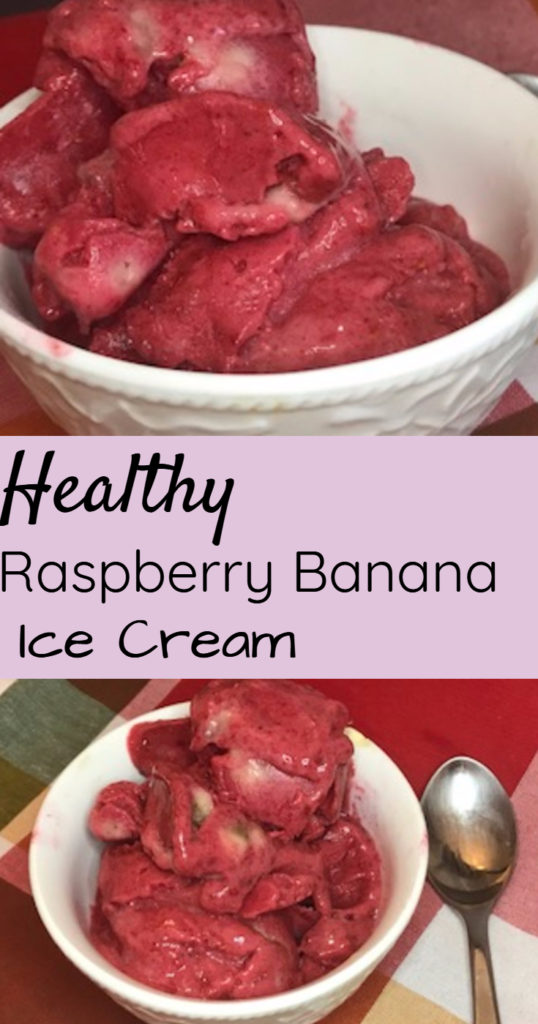 I used to search for the most complicated answer. As if something being difficult made it worthy. Like when I would turn up the tension all the way on the Exercycle, thinking barely being able to move the pedals made me badass. Or when I did that speech without my notes. (hint…it didn't go well.) But I've since learned that the simple answer can sometimes be the best answer. And that's why I love healthy raspberry banana ice cream.
Because I used to think that I had to feel deprived to be eating healthy. Does this food taste like cardboard? Awesome! Then it must be good for me. And I lived like that for years.
I would go through periods of frustration as my weight fluctuated. It was impossible to eat cardboard tasting food forever. But my brain was convinced that bland eating was the secret to long-term health and weight loss. It was useless trying to convince me otherwise.
But this healthy raspberry banana ice cream is the epitome of simplicity.
Believe it or not, I didn't have my first raspberry until I was 12 years old. It was at summer camp when my friend showed me a deserted area with bushes that grew raspberries. So my first raspberry was right off the bush. It was so fresh and juicy. And this banana raspberry ice cream reminds me of the delight in eating those first fresh raspberries.
It is light and refreshing. It makes you feel good to eat it. And it's the perfect sweet finish to an end of summer meal.
And the amazing thing is that it's not only super easy to make. Like ridiculously easy. It's incredibly healthy. In fact, it only has four ingredients.
What you'll need to make this raspberry banana ice cream
Did I mention this was simple? Because I'm a woman of my word. You don't need any fancy gadgets or ice cream makers. The only "tools" you'll need are a blender, a spatula to help move the ice cream out of the blender, and a freezer safe container.
I used frozen fruit that I'd let defrost for about a half hour. I thought it would be easier to start with a product that was already close to frozen. Just because I'm impatient and wanted to eat my ice cream sooner rather than later. Also, as the fruit defrosted it created some natural juices which helped the ice cream mix easier.
Ingredients
2 cups banana slices

2 cups raspberries

2 Tbsp fresh pineapple juice

2 tsp stevia powder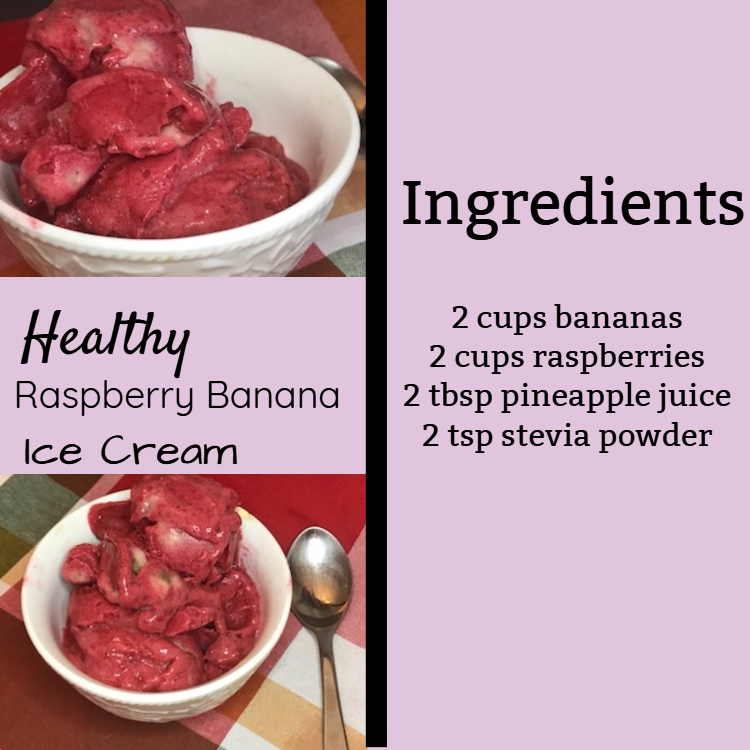 Place all ingredients in blender. If you don't use frozen fruit, you might need to add a little additional pineapple juice to the mix. As I mentioned, my frozen fruit provided natural juices as it defrosted.
Blend for about two minutes. I used the grind setting on my blender. Of course, a food processor will work splendidly too. Don't worry if all the fruit doesn't seem to blend immediately. It should eventually.
If you'd like to give it some extra help, stop the blender halfway through the cycle. Lift the lid and use a spatula to break up any clumps. Then close the lid and finish blending.
Place into freezer
As I mentioned,  I used slightly defrosted frozen fruit and my raspberry banana ice cream was pretty creamy and cold when I got it out of the blender. But if you'd like to freeze it further, or want to save it for later, freeze it in a freezer safe container.
Since this ice cream is made of fruit and not dairy, it will be VERY frozen when you take it out. Plan to let it sit for at least 20 minutes before you scoop.
And there you go!
A healthy, end of summer dessert that isn't just easy to make. It's something you can feel good about eating.
Which makes perfect sense. And is super simple. So I've realized that sometimes an easy answer really is the best answer. That healthy eating can feel simply amazing. And that I don't have to sweat and suffer to have an amazing dessert that's good for me too.